A most enjoyable evening was held at Blackpool Masonic Hall to celebrate 50 years in Freemasonry of Kenneth Jones. Members and guests of Blackpool Temperance Lodge No 5303 gathered to celebrate the occasion. Once the WM Tom Cunningham had concluded the routine business of the lodge, Past Provincial Deputy Grand Director of Ceremonies Jason Dell announced that Assistant Provincial Grand Master Duncan Smith demanded admission. Duncan was escorted into the lodge room accompanied by a retinue of grand officers, along with acting and past Provincial grand officers.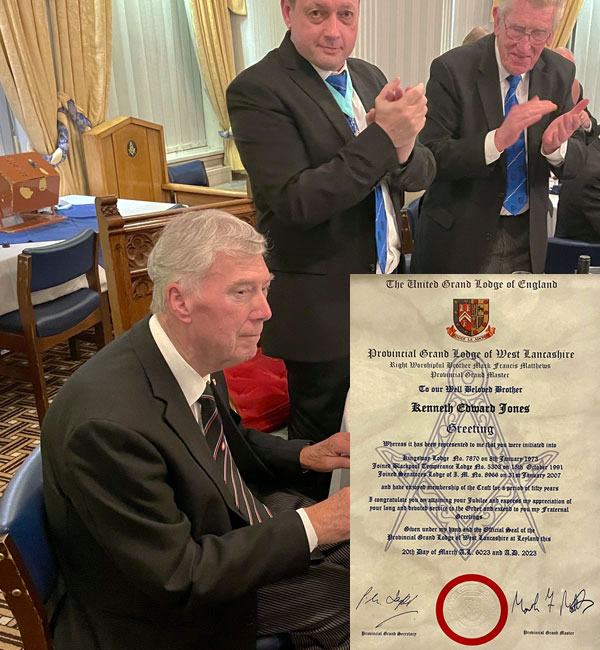 On this occasion, Duncan accepted the offer of the gavel and proceeded to relate Ken's life story and Masonic career highlights. Ken was seated in front of the master's pedestal and listened intently as Duncan eloquently talked about his life.
Ken was born in 1945 when the only free entertainment was listening to the radio. There was no mains electricity in the majority of homes and an inside toilet was a luxury. On leaving school, Ken attended Teacher Training College working at various schools.
Ken met his wife Beatrice in Yorkshire on a church outing and they were married in 1969, living for a while in Warrington. As circumstances changed and their two children grew up, Ken took a post in Blackpool, teaching at Greenlands High School for Girls, where he remained until his retirement at 50 years of age due to rheumatoid arthritis. They sold their house in Warrington and bought a guest house in Blackpool. They kept the guest house for 11 years before Beatrice went to work for Blackpool Council.
Ken and Beatrice celebrated their 40th wedding anniversary at Blackpool Masonic Hall raising funds for Blackpool's Trinity Hospice on the Fylde. He celebrated his 50th birthday with a hot air balloon ride and at the restaurant afterwards his wife and friends arranged a 'kiss-o-gram' who just happened to be one of his former pupils. This was quite a surprise to Ken, especially when he popped the balloon!
Ken's involvement in Freemasonry began through his wife's uncle. After many discussions he decided to join Freemasonry and he was initiated into Kingsway Lodge No 7870 in Widnes in 1973, resigning in 1980 due to their move to Blackpool. After a discussion with a neighbour, Ken became a joining member of Blackpool Temperance Lodge in 1991. Quickly rising through the offices of the lodge to become secretary. His first Provincial appointment was Provincial Grand Steward, being promoted to Past Provincial Deputy Grand Superintendent of Works and finally Past Provincial Junior Grand Warden.
Ken was exalted into Kingsway Chapter No 7870 in 1974, joining Blackpool Chapter No 1476 in 1992.  He was appointed as Provincial Grand Steward in 2008 and Past Provincial Grand Scribe Nehemiah in 2018. Ken is also a member of two other Masonic Orders
Sadly, Beatrice died due to breast cancer, but he was lucky enough to meet his second wife, Nadia and they were married in 2013 and they lead a full and busy life.
Concluding Ken's abridged life story, Duncan invited the Blackpool Group Chairman Stephen Jelly to read the 50th certificate from the Provincial Grand Master Mark Matthews. Duncan then presented Ken with the certificate and Stephen presented him with a 50th badge from the Blackpool Group.
Overwhelmed with emotion, Ken thanked Duncan and everyone involved for a wonderful evening, promising to elaborate more at the festive board. After a fine meal Duncan Smith responded to the toast to his health by saying what a pleasure it was to be able to celebrate this occasion with Ken and his Masonic friends.
Geoffrey Pritchard had the honour of proposing the toast to Ken. His unique and entertaining style delighted the assembled audience with more tales of Ken's life and exploits, concluding with a heartfelt toast to his health. The brethren then rose and thanked Ken for all his work in Freemasonry and wished him many more years to enjoy his Masonic interests.
Remaining seated due to his arthritis and Parkinson's disease, Ken responded to the toast to his health by thanking Geoffrey for his kind words, although the stories were no way true. (He said, with a knowing grin). Looking around the room, Ken was amazed to see so many friends who had taken the time and trouble to be with him for the evening. He said he had received a nice surprise on the morning of his celebration with a phone call from the Provincial Grand Master Mark Matthews, who wished him well for a wonderful day.
Ken thanked Duncan for his work compiling the story of his life and to Jason Dell, for his help and patience during the course of the day. With an emotional thank you to everyone in the room the occasion was concluded with a standing ovation to Ken.
Gordon Ivett, Blackpool Group Publicity Officer.