When the unprecedented demand for face masks and visors appeared overnight, at the beginning of April, it didn't take Keith long to design and begin production of 100s of them to distribute to the NHS.

What started out as a donation to the midwives at Ormskirk Maternity Unit of 16 baby grows, to identify babies who were born on Christmas Day 2019 and New Year's Day 2020, became a race to provided essential PPE when the pandemic broke out.
Both Keith and his wife Sue wanted to help and it was fortunate that they were in a position to use his laser cutter and embroidery machines. Keith and his wife are happy to cover the cost themselves, but the treasurer of Orrell Lodge No 8371 George Fletcher, along with the secretary Derek Todd and the almoner James Wheeldon, have discussed ways in which the lodge may be able to assist in the future.
Keith, who operates from his converted double garage at his home in Winstanley Park, Wigan, operates on a not-for-profit basis and any monies raised from his creations is re-invested into purchasing better equipment and materials, with products being gifted to various charities.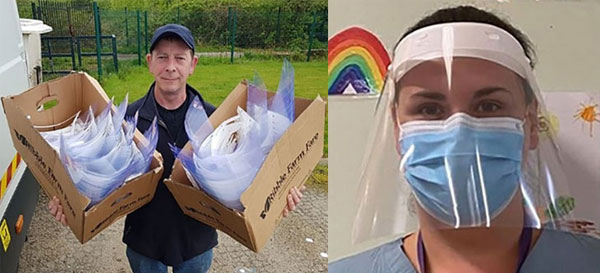 Keith had been a trainer/assessor for new recruits with the Wigan Police Division and had over 27 years' service in before ill health forced his retirement in 2011. During this time Keith also became a coach and subsequently, head of scholarship, in a part time role, at Wigan Warriors on their scholarship scheme. He was able to continue this until 2016, when once again MS forced retirement, but he said how proud he was, to have signed and coached so many first team international players.
After retirement and sitting at home watching daytime television for two weeks, he decided that he needed an interest (especially when his wife dropped a big basket of ironing at his feet). He bought an industrial laser and cutter machine and set about learning how it worked.
As he progressed, he invested in other industrial equipment that allows him to manufacture embroidered, printed and engraved products and is presently embroidering 39 fleeces for the Rheumatology Dept at St Helens NHS whilst looking for other good causes within the NHS/care sector to support. He says, he may then find time to join his local chapter.
Ian K Dawson,
Wigan Group Publicity Officer.