As the WM Thomas Irvine of Lodge of Furness No 995 awaits an operation in the very near future, the installation of Keith Lancaster as the new WM for the ensuing year, was left in the capable hands of Tony Nevinson. Tony hoped that everything would turn out well for Thomas and thanked him, on behalf of the lodge, for all his hard work during the past 12 months. Tony proved to be a superb substitute and ritualist. The memories created by Tony, will last for many a day for Keith, as he begins his year in office.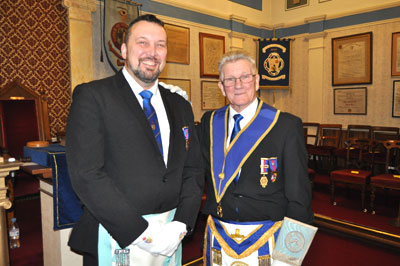 Tony, almost uninterrupted, opened the lodge in fine style. The business of the lodge completed, the hard-working assistant director of ceremonies Richard Wilcock retired and on entering the lodge once more, announced the demands of Assistant Provincial Grand Master Peter Schofield. Peter was extremely pleased to be accompanied by a plethora of grand officers, namely David Grainger, Roly Saunders, Barry Fitzgerald, Philip Preston, Alan Jones and David Kellet.
Also in attendance was the Chairman of Furness and South Lakeland Group Gary Rogerson, plus his vice chairman Alan Pattinson and secretary Chris Gray. Adding their usual splendour were acting Provincial grand officers, David Shaw, Tim Gill, Matt Kneale and Mark Little.
After Chris Angell had presented Keith to the WM, Tony began to address Keith with utmost authority and confidence. Tony continued his word perfect address and took Keith through his obligation in a true dignified and assured manner. As the installation progressed, Tony performed a sincere and respectful ritual that was a joy to witness.
Gary Grieve, William Cody and Chris Hornby orated the working tools in the first, second and third degrees respectively. They were heaped with praise from all quarters; especially the two younger brethren Gary and Chris, who were word perfect. Russ Greenhow gave a superb address to the JW, as did Dave Shaw when he addressed the deacons.  Barry Fitzgerald and Mark Little addressed the DC and stewards in a dignified style.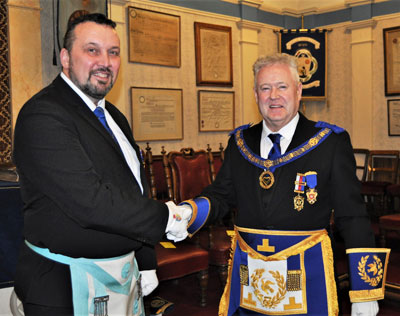 Ronnie Angell would have been extremely proud of his son Chris, as he bloviated the address to the WM. He was astounding in his delivery and did not miss a word. Alan Pattinson orated the address to the wardens in fine style, which was matched by Peter Schofield as he gave a perfect delivery to the members of the lodge.
It seems that Keith has always had a vocation for helping others all his life. Since leaving school in 1988, Keith began his working career in VSEL and completed his apprenticeship in four years. His desire to help others started in 1992, when he studied for a degree in secondary education to follow a course in teaching technology/engineering. Teaching for 23 years at St Bernard's in Barrow followed, where he made life-long friends, moving to a stint at 'Wings' – a school/care home for 10-18 year olds.
Now in his second year as a mechanical trainer/assessor of apprentices and adult learners at Gen 2 in Ulverston, Keith is still helping others. After a few chats with Chris Angell about Freemasonry, his late father Ronnie Angell 'got wind of the chats' and it was, 'inevitable', said Keith, that he joined the Lodge of Furness. Confusion were his first feelings towards Freemasonry, but "I began steadily to see the great value in being part of the lodge and Freemasonry in general", he said.
Having moved through all the offices within the lodge, he is a little daunted by the role of the master, but said: "With the dedicated team at the Lodge of Furness, I am sure I will soon be able to relax and enjoy being the WM."
Keith's first task as WM was to give Peter a wonderful donation for £599 for the West Lancs Freemasons' Charity. In the lodge room the brethren gather gave another £174.16 for Masonic Charity, whilst the raffle at the superb banquet, raised a magnificent sum from the 65 brethren of £348 for the building fund. Lodge of Furness will continue to grow and strengthen under the leadership of Keith, as he looked and sounded as if he'd been in the chair for six months already!