Another jubilee celebration within the Leyland Group and this time it was that of Jon Measures PPrJGW of the Province of Surrey. This jubilee celebration was that of having achieved 50 years in Freemasonry. There were plenty members present to witness the milestone including Jon's nephew David Price of Old Monktonians' Lodge No 8938 Province of South Wales and long-time friend Klick Rahman of Croydon Lodge of Achievement No 8554 in the Province of Surrey.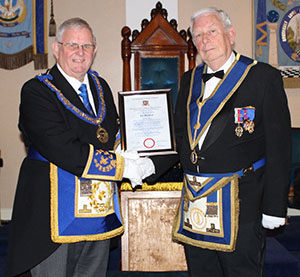 The usual lodge opening and business items were dispatched by Ian Smith WM of Leyland Hesketh Lodge No 986 and before any guests were admitted. Following the knock at the door Stewart Seddon Assistant Provincial Grand Master, followed by his retinue, entered the lodge room. He was accompanied by a number of grand and Provincial grand officers including Chris Blackwell Chairman of the Leyland and District Group. Ian welcomed Stewart and offered him the obligatory gavel of the lodge. Stewart accepted it thanking the lodge for the very warm welcome and in line with the usual custom at such ceremonies; he kept the gavel and was seated in the WM's chair.
Stewart asked if everyone was comfortable and invited the tyler to be admitted. He also asked that the celebrant be placed in front of him that he could be addressed directly. Stewart had visited Jon's home over at Clayton-le-Woods where he learned quite a bit about Jon Measures and so, the precis of Jon's life was presented to the lodge.
Stewart began by taking the brethren back to 1936. The year began with a great high when, on 4 January at Twickenham, the England Rugby Union Team celebrated its first ever win over the All Blacks. King George V died 16 days later which cast the country into mourning. Stanley Baldwin was Prime Minister of a coalition government and his political skills were to be sorely tested as Edward VIII became Monarch. Edward then abdicated on the 12 December and was succeeded by his brother Prince Albert who became George VI.
Billy Butlin opened his first 'Holiday Camp' at Skegness, the Irish airline Aer Lingus commenced operations and the Royal Merchant Ship 'Queen Mary' embarked at Southampton on its maiden voyage across the Atlantic. However, the highlight of the year so far occurred on 2 May at Croydon Selhurst when Mrs Connie Daisy Measures nee Godden gave birth to a son to be named Jon.
Jon's contemporaries include; from film and television – Burt Reynolds, Ursula Andress, Albert Finney, Glenda Jackson, Brian Blessed and Jim Henson (Muppets); from the world of music – Glen Campbell, Roy Orbison, Buddy Holly, Bill Wyman and Tommy Steele; from the sporting world – Jim Clarke (racing driver), Colin Meads (NZ rugby union), Terry Downes (boxer), Sir Garfield Sobers and Duncan Edwards who lost life so tragically from injuries sustained in the Munich air disaster in 1958.
So, Jon was born in Croydon Selhurst, not far from Crystal Palace Football Club. His father, Alfred John was a café owner and apparently a bit of a 'wheeler dealer'. Jon's mother was a housewife who looked after him and his two sisters who are sadly no longer with us.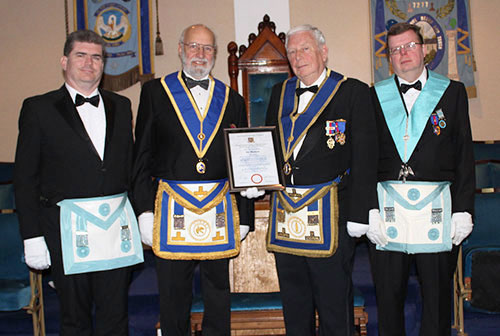 Education was very fragmented during the war with most schools in and around London being requisitioned for military and other essential services. When the bombing started, Jon's family moved to West Molesey where he started school. That was soon closed and Jon was evacuated to Leicestershire where he lived with his grandparents. In 1945 aged nine he moved to Catford where he completed his primary education and moved on to secondary school coming away with six school certificates. He left school at 16 and started work as a Junior Audit Clerk with Peat, Marwick and Mitchell (now KPMG). He was basically a 'gopher' delivering letters and being at the beck and call of Sir Harry Peat and his son Henry. There were benefits though and on one occasion he was given a writ to deliver and was sent to do so in the company Rolls Royce; every three months he was also required to do the 'diamond count' in Hatton Garden.
Eventually Jon moved into the Audit Department and the manager took him to the Savoy to observe and understand the protocol. Jon subsequently discovered he was a Scottish Mason.
In 1954 Jon was called up for National Service and joined the Air Force becoming an Air Radar Mechanic on Meteor Mark 2 and 14's in both 25 and 153 Squadrons at West Malling. Jon's next move was to change his life because he ended his service at Washington Hall, Chorley training as a Pump Operator and driving a 'Green Goddess' fire engine.
Whilst at Chorley Jon had a great time and used to go to Blackpool camping. He went to the Winter Gardens dancing and in 1960 met a young lady called Jean Birch. They corresponded with each other and in 1962, he packed in accountancy and moved north looking for a job. Jean introduced Jon to a National Cash Register salesman who interviewed him on 1 January – he got the job! Jon and Jean were married on 30 March 1963 and they had 3 children Jonathan, Paul and Jane.
As a salesman, Jon transferred to Jamaica in 1966 and following a win for salesman of the year he was rewarded with a trip to London. This he managed to swap for a week in Santiago de Chile, Peru. The same year he won a trip to Yucatan and Mexico City and for the next 10 years won trips to Columbia, Peru twice, USA, Acapulco, Hawaii, Zagreb, Dubrovnik and Belgrade. Stewart quipped that another of Jon's contemporaries was Judith Chalmers!
Whilst in Jamaica Jon was initiated into Freemasonry and he soon got into the swing of things with golf on Saturday and Sunday on the beach. Social life was connected to the lodge and on one occasion Jean asked what was for lunch at a lodge picnic. Everyone laughed because it was the goat walking with them – to say that Jean wasn't happy was probably an understatement.
In 1974 Jon returned to England with summer holidays spent caravanning around Europe and lodge parties on long weekends at his Sussex home where he spent most of his time. In 1978 Jon left NCR for Tate and Lyle who had offices in Croydon and Liverpool. New job of course meant induction and training courses are required and so Jon sets off for Manchester – Manchester Massachusetts, for three weeks on expenses, being trained on how to run a computer agency.
In 1982 with the closure of the Liverpool office, Jon became surplus to requirements but because of his 'special services' he was awarded a substantial redundancy package which enabled him to buy a 13.5-acre piece of land in West Sussex.
Jon then went contract selling, taking over a company with an agency for Epos Tills – he subsequently acquired contracts with the Tower of London, Hampton Court Palace and the Royal Academy. Jean particularly enjoyed the dinners at the Tower and the receptions at the Royal Academy.
1998 saw a change in EU legislation and therefore the Secretary of Trade stopped the order to re-equip the Tower. That contract and others in the public domain went to the EU and Siemens. Jon therefore moved north and into Retail Bakers covering from St Just in Cornwall to the lowlands of Scotland.
In 2013 Jon suffered a great loss when his son Paul passed away. He consequently sold up and retired aged 76. Just 2 years later Jon's dear wife Jean also passed away which was another devastating loss to him and his family.
Stewart then moved on to Jon's Masonic career which started in Jamaica when he was initiated into Phoenix Lodge No 914 (EC) meeting at Kingston on 16 July 1968 having been referred by Queen Alexandra Lodge, Manchester. Jon was passed to the second degree on 15 October 1968 and raised to the sublime degree of master Mason on 20 May 1968.
Jon joined Croydon Lodge of Achievement (Surrey) on 27 May 1975; Richard, Earl of Shannon Lodge No 8297 (Surrey) on 10 September 1993; Leyland Hesketh Lodge on 7 October 2002 and Phoenix Lodge of Installed Masters No 9206 on 16 March 2007. He was honoured by the Province of Surrey in 1993 when he was appointed to the acting rank of Provincial Grand Steward. Promotion to PPrDepGReg followed in 1995, to PPrGReg in 2010 and in June this year he was further promoted to the very high rank of PPrJGW.
In the Province of West Lancashire, Jon was appointed to the Care Administration Team in 2017 as the Administration and Public Relations Care Officer with special responsibility of monitoring widows from other Provinces, the compilation of a list of all West Lancashire widows and the Provincial Supply Officer.
He was Exalted into Phoenix Chapter No 914 on 16 May 1969; Joined Croydon Commemoration Chapter No 5578 (Surrey) on 24 November 1982; Surrey Provincial Grand Stewards Chapter No 8297 (Surrey) on 19 November 1983; East Surrey First Principals Chapter No 5888 (Surrey) on 29 April 1995 and Hesketh Chapter No 986 on 8 March 2005. He received his first Provincial honour from the Province of Surrey in 1997 when he was appointed Past Provincial Assistant Grand Sojourner. Since then he has received a further two promotions to PPrDepGReg in 2002 and to PPrGScrN in 2007.
In all Jon has been in the Craft chair 7 times – 5 in Surrey and 2 in Leyland Hesketh Lodge – and 5 times in chapter as first principal. He went to the first temple meeting in Grand Cayman when the lodge hired a clapped-out Douglas 7C for the visit. Jon has also dined at the House of Lords and been introduced to the Duke of Kent. In 2018 he sold his property in Sussex after 35 years to live in Gods' own County of Lancashire
Stewart exclaimed that there is no doubt that all of his entire life, Jon has been an example of what makes a good Freemason, as well as a good citizen, a good husband, a good parent and, in every way a contributor to society.
Stewart at this point asked Chris Blackwell to read a certificate. This certificate is an acknowledgement of the Province of West Lancashire's great appreciation of Jon's half a century of membership of the Craft.
The meeting ended and everyone present retired to the dining room to continue the celebration. Jon thanked everyone for 'coming to visit him on this very special occasion'. As a Jon 'Measure' of the man, he quipped that he was looking forward to the next 50-year milestone.