We have all been witnessing some of the horrific scenes that have taken place in the Ukraine. Jon Anderson, who is a member of St Helens Lodge of Loyalty No 897 that meets at Freemasons Hall in St Helens, saw the scenes of refugees crossing to Poland and could not stand by idle.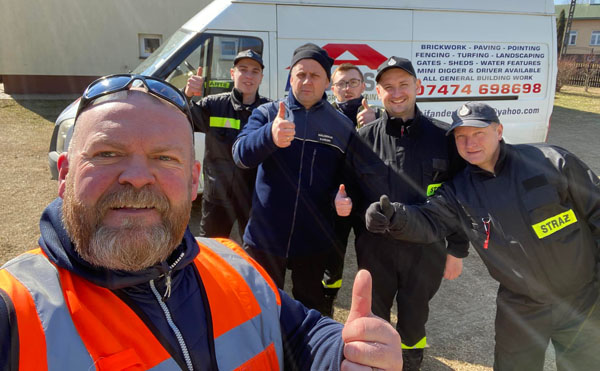 On 9 March he took action. John, who is also a member of the Widows Sons Masonic Bikers Association, and his wife, Vicky, raised £2,900 with the help of the Widows Sons and by use of social media. With this Jon bought enough supplies to fill his work van and set off for Poland.
Jon's journey started when he met other people heading towards Poland at Folkstone before crossing via the Eurotunnel. Jon passed through Germany and was praised by the border guards for his commitment. He slept in his van after crossing into Poland to get ready for his next leg. He planned to get to the locations where refugees were crossing the border and to safety.
Having arrived in Poland, Jon made it to Młyny, the location of a refugee holding centre. This was a good location for Jon to dispense some of his haul to the 2,000 refugees that were staying there. He said it was devastating to see so many lives impacted and hard to witness them living in such conditions. Moved by seeing the sheer number of children and babies caught up in the crisis, he befriended a Polish man named Pawel, who helped him set up a baby welfare stall providing immediate help for the youngsters. This all took place whilst in the distance artillery and anti-aircraft fire could be heard.
Following nights sleeping in his van, with the temperature being at -4oC, and finding that the Młyny centre was now becoming well stocked and supplied, he was directed to an area of greater need by a soldier with local knowledge. The soldier sent him to one of the less supplied centres in the city of Przemyśl, in southeastern Poland. Jon stayed there for some time. It was here that Jon was then made a registered humanitarian aid worker, which really helped is efforts, giving him access to do the things he needed to do to help the refugees being brought by bus to the camp.
Having first-hand knowledge of the situation on the ground, he began to scour the area purchasing much needed supplies. He used the rest of the money donated to him back in the UK to resupply his van and bring it back to the camp. He needed to do this several times with the situation worsening and his services being in high demand as Lviv was bombed and more and more people were being brought to the Przemyśl centre. Whilst engaged in this task, Jon made many friends among the volunteer community there. Jon then started to assist the humanitarian teams by delivering vital medical supplies across the border into Ukraine.
After nearly a week of helping bring supplies back and forth, as well as transporting volunteers, it was time to start his journey home. As a final humanitarian act, he took along a refugee mother and her son who were looking for transport and trying to get to the UK back towards France to help them on their journey.
St Helens Lodge of Lights and the Widows Sons North West Chapter are so proud of Jon for his humanity and bravery and quite rightly consider him their hero!