Jonathan Pagan of Yachtsman's Lodge No 3698, meeting at Woolton Golf Club, was raised to the sublime degree of a master Mason by Len Jones, who was standing in for the WM who was attending a wedding in Las Vegas.
Jonathan had been initiated into the lodge on 1 March 2017, passed on 3 April 2019 and was now being raised.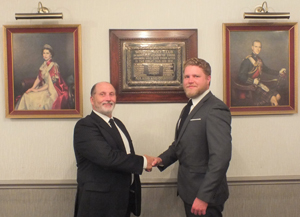 Len Jones opened the lodge in due form and conducted the ceremony up until the end of the second degree, whereupon David Pickett, who was Jonathan's proposer into Freemasonry, occupied the chair of King Solomon and opened the lodge in the third degree. The lodge DC Phil Gambrill occupied the senior warden's chair whilst Arthur Merrill occupied the position of inner guard. David Thomas and Danny Crichton acted as senior and junior wardens respectively.
David Pickett took the candidate through his obligation and then David Keay was requested to occupy the WM's chair for rest of the 'raising', after which David Pickett resumed the chair.
Phillip Gambrill delivered the traditional history brilliantly (his words)!
It was a great night and everyone played their part well, especially as Phillip Gambrill was taking the position of second principal and Jimmy Campbell (lodge secretary) the first principal's chair in Liverpool Dramatic Chapter No 1609 the following night. However, the craft ritual was outstanding.
At the end of a fine ceremony everyone retired to enjoy to an excellent festive board.