Hardshaw Lodge No 8722 which meets at St Helens Masonic Hall, was the venue for Jonathan (Jon) Edwards to be raised to the sublime degree of a master Mason, by his uncle in the presence of his father.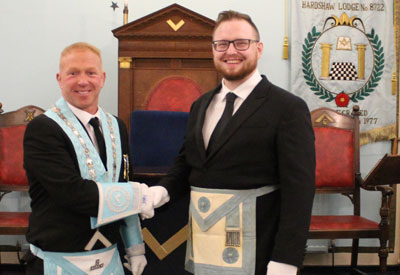 The lodge was opened in due form by the WM Darren Forshaw. Jon was then presented to Darren who proceeded to ask the necessary questions which Jon answered in a confident and word-perfect manner.
After being entrusted by the WM, Jon retired from the lodge. Sandy Kean, secretary of Hardshaw Lodge (Jon's uncle) took the master's chair in order to raise his nephew to the sublime degree of a master Mason.
Sandy conducted the ceremony of rising in its entirety, in an exemplary manner, finishing with an exceptional explanation of the traditional history.
The third-degree working tools were presented to Jon by Ryan Billington, in his usual flawless way.
A lively festive board followed, with a sumptuous meal provided by Square and Compass Catering to the acclaim of all present. The toast to the newly raised brother was proposed with great pride by his uncle Sandy Kean.
It was announced at the festive board that the charity plate in lodge raised some £50 and the raffle over £100. A splendid evening all round to welcome Hardshaw Lodge's newest light blue member.