It may be unusual to have a joint celebration for marking 50 years in Freemasonry but that was the wishes of both celebrants of Ulverston Lodge No 7872. Eric Thompson and Kenneth Griffiths were able to mark the splendid occasion in the Masonic Hall in Ulverston. Both were Past Provincial Junior Grand Wardens of the Province of West Lancashire and to guide the many brethren through their Masonic journey was Assistant Provincial Grand Master Peter Schofield.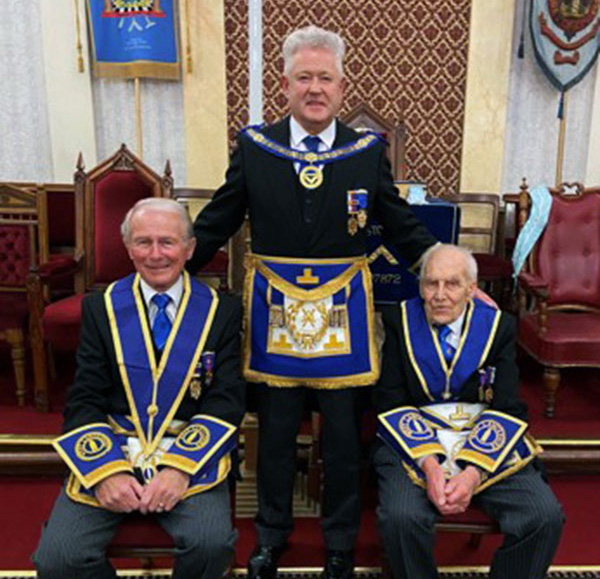 Peter stressed that within the organisation of Freemasonry, the highest standards are quite rightly expected of its members in terms of respect for others; being able to help those less fortunate than themselves and observing strict morality in all their dealings and behaviour. He added: "To have lived by and practised these principles for 50 years makes this achievement even more remarkable and it is only right and proper that this evening we gather here to congratulate and help celebrate this very auspicious occasion of the golden jubilee of two very fine distinguished and well-respected Freemasons."
Many an attendee smiled at the style of the day in 1971 – feathered hairstyles, turtleneck jumpers, bell-bottomed trousers and loud patterned shirts. All brought back fond memories for brethren of a certain era!
Eric Thompson took his first Masonic steps when he was initiated as a Freemason in Ulverston Lodge in May 1971. A Glaxo employee in London, Eric moved to Ulverston in 1952 until his retirement in 1991. He married Joan in 1950 and had 65 wonderful years together. Eric and Joan were blessed with three children and now have six grandchildren and five great-grandchildren.
Freemasonry was no stranger to the Thompson household, as Eric's father, brother, two brothers-in-law and two nephews were all members of the Craft. Norman Ingham was his proposer and his seconder was Ted Craven. Eric became the WM in 1982 and served as treasurer on no less than three separate occasions, becoming an honorary member of the lodge in October 2015. Within Provincial Grand Lodge, he received his first appointment in 1992 and attained the very high rank of Past Provincial Junior Grand Warden in 2007.
In Provincial Grand Chapter he was appointed to the rank of Past Provincial Assistant Grand Sojourner in May 1992; promoted to Past Provincial Grand Standard Bearer in May 2002 and in 2008 received a further promotion to the rank of Past Provincial Grand Scribe Nehemiah. Peter said: "His journey in Masonry had been truly magnificent, an outstanding Masonic career, one that he should be justifiably proud of."
Peter then focused his delivery to the other celebrant, Kenneth Griffiths. He too ended up working in the Glaxo factory in Ulverston, having moved from Liverpool and worked for the company for 36 years until he retired at an early age of 56. It was whilst he stayed at a guest house in Ulverston that he first met his wife Anne. They married in 1968 and it was only three years ago that they celebrated their golden wedding anniversary. They were blessed with four sons and now have four grandchildren that bring great joy to the whole family.
Freemasonry was no stranger in the Griffith's family either; his father and an uncle were members of the Craft and it comes as no surprise that they were his proposer and seconder into the fraternity. Kenneth's entry into the craft began in October 1971 when, poor and penniless, he was initiated into St Cybi (Cubby) Lodge No 597 at the Masonic Hall, Holyhead, Anglesey.
Owen, Kenneth's father, was also fortunate to be able to celebrate his 50 years as a Freemason in St Cybi Lodge. Information from the Province of North Wales about Kenneth's Masonic journey had not reached Peter in time and so his story began from May 1984 when he came to the Province of West Lancashire, with him becoming a joining member of Ulverston Lodge. Kenneth was assistant secretary initially until he was installed into the chair as WM in April 1996. The role of assistant director of ceremonies followed and from 2001 to 2007 he was the secretary of the lodge. His first appointment in Provincial Grand Lodge was an acting rank of Provincial Assistant Grand Director of Ceremonies in 2003, being promoted to Past Provincial Deputy Grand Superintendent of Works in 2007, reaching the same high rank as Eric in 2013 as Past Provincial Junior Grand Warden.
Kenneth was appointed to the acting rank of Provincial Grand Steward in May 2005 in Provincial Chapter; promoted to Past Provincial Deputy Grand Sword Bearer in April 2009 and receiving another promotion to Past Provincial Grand Scribe Nehemiah in 2015.
Congratulating Kenneth on his outstanding achievements in Masonry, Peter expressed how privileged he felt being there to witness such a special occasion. He passed on the good wishes of the Provincial Grand Master Tony Harrison on this fantastic milestone for both brethren. It was left to the Chairman of Furness and South Lakeland Group Gary Rogerson to read the certificates being presented and to express his delight and pleasure at being there to celebrate Eric's and Kenneth's 50 years as Freemasons.
The formalities ended, their stories of their last 50 years had been told, and so all retired to share a hearty plate of food and a glass of wine to toast their health and happiness for the future.