Hardshaw Lodge No 8722 was opened in due form by the WM Darren Forshaw. It being an emergency meeting the secretary assured the WM that he had received the dispensation from Provincial Grand Lodge, and all was well to proceed.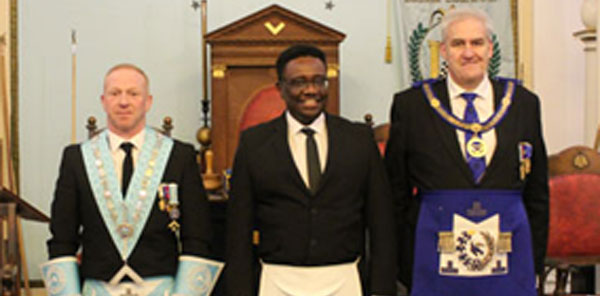 The ballot proving favourable, treasurer Michael Johnson entered the lodge and announced that the candidate had signed the book of declaration and all dues had been paid. The lodge was honoured by the surprise visit of Assistant Provincial Grand Master Andrew Whittle, who had come along to see his good friend Clifton, better known as John, initiated into Freemasonry.
On entering the lodge, it was clear that the candidate, Clifton John Williams was a little nervous but quickly grew in confidence under the excellent guidance of junior deacon Ryan Billington and well supported by acting senior deacon Jon Edwards.
It was obvious to all present that the WM had spent many nights reading his little blue book to ensure the ceremony was the best it could be. The working tools of an entered apprentice Freemason were presented by Richard Hughes, in his usual self-assured style and the charge after Initiation once again given by Sandy Kean in an exemplary manner.
At the festive board, Stewart Cranage presented John with his welcome pack and congratulated him on becoming a member of such a fine lodge. When replying to the toast to his health, John told everyone that, he had never been so nervous, but thoroughly enjoyed the whole experience.
The evening was brought to a close with a rousing rendition of the 12 days of Christmas. The evening went well and everyone there agreed that John will be a great asset to Hardshaw Lodge, Welcome brother John.