Cleveleys Masonic Hall was the setting for the 50th celebration of John Allan Powell. 75 members and guests came together at Anchorsholme Lodge No 5854 to support him.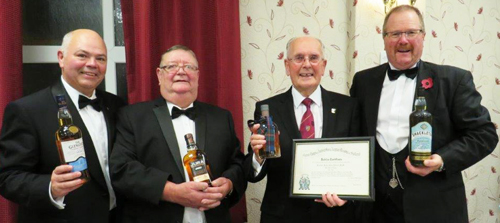 The WM Jamie Blundell welcomed everyone and opened the lodge moving up to the third degree at which point the Provincial Deputy Grand Director of Ceremonies Jason Dell entered to announce that the Assistant Provincial Grand Master David Randerson was outside and demanded admission.
David entered the lodge accompanied by fellow grand officers, Terry Hudson, Harry Cox, North Fylde Group Chairman Peter Greathead, Keith Jackson, Giles Berkley and Mike Goodwin. David was also supported by acting officers David Edwards, Alan Barnes, Terry Murtagh, all this under the direction of Jason Dell.
Once the visitors were seated, Jamie formally welcomed David and his glittering entourage to the evening's celebration. Jamie offered the gavel of the lodge to David which on this occasion he retained.
Once salutations were completed, David's first item was to move the lodge to the first degree and ask Jason Dell to seat John in a comfortable chair before him.
David's began his presentation by setting the background to the year of John's birth saying: "It was 1936. George V died to be succeeded by Edward VIII who in turn was to abdicate and George VI took the throne. Buddy Holly was born, Billy Butlin opened his first holiday camp in Skegness, the RMS Queen Mary had her maiden voyage to New York and the first red telephone boxes were introduced and John was born".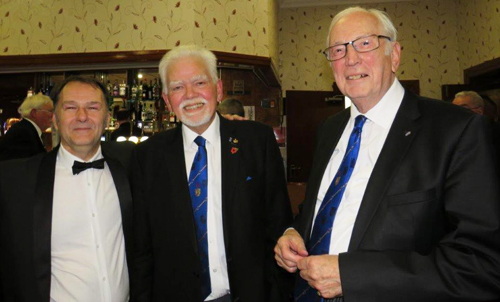 David continued in his oration by detailing, John's navel service and ending with highlighting John's dedication and service to Masonry. A transcript of David's presentation to John can be found here.
 At the end of his presentation David asked Peter Greathead to read the certificate from the Provincial Grand Master after which David formally presented his 50 years certificate to John.
As an added highlight to the celebration, members of his mother Athole Lodge No 384 in the Scottish Constitution, presented John with a diploma celebrating his 50 years in Masonry.
The lodge was then closed and the brethren retired to the dining room for a sumptuous festive board, during the many toasts Harry Cox proposed the toast to John and gave a scintillating history of John's Fylde coast Masonic journey.
In response to the toast to his health John spoke in depth about his naval and Masonic career recalling anecdotes and providing many photographs to illustrate a long and distinguished life and career.
A raffle held on the evening raised a magnificent £350 which will go to Masonic and non Masonic charities and to close the evening in fitting style Bob Major delivered the tylers toast.