At the Ormskirk Priory Lodge No 4007 April 2022 meeting a celebration of 50 years in Masonry for one of its past masters, John Wallbank, took place.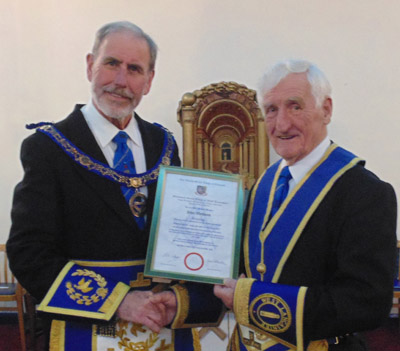 When normal lodge business had been dispensed, Assistant to the Provincial Director of Ceremonies Dave Boyes entered the lodge to instruct the brethren to receive Assistant Provincial Grand Master Frank Umbers who then joined the Deputy Provincial Grand Master Phillip Gunning, a member of the lodge, group chairman Graham Chambers and other grand and Provincial grand officers.
After formally greeting Frank Umbers, the WM Ian Kennedy offered Frank the gavel of the lodge, which on this occasion he accepted in order to give an explanation about John's exceptional 50 years of Masonry.
John has been very active in Masonry, occupying the chair of King Solomon in 1987, being ADC then DC and WM again in 2019, the year of the lodge's centenary where the Provincial Grand Master presented John with a further promotion to PPJGW after receiving his first promotion in 1996. He remained in the chair through 2020. He is now the lodge chaplain.
In the year that John received his first Provincial Craft appointment, 1996, John was installed as WM in another Masonic Order and is now the chaplain. After receiving an acting rank, he has had two further promotions. John is also a member of two other Masonic Orders.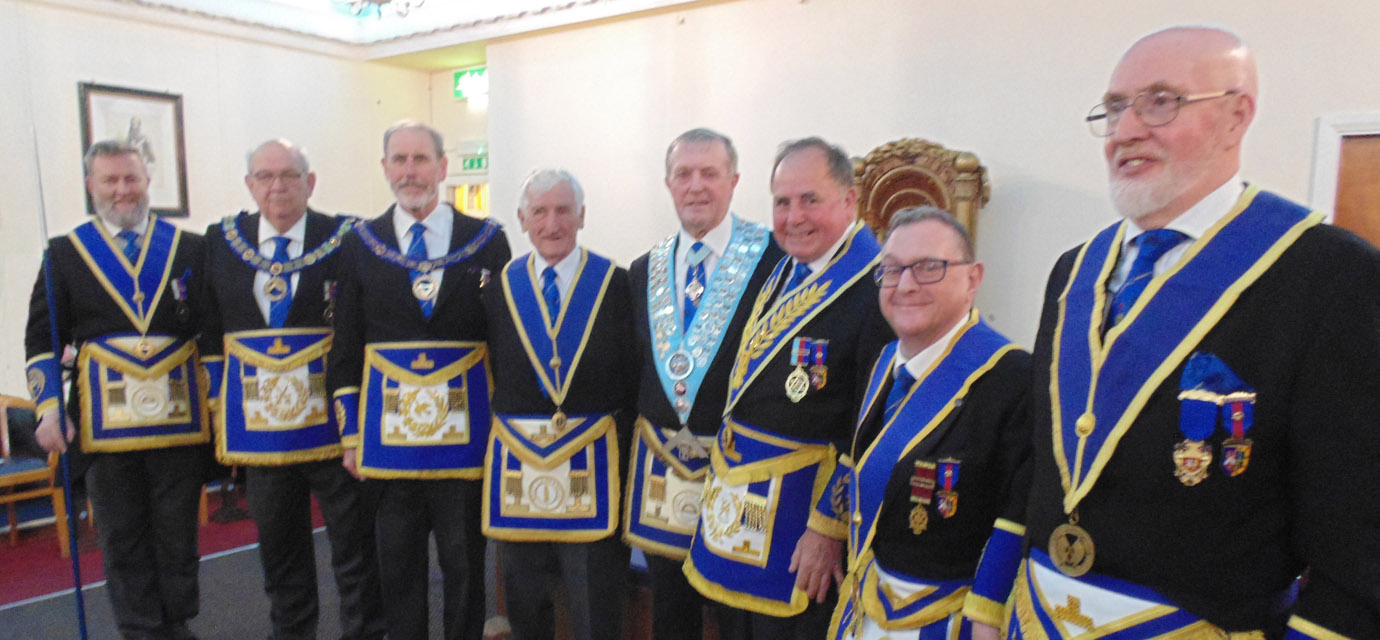 On completion of Frank's report on John's Masonic career, the WM, Ian Kennedy, resumed his position to finish the lodge business and close the lodge and then the brethren retired to the restaurant to continue celebrations. A banquet style meal with wine ensured that this was an evening to remember.
A terrific brochure of John's Masonic achievements had been compiled by lodge secretary Trevor Martin and was given to all brethren as a memento of this special evening. to view this brochure,

Whilst this was a celebration of John's Masonic achievements, Assistant Provincial Grand Master also enthralled brethren with stories of John's farming exploits, such as trading with Masonic colleague and farmer ex-Chairman of West Lancs District Council William Cropper.
John lost his left eye in 1976 but never lost his eye for detail and this was evident throughout this most memorable evening.