John Robson was installed as WM of Silverdale Lodge No 6926 in the presence of Past Assistant Grand Director of Ceremonies Barry Fitzgerald, who was the representative of Provincial Grand Master Mark Matthews.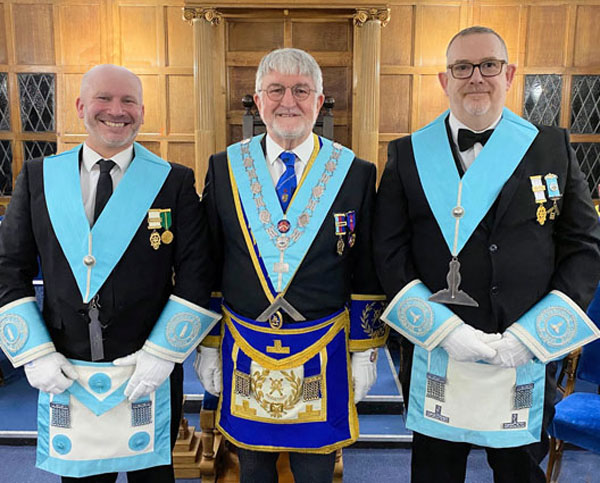 Barry was accompanied by Past Assistant Provincial Grand Master Frank Wilkinson, Grand officers Peter Mason, Malcolm Dewhurst, Ian Higham, Mark Gregory, David Holland, David Kellet and Chairman of Lancaster Group Neil McGill. Lancaster Group Vice Chairman Scott Devine was also present. Acting officers in attendance were; Provincial Grand Junior Deacons Dave Shaw and Ian Simm, Provincial Grand Standard Bearer Tim Gill and Provincial Grand Stewards Matt Kneale and Mark Little.
John was presented as master elect by director of ceremonies Alan Procter. The ceremony was conducted by installing WM John Gunson. The installing officers were; senior warden Tony Jackson, junior warden Peter Mason and inner guard Allan Thompson. The tools of a WM were presented by Peter Mason. The third degree working tools were presented by Julian Webb, the second degree working tools by Richard Parker and first degree tools by Matthew Preston.
Once installed, the WM appointed Stuart Thompson as senior warden and Matthew Preston as junior warden. After two stints as director of ceremonies from 2008 to 2013 and 2015 to 2023, Alan Procter was delighted to be able to hand over the reins to his assistant Carl Horrax and was thanked for his service by the WM. Giving the address to the master was Peter Wood, the address to the wardens by Peter Mason and the address to the brethren of Silverdale Lodge by Barry Fitzgerald.
The organist for the evening was Peter Wood and the master's song was performed by Simon Almond. A total of 66 brethren attended the festive board at Silverdale Golf Club and the raffle raised £310. The toast to the WM was given by David Liptrott.
John Robson was born in 1943 in High Wycombe, Buckinghamshire. His father was half Irish who was employed as a civil servant and his mother was a nurse from Walney Island, Barrow-in-Furness. During the early stages of World War II, his parents were living in Croydon, Surrey and due to heavy bombing, his mother was evacuated to High Wycombe.
After the war his parents moved to Dover where John had his early schooling and was a member of the local church choir. His mother wanted to return to Barrow and this was achieved after his father managed to arrange a transfer in 1952. John resumed his education at Ocean Road Primary School on Walney Island before moving to Barrow Grammar School.
John's early career was in the Civil Service working in Manchester, Barrow, Bootle and Liverpool. Following home study he qualified as a Chartered Surveyor working for the Valuation Office at Bolton Borough Council. He later went into private practice in Bolton where he became a partner in charge of an estate agency firm that grew to 13 branch offices which were sold to Halifax Building Society in 1986.
Not wishing to retire at 43 years old, John moved into fuel retailing and took tenancies of four petrol stations in Bolton, Stockport and Manchester where he remained until retirement in 2003.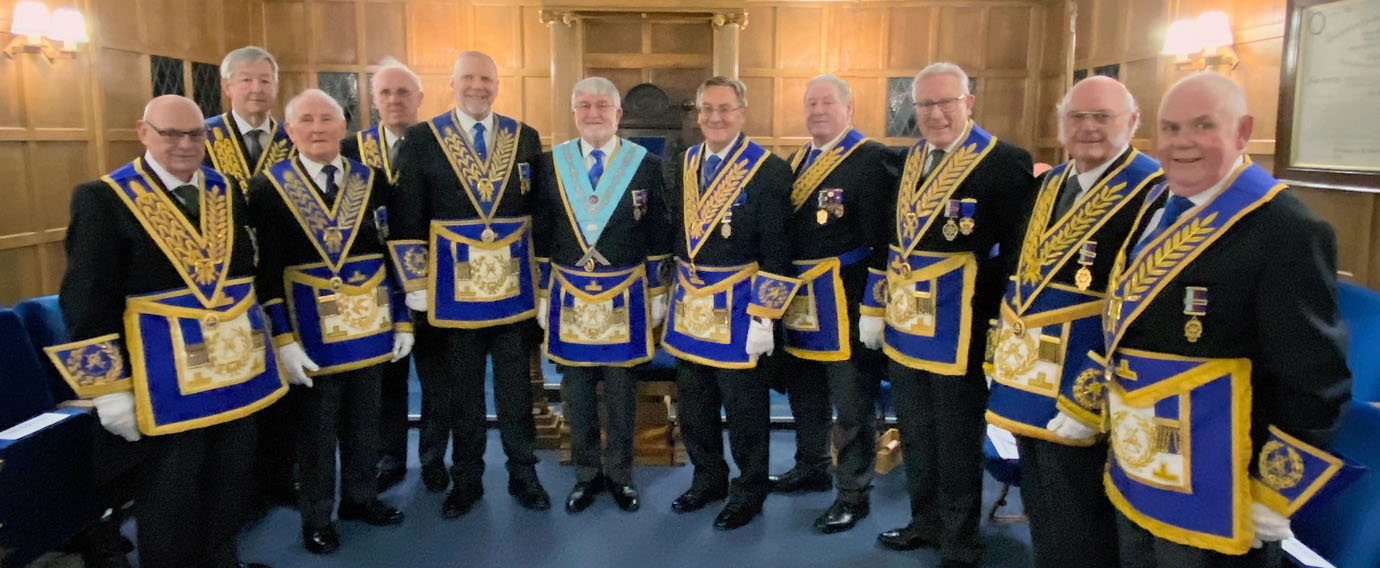 John married his first wife, Shirley, in 1965. She was the daughter of a prominent Leyland Freemason with whom he had two children, Eleanor born in 1970 and Matthew born in 1972 who later gave him a granddaughter. During this marriage he lived in Liverpool, Chorley and Bolton. He married his second wife Kathryn in 1996 and has a stepson Nic from whom he has inherited two more granddaughters, one grandson and a great grandson. Kath and John lived in Sale for several years, later moving to Bolton in 2001 and Silverdale in 2004.
John is a former member of Horwich, Westhoughton and District Round Table. He was introduced to Freemasonry by Shirley's father and was initiated into Anderton Lodge No 8470 at Westhoughton. Several members of this lodge who were fellow Round Table members attended John's installation ceremony at Silverdale.
John was WM of Anderton Lodge in 1983 and WM of Coronation Lodge of Westhoughton No 7258 in 2002. He was a founder member of Phoenix Lodge of Installed Masters No 9206 and later joined Silverdale Lodge and Westmorland Lodge of Installed Masters No 7111 in the Province of Cumberland and Westmorland. John is a grand officer with the rank of Past Assistant Grand Director of Ceremonies.
John was exalted into Royal Arch in Horwich Chapter No 2324 in 1983 and was first principle in 1997. He has been a member of other chapters including the Provincial Grand Stewards' Chapter of West Lancashire No 8516 and is still a regular attender at Horwich Chapter. John recently joined Sandylands Chapter No 5702 and Cumberland and Westmorland's Installed Principals' Chapter No 8071. John is a Past Assistant Grand Sojourner.
In 2008, the Provincial Grand Master Colin Penty Wright appointed John to the post of Chairman of Chorley and District Group. John held the post for five years and thoroughly enjoyed his time in office despite the commute from Silverdale to the Chorley area. John was honoured with election as an honorary member of three craft lodges and a Royal Arch chapter within the group during this time. John is a member of other Masonic Orders and holds high rank in them.