John Lomax is the new driving force behind Hope Lodge No 4003 which meets at the Masonic Hall at Ashton in Makerfield.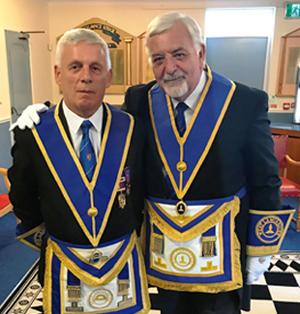 The lodge has a wonderful history, and for 99 years has practiced the finest traditions of Freemasonry. Over this time members have played vital roles in the community, donated may £1,000's to 100's of local causes, at the same time enjoying rich social events. John's duty is now to see the lodge safely to its centenary early next year. With an influx of joining members and two new candidates in the wings, the future is looking bright.
Due to the very sad passing of Graeme Hughes, Barry Dickinson stepped in as the principal guest and was accompanied by Wigan Group Vice Chairman John Selley. By coincidence, Barry was WM of his mother lodge, Bryn Lodge No 6553, back in 2004 when John was first in the chair. They shared a wonderful year together and, as invariably happens, they and their partners became lifelong friends.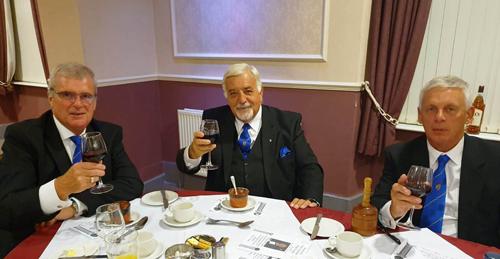 John was ably installed by Bob Roberts, who has held the reigns for the last two years. He was assisted by the wealth of talent this fine lodge holds. Carrying on their charitable tradition, donations of £400 in support of the MCF and £250 each to Ashton Masonic Properties and the Development Group were made.
A rousing festive board in an electric atmosphere followed in the usual Hope Lodge tradition during which guests John Carey performed the 'Master's Song', ably accompanied by John Cooper on the piano.
After spending his working life with the St Helens glass manufacturers Pilkington's, John retired from his job several years ago to immerse himself in his second hobby after Masonry, that being golf. As well as playing the game, he now works as a ball collector at Clarke's Golf Centre at Rainford. In fact, despite the celebrations late into the night, he was up bright and early the next morning and on duty serving the early risers out for practice.
John is definitely on the ball, par for the course, and his driving ambition will be putting Hope at the top of the leader board!