On November 14, 1940, at a farm in Whitley, Cheshire, John was born during the height of the Coventry Blitz. Being raised on a farm was a dream childhood, full of friends and animals to keep him entertained.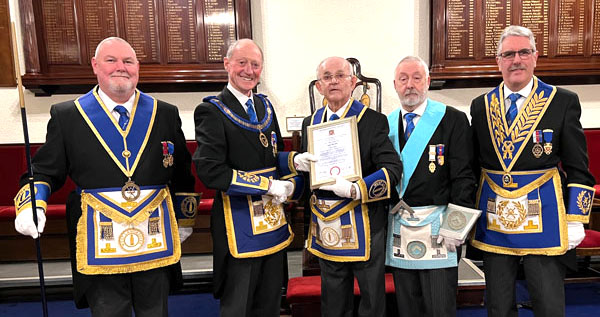 John kept a number of animals as pets, including a lamb he named Molly. John liked to go on walks with Molly and enjoyed teaching her to walk on a leash. In fact, he once took Molly to see a neighbour, but she misbehaved, jumping on the table and putting her foot into a freshly cooked cake, which quickly ended that visit.
Away from the farm, John spent many happy hours fishing at Belmont Hall Lake and other local venues. Armed with his packed lunch and cane rod he would stare for hours at his quill float waiting for that bite. He also learned to swim at Warrington Baths and it was whilst at the Warrington Baths that he met Cliff Lunt who would be a big part of his Masonic journey in later life. Warrington Baths was an old Victorian bathhouse and was the first to be built in Warrington in 1865. Sadly, it no longer exists today but Warrington Baths had a taste of the Olympics in 1948, when a team of water polo players faced Australia in a gripping encounter at the baths.
John attended Stockton Lodge School from 1945 to 1950 but due to sickness, he had a year out of school between1947/8 which resulted in being taught by his mum at home. Fortunately, John's Mum had been a teacher which helped in keeping up his schooling. After leaving Stockton Lodge in 1950, he enrolled in Belmont Hall College in Great Budworth, Cheshire, which had a really welcoming atmosphere and another place where he was quite content.
After graduating from college in 1957, John began working for the local Tax Office (now HMRC), where he later received postings to Widnes, St. Helens, back to Widnes, and eventually back to Warrington, where he had started his career and continued to work before he retired from this position in 1995.
In 1961 or thereabouts he met a young lady called Ruth Antrobus whom he later married in 1963 and now shares two children with. His days of fishing soon ended and the fishing tackle was sold. Prior to the birth of their children, Ruth worked as an office relief and she met a lady who advised her that her own daughter had also been born at the time of the Coventry Blitz. She told her that her daughter was due to give birth at anytime and eventually she told Ruth a baby boy had been born and was called Andy Barton, a name familiar now to a number of people in the Warrington Group, clue Warrington Group Chairman.
In early 1970 or thereabouts John thought that he would like to become a Freemason so he spoke to a family member and it took 3 years to get initiated. John was Initiated on 9 January 1973 into Newavon Lodge No 4131 (East Lancashire) and served as a steward from 1973/4 and assistant secretary from 1974/6.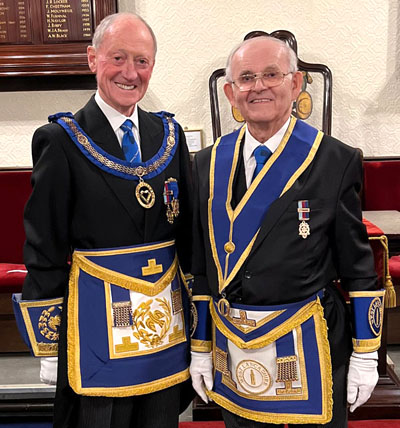 During his brief period of membership, he liked to go visiting. On one occasion when visiting the Warrington Masonic Hall, he heard the name of Cliff Lunt mentioned. Cliff was his old swimming friend and had known him since he was a teenager. John spoke to one of the members who had left the dining room. He asked if he had correctly heard his name to which he said 'yes' and offered to ask Cliff to come out to the bar to speak to him. That encounter was the start of something special with many visits to St Austin Lodge No 4335 and Lodge of Good Endeavour No 8258.
On one occasion, John was in Middlewich visiting Avondale Lodge No 2389 when he ran into Fred Mounfield. Fred was a family friend who had been helping him at a time when his dad's health was poor. John invited Fred to Newavon Lodge and in turn, Fred invited John to Warrington Temple Lodge No 6420. John was so impressed with the way Arthur Bishop, the DC, conducted himself and invited John to speak on behalf of the visitors and the general friendship of the other members that it was inevitable John asked Fred and Percy Mounfield to sponsor his application to join.
On 17 November 1976, John joined Warrington Temple Lodge. He felt this was where he should have been in the first place! John resigned from Newhaven Lodge and latterly found how correct the ritual is. "What inducement have you to leave the east and go to the west" to which John will say: "To seek for that which is lost", because it most certainly was found in this Lodge and the Warrington Group generally.
John held the following offices during his time at Warrington Temple Lodge;- charity representative 1978-1982, WM 1984 and 2011, secretary 1986-2006, assistant secretary 2006 to date, auditor 2008-2010, chaplain 2021 to date and shareholder 2021 to date. In 1993 John was appointed to PPSGD and promoted to PPJGW in 2001
At one of the lodge socials at the Saracens Head Bowling Green, John's wife, Ruth met up with Andy Barton and then she related to him her meeting with his grandmother and of the Coventry Blitz.
A natural step in Freemasonry is to join Royal Arch. One of his neighbours in his early years of marriage was Bill Tatham whom he asked to sponsor him with his application to join Gilbert Greenall Chapter No 1250. John was exalted on 26 October 1976. The offices held by John were;- first principal 1989, scribe Ezra 1995-2007, group representative 1993-2007 and almoner 2008-2013. John was appointed to the acting rank of ProvDepGReg in 1996 and promoted to PPGScribeN in 2002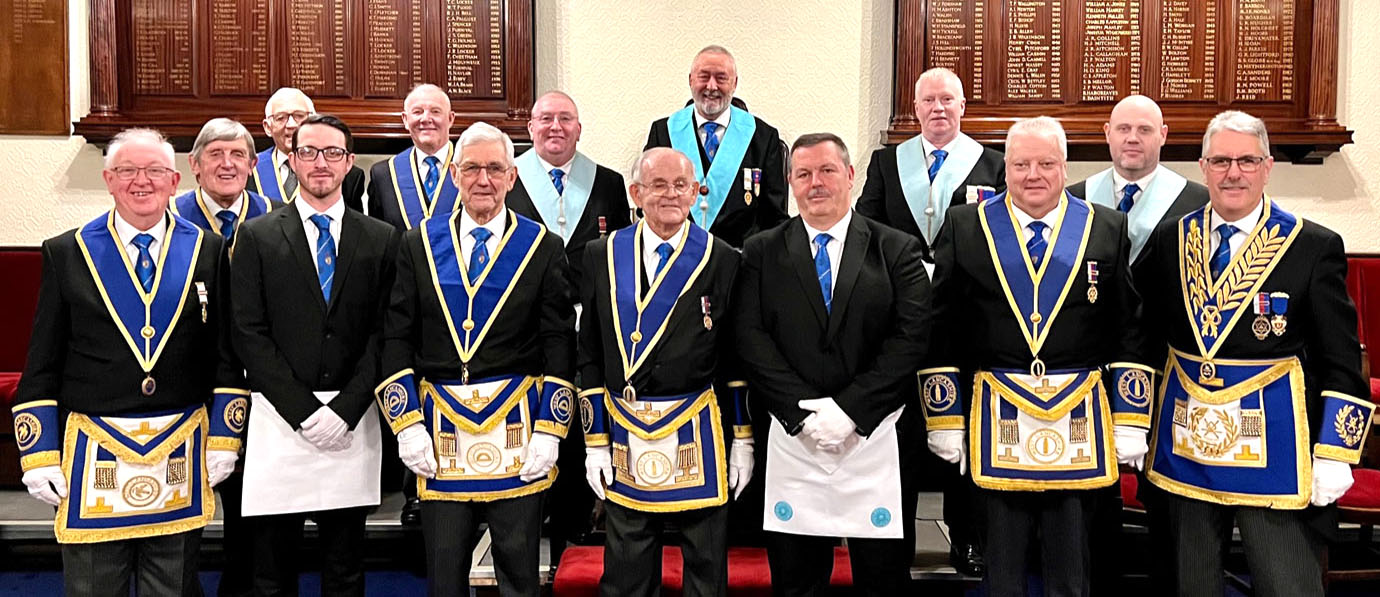 Johns' wish is that all the members of his lodge, and indeed other lodges, enjoy their Freemasonry as much as he has
Story and photographs by John Moreton and Neil Thomas.