The members of Old Masonians West Lancashire Lodge No 7702 gathered with numerous friends to celebrate the Masonic golden anniversary of their very own John Mace.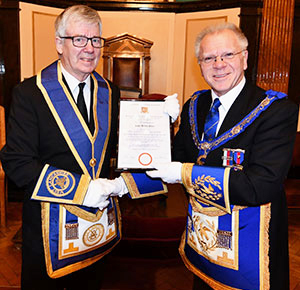 The meeting, filled near to capacity, was held in the Roman Suite on the ground floor of Liverpool Masonic Hall. The principal guest for the evening was Assistant Provincial Grand Master Derek Parkinson who was accompanied on this special occasion by a number of grand officers, together with Chairman of the Liverpool Group Mark Matthews.
The Provincial Deputy Grand Director of Ceremonies Ian Halsall, announced the arrival of Derek and his accompanying entourage and WM of the Old Masonians Elfyn Parry welcomed Derek into the lodge room and offered him the gavel, which on this occasion he politely accepted whilst thanking everyone for their warm welcome.
On taking the chair, Derek began his address outlining the reason for the evening's celebratory event, together with some of the events that happened during John's lifetime, particular reference being made to when he took his first steps in Freemasonry. On completion, Derek asked Ian Halsall to place the celebrant before him so that he may continue his address.
After making sure John was sitting comfortably, Derek embarked on a fascinating and enlightening reflection on John's personal, professional and Masonic life. A transcript of Derek's address can be found by clicking here.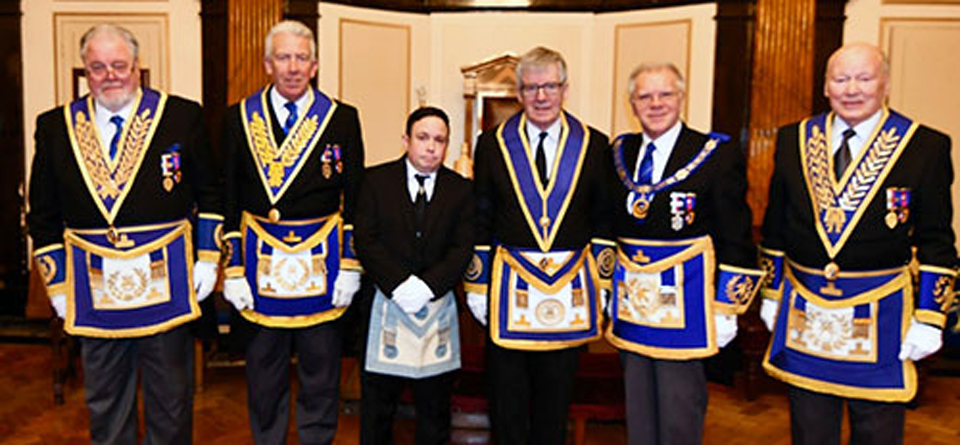 On the conclusion of his address, Derek asked Mark Matthews to read the commemorative certificate which the Provincial Grand Master Tony Harrison had caused to be issued, after which Derek presented the certificate to John and wished him the health to enjoy many more years in Freemasonry.
On completion of the proceedings, the brethren retired to the dining room to enjoy well-earned refreshment at the festive board. The centre piece of any Old Masonians West Lancashire Lodge banquet is the array of silver bowls formerly used at the Royal Masonic School at Bushey. It was a very lively atmosphere, with plenty of good-natured conversations complimenting an excellent meal.