Members of Fermor Hesketh Lodge No 1350 and their guests were pleased to have Assistant Provincial Grand Master Frank Umbers as the principal guest to their annual installation ceremony at Litherland Masonic Hall. Frank was accompanied on the evening by the Ormskirk and Bootle Group Chairman Graham Chambers and grand officer Brian Cunliffe.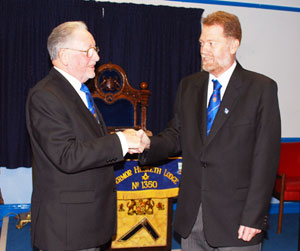 The outgoing and installing WM Derek Challinor started the evening's proceedings by warmly welcoming the brethren to the meeting, before proceeding to open the lodge in due form. Once the initial business had been completed, Derek opened the lodge to the second and third degrees, where the lodge's DC Graham Ashmore announced that Frank Umbers was without and demanded admission, Frank was then admitted into the temple accompanied by Graham Chambers and Brian Cunliffe, with a number of past Provincial grand officers.
The master elect John English was then presented to the lodge by the presenting officers and after John had taken his obligation, the outgoing WM thanked all the officers of the lodge for their support and hard work they had given him during his year in office.
Derek proceeded to install John according to ancient custom into the chair of King Solomon. The working tools for the first and third degree were presented by Graham Ashmore and the second degree tools by Kenneth Meath, the address to the WM was delivered by David Sullivan and the address to the brethren of the lodge by Frank Umbers. All the working tools and addresses were delivered in an excellent manner.
At the end the ceremony of installation, Frank stood up and addressed the brethren by bringing congratulations from the Provincial Grand Master Tony Harrison, wishing John and all the brethren the very best of health and hoping they have a happy Masonic year. Frank proceeded to congratulate Derek for the manner in which he had installed John into the chair, the lodge's DC Graham Ashmore and all the brethren who had taken part in the ceremony.
John's first duty as master was a pleasant one, as he presented cheques to Frank on behalf of the lodge; £100 to the MCF 2021 Festival, £200 to the Parkinson Society, £100 to the West Lanc's Freemasons' Charity and £100 to Tithebarn, and on behalf of the recipients Frank thanked the lodge for their very generous and worthy donations.
After closing the lodge in prayer and harmony the brethren made their way to an excellent festive board which was enjoyed by all, were a raffle was held which raised £64 which will be donated to charities at a later date.