It was another special occasion and a memorable night for the Ormskirk and Bootle Group, when companions and the many guests of Thornton Chapter No 8008 gathered at the Litherland Masonic Hall to witness the installation of John Roxburgh, as their new first principal.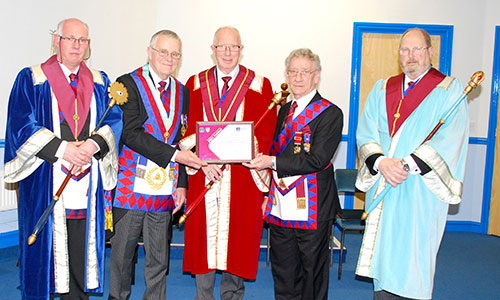 The chapter was pleased and honoured to have the presence of Colin Jenkins as the representative of the Grand Superintendent, as their principal guest for the installation. Colin was accompanied by Ormskirk and Bootle Group Chairman Graham Chambers, group vice-chairman Malcolm Alexander, grand officers Peter Levick, Ian Gee, Arend van Duyvenbode and acting Provincial grand chapter officer Barry Dearden.
The meeting commenced with the acting first principal, Roy Pyne opening the convocation, with his companions; John Roxburgh the second principal and Stephen Oliver the third principal. Once the initial business had been completed the acting DC Jason Hengler entered the temple and announced that Colin Jenkins was without and sought admission. Colin was then brought into the temple in a procession, accompanied by the grand and acting Provincial grand chapter officers.
After Colin was warmly welcomed by the three principals to the chapter, the installation ceremony commenced with the companions of the chapter and visitors witnessing John Roxburgh, Stephen Oliver and Roger Holt being installed as first, second and third principals respectively.
The scarlet robe address was presented by Mark Sands; the purple robe address was presented by Ron Elliott and the blue robe address was presented by Roy Pyne.
At the conclusion of the ceremony Colin brought the congratulations on behalf of the Grand Superintendent Tony Harrison, wishing the three principals an excellent and enjoyable year in office, Colin then congratulated Roy Pyne and Jason Hengler for the way they performed their parts in the ceremony, before congratulating all the companions of the chapter who had been involved with the ceremony.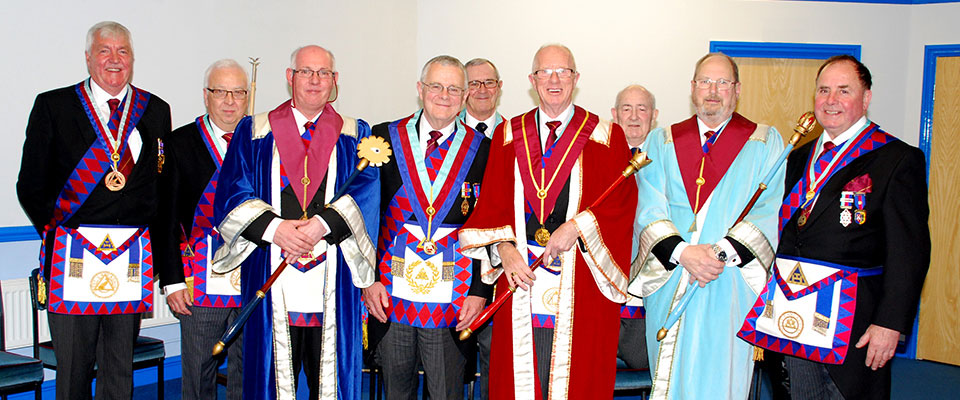 John then presented Colin with four cheques for charities on behalf of the chapter, £300 to the West Lancashire MCF 2021 Festival, £50 to the Bootle Group widows, £50 to Tithebarn and £50 to the Tommies Appeal. Colin on behalf of the recipients thanked the companions for their very kind generosity, before having the privilege to present John with the chapter's Vice-Patron certificate for the 2021 Festival.
Following the convocation, the members and guests retired to enjoy an excellent festive board, which concluded a most enjoyable evening. During the festive board a performance of the principal's song, sung by some of the companions and guests, with Ian Gee accompanying on the guitar. They performed under the name of 'The Litherland Masonic Male Voice Choir', which was very entertaining and a very enjoyable addition to the evening.
During the evening a raffle was held which raised £184 which will be distributed to charities later in the year. The evening then closed with everyone leaving after having a very warm and a very jovial evening amongst friends.