It was a two-for-one event at the Pendlebury Lodge No 8177 meeting at Swinton Masonic Hall, Swinton when they not only had their installation but also celebrated the 50 years in Masonry of their distinguished member John Hutton PSGD, PAsstProvGM.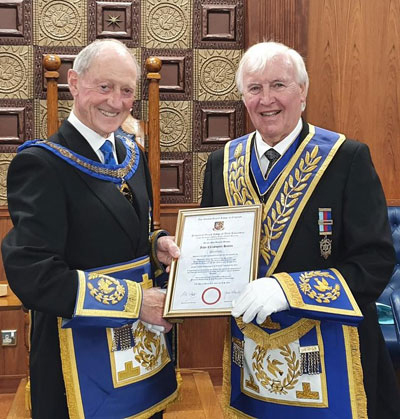 Surrounded by a lodge full of friends, John himself had a very busy evening, acting as installing master placing Patrick Walsh the Eccles Group Vice Chairman into the chair of the lodge in a ceremony full of good ritual, warmth, and humour.
John was ably assisted in this part of the evening by Kevin Pointon, who stood in at the last moment as lodge DC. Kevin conducted himself so well that all those present felt that he must have done it before.
Once the installation ceremony was complete, it was then a great pleasure to see Barry Jameson AsstProvGM take the chair of the lodge to celebrate John's anniversary of being initiated into Pendlebury Lodge on 17 March 1971. Barry then proceeded to open the box on elements of John's life and Masonic career.
John Christopher Hutton was born in Eccles in 1945, to Thomas and Elsie Hutton. Tom was a shopkeeper at Eccles Co Op's tailoring department and was a part-time fireman and a leading singer in Eccles Amateur Dramatic Society and Elsie was a baker and confectioner.
Shortly after John's arrival, his parents bought a bakery shop on Cleggs Lane, in Little Hulton where John as a youngster helped in the shop and bakehouse. He attended St Paul's, Peel, Infant School, and then Hulton County Secondary School where his achievements included gaining the Duke of Edinburgh's Gold Award.
From school, John commenced work as an apprentice engineer at Associated Electrical Engineers in Trafford Park with a night school apprenticeship at Worsley Technical College, studying general engineering. From there he studied at Stretford and Manchester Colleges of Science and Technology on day release and 2 nights per week achieving his HNC in Electrical Engineering and choosing electron microscopy as a career.
But, as Barry pointed out it was, not all work and studying for John as Saturday nights during his teenage years, saw him and his friends venturing into the various clubs and pubs around Bolton, playing the piano at a pub for free beer, followed by dancing at Bolton Palais and the last bus home at 11:15 pm. It was during this period, that John met his wife Anthea, and they were married at St Paul's, Peel in September 1968, with a reception at Westhoughton Masonic Hall.
However, after just 3 weeks of marriage John's work took him overseas working at the European Space Center in Holland for almost 10 months, followed by weekly travel to all parts of the British Isles fixing microscopes. It was not a surprise when returning home late one Friday evening to discover that Anthea had found him a new job, working at Manchester University. After a thorough grounding in electron microscopes, a move to The University of Manchester was a great career change that lasted until his retirement.
In the early years of his marriage, John and Anthea attended many of the social functions, which took place at Swinton Masonic Hall courtesy of his uncle, Eric Parkinson, one of the founders of Pendlebury Lodge. It was on one of these occasions that he asked Eric if it would be possible to join the lodge.
John joined Pendlebury Lodge and was initiated on the 17 March 1971, but as with so many celebrations the pandemic has taken its toll and delays on all celebrations but finally, John has been able to celebrate his 50th anniversary.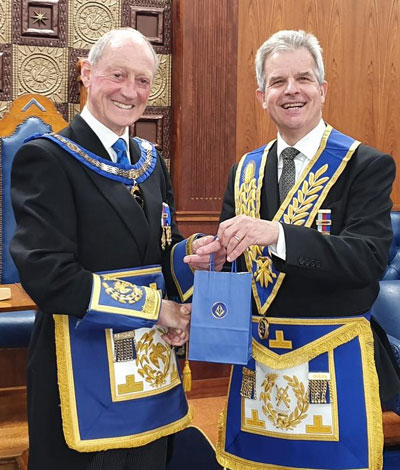 At the first installation meeting after joining the lodge, John was appointed assistant secretary, which he said was an excellent way of finding out everybody's name. John served most of the offices of the lodge ending up as master in 1978. Ladies' evenings were good and memorable in those days with a full house, starting with afternoon tea, followed by whist, dinner at six, dancing all night, and supper just before carriages at 11:30 pm.
His first Provincial appointment was in 1987 as an acting Provincial Grand Steward, with a promotion in 1995 to Past Provincial Grand Superintendent of Works, and Past Provincial Junior Grand Warden in 1999. John's continued service to Freemasonry was recognised by UGLE, with an appointment to Grand Rank as PAGDC in 2000, promoted to PJGD in 2011, and appointed as an AsstProvGM in 2013, with a further promotion in Grand Lodge to PSGD in 2015.
John is also a member of Quingenti Lodge No 8516 and a former member of Lathom Lodge No 2229.
In the Royal Arch, he was exalted into the Chapter of Hope No 2679 on the 26 April 1974 and was its first principal in 1986. Ever busy John was a Provincial Grand Steward in 1992 and received his first appointment in Supreme Grand Chapter as PGStB in 2001, an Assistant to the Provincial Grand Principles in 2002, and subsequently, Second Provincial Grand Principal in 2012, with a promotion in SGC in 2009 to PAGSoj.
John is also a member of the Provincial Grand Stewards Chapter of West Lancashire No 8516 and served as its first principal in 2008. In the Eccles Group, John is also the Treasurer of Swinton Masonic Club and Chairman of Swinton Charitable Trust.
John and Anthea have a daughter, Claire and two grandchildren Ben aged 16 and Harry aged 12 and therefore not surprisingly his hobbies include grandchildren, plus tennis, and regular visits to Madeira.
Barry closed by highlighting John's extensive Masonic knowledge and how he has and continues to contribute enormously to his lodges, the Eccles Group, Swinton Masonic Hall, the Province of West Lancashire, and Masonry in general. John is held in high esteem across our Province which was clear from the number of friends attending and others who are not present who had sent their best wishes.
Barry also added his congratulations to those of our Provincial Grand Master and thanked him personally for his friendship and work with the Provincial Halls Support Group.
After Stuart Boyd, Chairman of the Eccles and District Group read the certificate issued by the Provincial Grand Master Tony Harrison, Barry presented it to John and the brethren all joined to acknowledge John's achievements and service to Freemasonry in the usual manner.
The celebrations continued with a wonderful festive board.