In late March 2022, John Heaton celebrated 50 years as a Royal Arch Freemason. The ceremony was conducted by Assistant to the Grand Principals Barry Crossley, accompanied by grand officers Peter Mason and Jim Wilson, acting Provincial grand officers; Provincial Deputy Grand Director of Ceremonies Barry Fitzgerald, Provincial Grand Almoner Paul Broadley, Past Provincial Deputy Grand Registrar George Fox, Provincial Grand Steward Chris Brown, along with Lancaster Group Chairman Neil McGill, vice chairman Scott Devine and group secretary Chris Larder.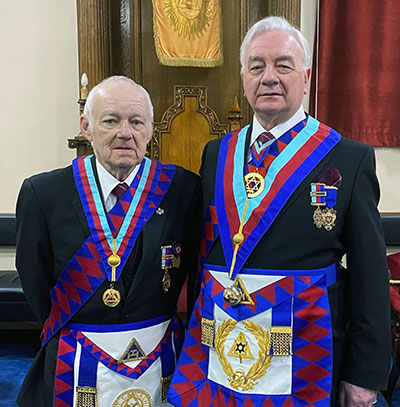 Barry was introduced to the three principals of Rowley Chapter No 1051 and occupied the first principal's chair. He requested that the Provincial Deputy Grand Director of Ceremonies escort John Heaton to a seat in front of the podium so that he could relay John's life and Masonic career to the companions.
John was born in October 1940 at Poulton Square, Morecambe. He attended Lancaster Road Primary School in Morecambe. In 1948 the family moved to Sheffield where John attended Hunters Bar Primary School and then Oakwood Prep School. After passing the 11 plus examination John went to High Storrs Grammar School for boys.
In January 1955 the family moved to Waddington, near Clitheroe, to become the licensees of the Higher Buck Inn. John became a pupil at Clitheroe Royal Grammar School where he took private lessons in playing the organ from the music teacher who was also the organist at St Mary's Parish Church.
On leaving Clitheroe, John trained at Bretton Hall Training College for teachers of music, art and drama.  Whilst in training, John met up with a former teacher at Clitheroe, the headmaster of Ravensthorpe Secondary School, Dewsbury, Yorkshire, who offered him a job as a music teacher at the school in 1961. In 1966 he returned to Morecambe as head of music at Balmoral Secondary School which later became Heysham High School and remained there until retirement in 1994.
John has always had a close involvement with the church. He was a chorister from the age of five at Morecambe Parish Church, head chorister at St Peter's, Abbeydale, Sheffield, and then from the age of 16 in the choir of Clitheroe Parish Church. John was the organist at the Church of Ascension, Torrisholme from 1969 to 1972 and then became the organist at the church of St John the Divine, Sandylands, Morecambe from 1972 to the present.
John also managed to find the time to become a Magistrate and Justice of the Peace from 1996 until retirement at age 70 in 2010.
On 8 August 1970, John was married to Marian who was a teacher at Castle School in Lancaster. They have a daughter Emma and a son Richard with two grandchildren Hannah and Alex.
John's Masonic career began when he was initiated into Runic Lodge No 6019 in Morecambe on 13 January 1968. He was WM of that lodge from 1983 to 1984 and again from 1994 to 1995.
John has been the organist of Runic Lodge since 1968, taking time out to be director of ceremonies from 1991 to 1994, 1995 to 1998, 2000 to 2003 and 2012 to 2021. He is an honorary member of Lune Lodge No 4724 and their guest organist. John has also been the organist at Plantagenet Lodge of Installed Masters No 9357 for 15 years.
In 1992 John received his appointment as Provincial Grand Steward. He was promoted to Past Provincial Deputy Grand Superintendent of Works in 1996 and received another promotion in 2003 to Past Provincial Junior Grand Warden.
John was exalted in Rowley Chapter on 21 February 1972 at Lancaster Masonic Hall. He later became first principal from 1992 to 1993. John was the organist of Rowley Chapter and scribe Ezra from 2014 to 2021. John is also a member of Heysham Chapter No 4108 where he was first principal from 1993 to 1994 and director of ceremonies for 11 years and he is a member of Vale Chapter of Installed Principals No 5256 where he was first principal from 2014 to 2015. 
John received his first appointment in Royal Arch as Past Provincial Assistant Grand Sojourner in 2000 and was promoted to Past Provincial Grand Scribe Nehemiah in 2006. He is a former musical director of Provincial Grand Stewards' Chapter of West Lancashire.
John is also an active member of a number of other Masonic Orders and has attained high rank in some of them.