The venue was the Geoffrey Hirst Masonic Suite within Woolton Golf Club for the celebration of John Copple's 50 years as a Freemason. The Lodge of Tranquillity No 3877 was opened in due form by the WM Ian Broomfield who, once the minutes of the last meeting had been confirmed and signed, appointed an invested those members who had been unable to attend the installation meeting. John Copple, after 26 years as secretary, was appointed and invested as junior warden and assistant secretary.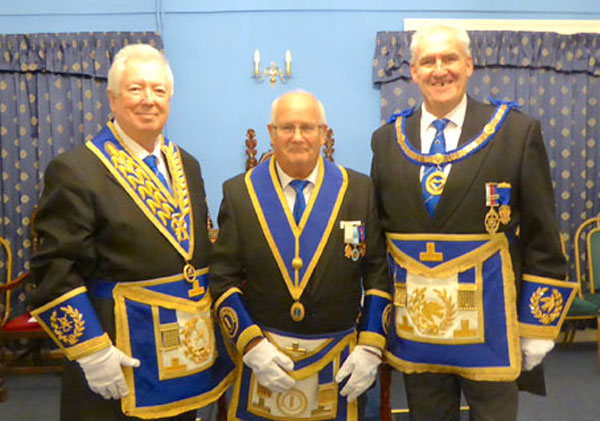 Provincial Deputy Grand Director of Ceremonies David Boyes, having earlier retired was admitted to announce that Assistant Provincial Grand Master Andrew Whittle was outside and demanded admission. Andrew was accompanied by PAProvGM Kevin Poynton, David Hawkes and group chairman John Murphy, together with other Provincial and acting Provincial grand officers. After being warmly welcomed by the WM, who had offered Andrew the gavel of the lodge, which was accepted he was saluted in due form by those present. Andrew closed the lodge, through the second degree to the first degree.
David Boyes was then asked to seat John Copple on the floor of the lodge so his jubilee celebration could commence. Andrew recounted to us some important dates and events from the start of John's life. Having been born in 1941
Andrew reminded everyone that it was the third year of the war; the Andrews Sisters recorded what became a big hit for them, the Boogie Woogie Bugle Boy. Adolf Hitler ordered forces to be prepared to enter North Africa to assist the Italian effort, marking the establishment of the Afrika Korps. The US War Department formed an all-black flying unit that achieved fame as the Tuskegee Airman and in June that year the Tuskegee program officially began with the formation of the 99 Fighter Squadron.
There were many famous people were born in 1941 namely, Bob Dylan the musician; Alex Ferguson the footballer; Linda McCarthy the author/photographer and Dame Vivien Westwood the fashion designer and most importantly John Copple who was born late December to Tom and Nellie. Tom was a coalman and wagon driver whilst Nellie was a housewife.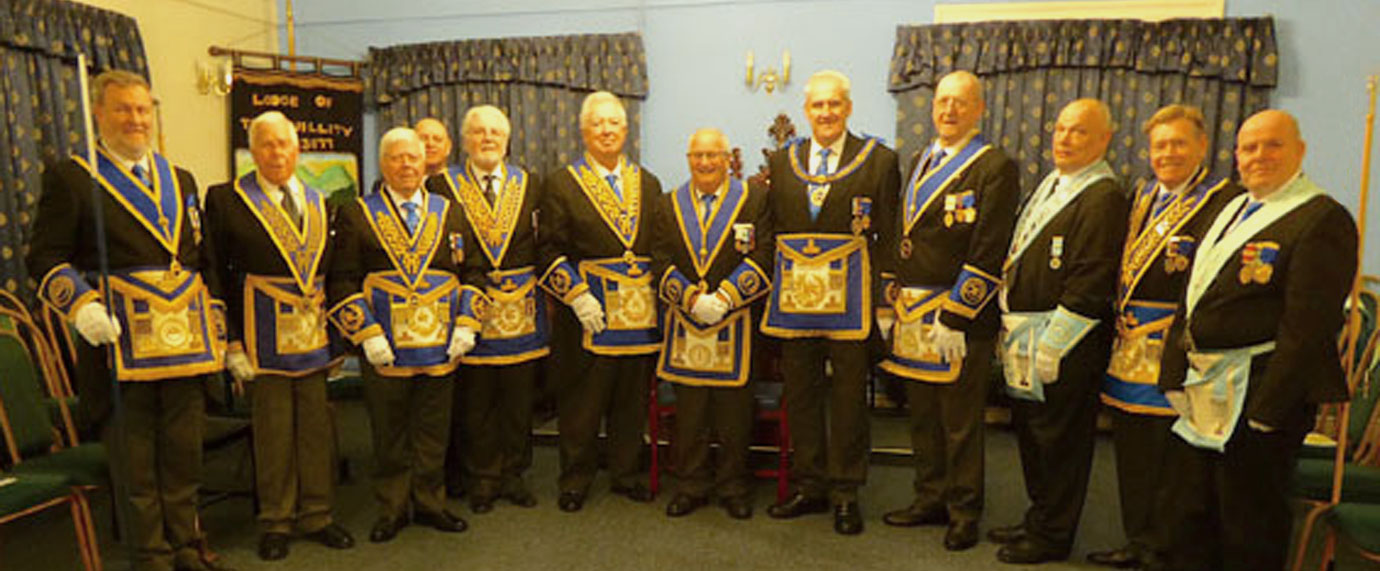 John was the second child and he had an older sister called Doris who worked close to home at the Meccano factory. Doris would regularly bring John bits of Meccano or Dinky toys as long as he would let her read his comics.
Starting his education at St Mary's C of E School in Rathbone Road about 500 yards from his home. John enjoyed hid education but was never very good at it but managed to win a scholarship to Holt High in Childwall until at the age of 16, with just one GCSE in history, he left to enter the world of work. John was never sports orientated saying that he was built for comfort as opposed to speed.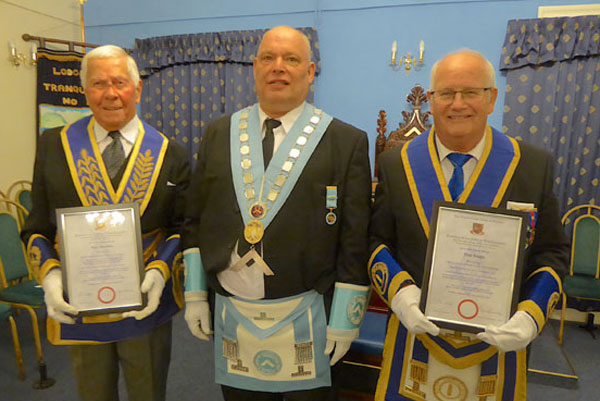 After leaving school John worked for the Booth Steamship Company as an export clerk in the Forwarding Department earning the princely sum of £3 10s a week plus luncheon vouchers. He remained here until 1992. Loving work he rose through the ranks to Local Director, Group Director and finally Managing Director of the company.
John likes to think he put a little back into the local shipping fraternity and served on the Institute of Freight Forwarders and on the local committee of the Institute of Export; he became a member of a club of like-minded shipping people that raised money for local charities. The club was called the Curley Wee club, after a cartoon character in the Echo. They met in the Pig & Whistle Pub over a glass of the local brew.
His family life started when he met Lilian (Lil) and after a short courtship they were married in 1971 their first home being a three-bed terraced off Edge Lane. A couple of years later they moved 'over the water' to Upton on the Wirral.
John is/was a passionate Evertonian and gave up his season ticket a few years ago but still listens/watches the games and says that in the words of Alan Ball: "When Everton touched you, it was for life." He has had, and still has some fascinating hobbies that of collecting military cap badges and CDs and vinyl of country music.
John always wanted to know more about Freemasonry so when a couple of shipping friends mentioned Freemasonry, he started to ask a lot of questions and this led him to being initiated into Lodge of Tranquillity in November 1972. His was proposer John Jones and seconder Bill Martin, Bill is still a member of the lodge.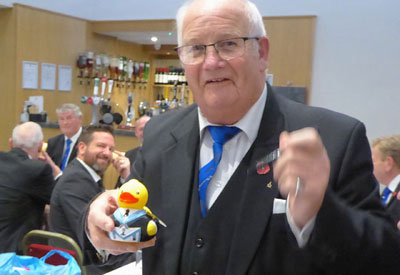 John was passed to the degree of a fellow craft in 1973 and raised to the sublime degree of a master Mason in 1974. After taking various offices within the lodge, he was installed into the chair of King Solomon in 1982 and served again as master in 1992.
His services were recognised by the Province when he received his first appointment as Past Provincial Assistant Grand Director of Ceremonies and subsequently the current rank of Past Provincial Junior Grand Warden in 1999. He was exalted into Red Triangle Chapter No 3874 in 1983. The full text of John's life story can be read by

Andrew requested John Murphy to read the certificate struck to mark the occasion and then had great pleasure in presenting it to John, to the brethren's acclaim. Before asking the WM to resume his seat Andrew informed everyone that another brother of the lodge had also achieved his 50 years as a Freemason and with John's agreement, he would present Edgar Alan Sale with his certificate. This was again met with great acclaim from the brethren.
The WM presented Andrew with a cheque from the lodge for £150 for West Lancashire Freemasons' Charity and John Copple presented him with a personal cheque for £200. Andrew requested the WM to resume his seat. The lodge conducted other business after which the brethren retired to the dining room where a raffle raised £155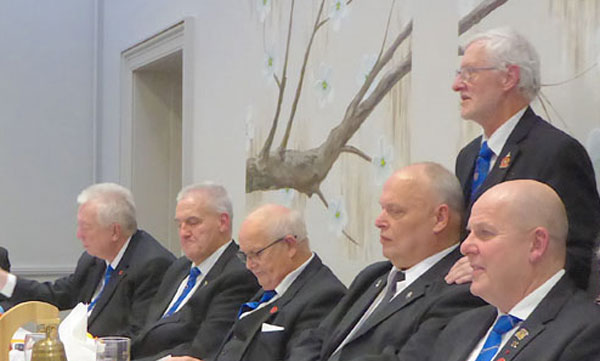 In response to the toast to his health Andrew said he was delighted to be present, and that John had done a wonderful job as lodge secretary for 26 years; and Andrew reminded everyone of the forthcoming investiture of Provincial Grand Master Designate Mark Matthews. He also thanked the grand officers who had accompanied him together with the acting Provincial grand officers, especially Dave Boyes.
The toast to John's health was proposed by one of his best mates Alan Malthouse who had been proposed into the lodge by John, saying that he considered John a very down to earth person and one who was very ethical and he presented John with a gift from the lodge. Mike Cunliffe also presented John with a handmade pen.
In response John thanked Alan for the toast saying that throughout his 50 years he had really enjoyed Freemasonry and he was extremely pleased that Edgar Sale had also received his certificate. He ended with a quote: "If I had known that I would live this long I would have taken better care of myself." A wonderful occasion was brought to a close by tyler Tommy Lunt proposing the final toast.
Story and pictures by Colin Roberts.