Arthur John Brogden Lodge No 1715 were delighted to hold this momentous occasion for John Neil Derbyshire to mark such an important milestone in any Mason's life. The Masonic Hall in Grange-over-Sands was full, which was the first indication of the high esteem that John is held throughout the Province and beyond.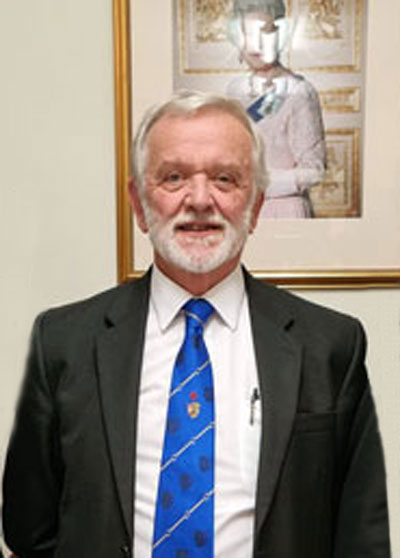 Indeed, 22 brethren from Northumbria had paid a fraternal visit, along with 20 other visitors which ensured a splendid evening ahead. Guiding the brethren through the evening was Assistant Provincial Grand Master Peter Schofield.
Stephen Lannaghan opened the lodge and after the official business was completed in a dignified manner, Peter Schofield, along with the grand and acting Provincial grand officers entered. They were joined by Gary Rogerson and Alan Pattinson, the chairman and vice chairman respectively, of the Furness and South Lakeland Group. Peter, then warmly thanked the brethren of Arthur John Brogden Lodge for his welcome. The ceremony began under the careful and commanding presence of the Provincial Deputy Grand Director of Ceremonies, Robb Fitzsimmons, who placed John in front of Peter, so he may be addressed.
Born in Bolton in 1949, John along with this sister Judith, lived with their parents Marjorie and Frank in Marsh Lane until he was six, before moving to Wigan Road, until he left to go to university. Attending firstly Marsh Lane Primary and then Dean Church of England School, he went on to Bolton Junior School and eventually from the age of 11 to 18 Bolton Senior School where he left with a crop of 7 very good 'O' levels and 4 'A' levels.
Keen on sport, his school years helped develop John's love of swimming and water polo, badminton, lawn tennis and cross-country, being a school representative in all the aforementioned activities. He also played badminton for Dean Badminton Club in Bolton, where he served as treasurer for 6 years.
Obviously, having had success in his academic studies, John was eager to continue and went on to study Pharmacy at Bath University. Leaving Bath with a superb Bachelor of Pharmacy Degree in 1970, John, you will not be surprised to hear, never lost touch with his love of sport and represented his university at swimming, badminton and rugby union and in doing so, gained much respect from his fellow students. John informed Peter: "I wondered where I found the time to study"!
John's pre-registration year as a pharmacist took place with Boots the Chemist in Bolton and once having qualified, began work as a relief pharmacist in various branches throughout Manchester. In 1973, John became the manager of a small Boots pharmacy in Salford, then a deprived and derelict area. We now know this area as the hugely successful Salford Quays.
Experience gained; John was quickly promoted later in 1973 to deputy manager of a large branch in Blackburn. His career had begun to take off. Two more promotions saw John move from branches in the Arndale Centre in Salford to Victoria Square in Bolton. Leaving Boots in September of 1981, John relocated to Grange-over-Sands where he bought an established pharmacy in Main Street. Interestingly, John bought the pharmacy from Joseph Mattewson who was a founder member of Ulverston Lodge No 7872 and a member of Grange Chapter No 1715.
The business thrived and was extremely successful. The Pharmacy gained huge amounts of goodwill within the community and provided a first-class medical service to the town. Peter explained that in 2000 John sold the business as a going concern and began to work on a part time basis for J N Murray Ltd until he retired in 2015.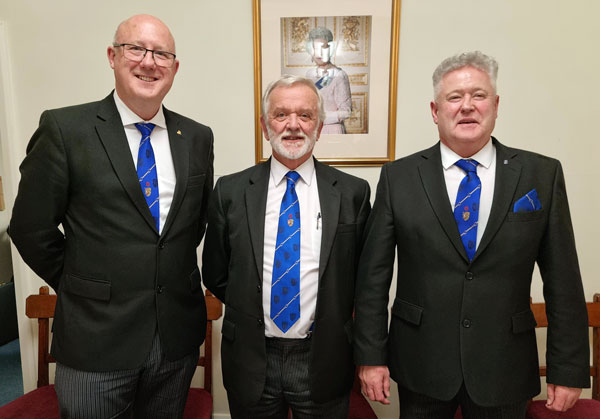 John had been a keen member of the local Round Table, being chairman in 1986-87 and Cumbria Area Chairman in 1988 and1989. Working as a volunteer, John has helped at the Grange Swimming Club and took on the post of treasurer for 5 years. Travel now seems to be the main focus of his activities, which John does with his wife Nicola. We heard that, John's interest in sport has not declined or disappeared, but it is now mainly conducted from the armchair and not on the field! John has two sons from his first marriage, and both are highly successful in their own sphere and has been further blessed with four grandchildren Annabel (15), Callum (13), Mia (21) and Dylan (17).
Growing up, Freemasonry was no stranger to John, as his father was a member of Corinthian Lodge No 3767 in the Province of East Lancashire, who went on to propose John. His seconder was a close friend Bert Hirst. John's career in Freemasonry began on 9 May 1972 when he was initiated into Corinthian Lodge in Bolton and passed to the second degree in the same year. In 1973 he was raised to the sublime degree of a master Mason in January that year. Seeking the minutes from John's initiation has proved difficult due to the Corinthian Lodge has had to amalgamate with its mother lodge, St John's Lodge No 221, which has since had to amalgamate once again.
In the early 70's new members would perhaps have to wait eight to 10 years on the steward's list and so he never achieved a higher office before he left the area. Joining Arthur John Brogden Lodge in 1982, it was good to hear familiar names being mentioned as his distinguished Masonic career was rekindled. John settled very quickly and soon became a respected and valued member of the team.
John progressed through the various offices before becoming the WM in 2003, excelling in all of them. A lodge treasurer from 1994 to 1999 gained John the respect of all the members due to his diligence and care. From 2003 to 2007 saw John as lodge charity steward, helping many people less fortunate than ourselves.
Peter spoke using words such as, 'hard work', 'dedication', 'commitment' and 'support', – words which epitomise John's character as a Mason and as a valued member of the wider community. His career as a Mason has gained the highest respect across the Furness and South Lakeland Group, which has led John to be appointed to the rank of Past Provincial Senior Grand Deacon in 2002 and to the rank of Past Provincial Grand Superintendent of Works in 2008, which was a just reward for his commitment to the lodge.
Joining Grange Chapter in 1985, he progressed through the various offices before becoming the first principal in 1999 and again in 2014. His care, diligence and commitment gained John a rank of Past Provincial Principal Grand Sojourner, before being promoted to the very high rank of Past Provincial Grand Scribe Nehemiah.
Peter concluded by acknowledging John's magnificent outstanding professional and Masonic career and that he could feel proud of his life-long achievements. He also brought the congratulations from the Provincial Grand Master Tony Harrison, who had already spoken to John earlier in the day. It only remained for Gary Rogerson to read out the wording on the certificate and with the formalities being ended, the brethren retired downstairs to enjoy a very happy and tasty festive board.