A rare and very pleasing occasion was carried out at the February 2023 meeting of Foundation Lodge No 5394, to honour John Newall, a highly respected brother celebrating 50 years of being a Freemason and also to welcome Murray Worsdell as a candidate for initiation. Members and distinguished visitors alike meeting at Urmston Masonic Hall were delighted to receive Assistant Provincial Grand Master Barry Jameson, accompanied by South Eastern Group Chairman Gareth Jones and other grand and Provincial grand officers.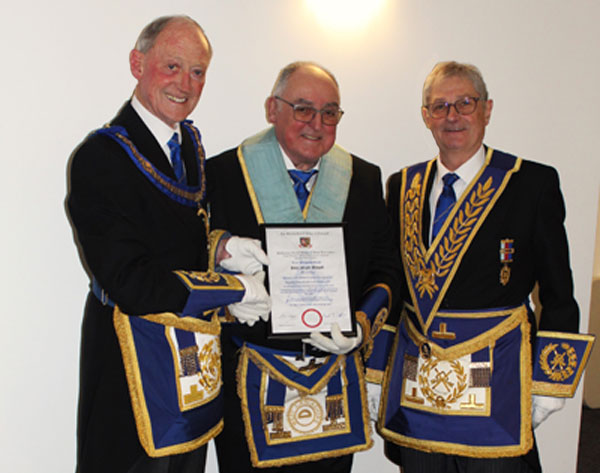 The general lodge business was swiftly dealt with by WM David Durling and then Barry Jameson entered the lodge room in ceremonial form and was presented to David who offered him the gavel, which on this occasion, he handed back saying that he would be quite happy for David to carry out the next part of the meeting.
No sooner had Barry sat down than there was a tremendous alarm announcing the arrival of the evening's candidate, Murray Worsdell. David, having recovered his composure admirably after the shock of the alarm, indicated that he should be admitted. There then followed an excellent initiation ceremony with lodge DC Terry Howard controlling things smoothly, a fine rendition of the working tools was given by Trevor Bedder and everything rounded off in fine style by David with a word-perfect charge after Initiation.
Murray, having been welcomed into the lodge, things shifted to the completely opposite end of the spectrum. Barry this time accepted the gavel from David and making himself comfortable in the master's chair addressed the brethren, thanking the Lodge for their very kind welcome and explaining what a great pleasure it was to be with the members and visitors of the lodge to share this very unique and auspicious occasion. He carried on to say that his office of Assistant Provincial Grand Master carried a number of onerous responsibilities and duties, but also a number of great privileges, and the prospect of being able to officiate at a 50th celebration was, without doubt amongst the better ones.
Making sure that celebrant, John Newall, was comfortable in a convenient chair at the front of the lodge, Barry then proceeded to illuminate John's 50 years as a Freemason in a warm and friendly fashion to the watching audience. Lodge secretary Phil Rampling was then requested to read an extract from the lodge minutes for the meeting held on 15 February 1973 which, coincidentally was the meeting at which John was initiated.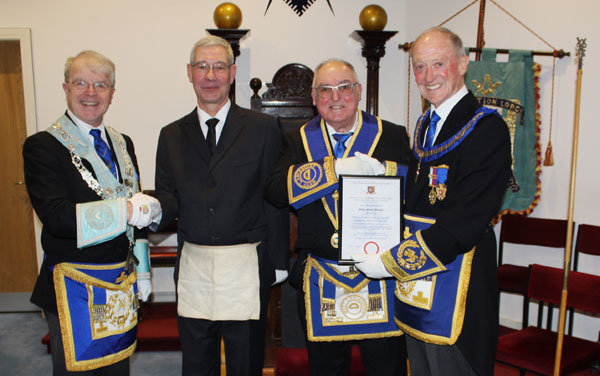 Barry then continued quoting information which John had provided during a convivial hour that the two had spent together the previous week. John was born in November 1951 in Manchester to Daniel James and Ada Newall and had an elder brother Paul who sadly died at the relatively young age of 58. The family lived in East Didsbury and his father worked as an accountant.
John's early schooling was at Broadoak Primary and Junior Schools from whence he attended Chetham's Independent School in Manchester. The school had a reputation for producing musicians and whilst there, John learned to play the clarinet and saxophone. The school also had strong links with Manchester Cathedral and John became a member of the choir there.
On leaving school, John took a job with A P Smith Atkins Chartered Accountants, working there for five years after which he joined his fathers' firm, Harris, Newall & Co Accountants in Stockport becoming a partner in 1974 and after the sad death his father in 1977, assuming responsibility for the firm.
John married his wife Linda in July 1975, buying a house in Cheadle Hulme and three years later they had a daughter, Catherine and a further 2 years later, another daughter Jemma followed 9 years later by a son, Alex and is now the proud grandparent to 6 grandchildren, 2 girls and 4 boys.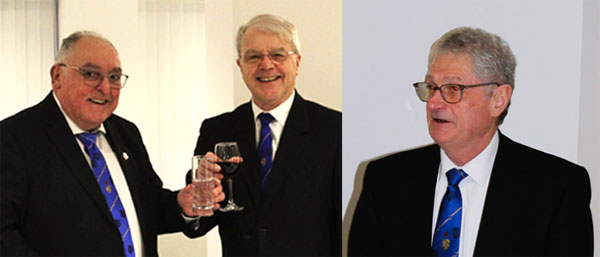 Barry commented that John's family had served Foundation Lodge well, with his father being master in 1975 and proposing John and his late brother for membership, both of whom went on to serve as master, John twice in 1985 and 2002 and Paul in 1988. Also, in view of his profession, perhaps unsurprisingly, John has for a long time acted as lodge treasurer. John was given Provincial recognition in 1993 being made PPSGD and is to receive promotion to PPGSuptWks at Blackpool in 2023
The evening was a truly enjoyable feast of Freemasonry, with an initiation and John's 50th anniversary celebration. It resulted in a slightly extended event in lodge and consequently the festive board was equally extended although just as enjoyable.
Rounding off the evening, Barry warmly thanked those present for their warm welcome and good wishes and congratulated John on his pending promotion, Lodge IPM Jeff Newbrook who is to be promoted to the extremely high rank of PPGSwdB and Lodge SW Noel Grubb who is to be made an acting Provincial Senior Grand Deacon.
Thus, a unique and thoroughly enjoyable evening of Freemasonry drew to a close.