John Bramley, an honorary member of Lodge of Concord No 343, has celebrated 60 years in the Craft. When approached about a celebration to record the event, John, at the age of 93, specifically requested that it be an informal event with a small number of attendees.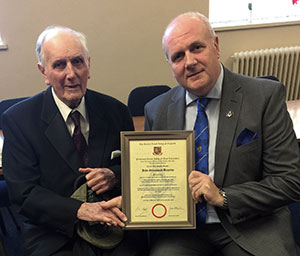 In keeping with John's wishes, the celebration was arranged to take place, during the day, in one of the side rooms at Preston Masonic Hall. In attendance was Assistant Provincial Grand Master David Winder, the group vice chairman Geoff Saul and five members of the former Centenary Lodge No 4908, namely Patrick Bracewell, Keith Greaves, Ross Kinder, Keith Slater and Mike Threlfall.
After a cup of tea and a biscuit and with John comfortably seated, David presented a summary of his life and Masonic career. To set the scene as to how far back 60 years was  David mentioned memorable events that occurred at that time, events that included the Munich air disaster, Elvis being inducted into the US army, the introduction of subscriber trunk dialling (STD) in the UK and the invention of the hula hoop. He then turned the clock further back to 1925, the year that John was born, to report that some 10 days after his birth John's mother sadly passed away. He continued with John's early childhood and school days that were mixed with time at St Andrew's Infants School, his father's re-marriage and introduction to Centenary Lodge and John's further education at Preston Grammar School. During his second year at the Grammar School, having lost his mother at birth, John's father passed  away to be shortly followed by his second wife. As a result, John, at the age of 12, returned to the care of his late father's sister Ethel. Unbeknown to John, in view of his circumstances, the Masonic charities stepped in and he was able to complete his studies without interruption. In the true spirit of Freemasonry, assistance also extended to, among other things, providing presents at Christmas.
On leaving school, he obtained a five-year apprenticeship with a prominent local architect, who also happened to be a keen Freemason. However, things still did not go smoothly as his apprenticeship was interrupted by the inevitable receipt of his call up papers for National Service. Four years later, John was demobilised with the rank of Captain in the Royal Engineers.
Moving on, David was pleased to say that John's life had finally turned for the better as he completed his apprenticeship and qualified as an architect. Using his qualifications, John went on to set up his own architects' practice in the locality of Bamber Bridge. He found time to build his own house in Penwortham and marry the lady of his dreams, Miss Dorothy Heane. The marriage was blessed with two children, Richard and Ann and in due course, grandchildren arrived in the form of Andrea, Elizabeth, James, Helen and Rachael.
Turning to Freemasonry, David referred to John, at the age of 31, feeling sufficiently well established to approach two members of both the lodges of Concord and Centenary with a view to joining the fraternity whose influence had so materially influenced his early life. The brethren in question were those, who had so many years earlier, accompanied him to choose a bicycle as a Christmas present. Having been proposed and seconded and passed by the scrutiny committee, John was duly initiated as a member of Centenary Lodge on 23 December 1958.  He progressed through most of the offices to reach the master's chair in 1967. In 1970, he was appointed lodge treasurer, a position he held for nine years.
Over the years, John became a committed Freemason, holding positions in both Centenary Lodge and several chapters. David mentioned that John was particularly attracted to those of a Christian nature that he found gave him an opportunity to explore the profound religious beliefs that have stayed with John from his earliest childhood. These were beliefs that formed the basis of how John continues to live his life and his dealings with others, both in business and socially.
Continuing, David was pleased to note that John's service to Freemasonry was recognised by his appointment to the acting rank of Provincial Grand Steward. In 1988 he was promoted to his current rank of Past Provincial Júnior Grand Warden. In 2003, in keeping with the times, Centenary Lodge amalgamated with Lodge of Concord and John, although no longer as active as he was, continues his interest in Freemasonry.
Returning to John's working life, David informed the brethren that although fully committed as an architect, in 1969 John decided to branch out into farming and purchased a small farm at Much Hoole. It is a farm that has grown and currently occupies 70 acres and on which John continues to physically work hard tending his sheep.
Moving to the present, David mentioned that the practice of Bramley, Pate and Partners continues under John's specific direction and care. With a farm to tend, as well as visits to the office, John rises at 6:30 am every morning and works until 2 pm in the afternoon. Feeling justified, at the age of 93, he wends his way home to wind down for the day.

Sadly, John's wife Dorothy passed away in 2016 and John continues to live in their house in Penwortham where he manages very well. To brighten his day and occupy what little time he has to spare, in July of 2018 his first great granddaughter Evelyn was born.
Bringing his resumé of John's life to date to a conclusion, David informed John that the Provincial Grand Master Tony Harrison, was aware of his celebration and though he could not be present in person he sent a personal greeting in the form of a certificate. He then invited the group vice chairman Geoff Saul, to read the certificate.
He closed by reminding John that on the day he was made a Mason, he was charged to be respectable in life, useful to mankind and an ornament to the society of which he was on that day made a member. He concluded with the words: "Every brother here today is under no doubt that you have fulfilled your obligations on every count and we join in congratulating you on a wonderful achievement, your diamond jubilee in Freemasonry."
To record the occasion for posterity, the brethren retired to the Percy Goldberg Suite for Keith Greaves to take a formal photograph.