A triple 50-year celebration was held at a very special meeting of Chorley Chapter No 6287 in the company of Second Provincial Grand Principal Chris Butterfield, Assistant to the Provincial Grand Principals Malcolm Alexander and Chairman of the Chorley and Leyland Group Peter Allen, to celebrate 50 years of Royal Arch Masonry that was attained by three companions, John Eccles, Ray Gore, and Peter Dawson. Some knowledgeable cookie once observed that great things come in threes – and this occasion was most certainly amongst the greats.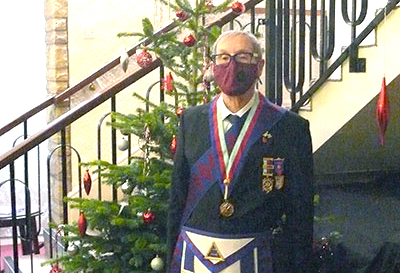 Chris Butterfield said that it was a very special occasion for him, having been given the privilege of leading the celebrations, a special one for the members of Chorley Chapter as he suspected it was the chapter's first meeting since lockdown but a very special one for three companions involved.
He invited the celebrants to sit in the principals' chairs so that the companions could see them. He proceeded to relate a short history of the private and Masonic lives of the celebrants. He said that John Eccles was born in April 1938 to parents Jack and Margaret (more affectionately known as Maggie) at Chorley and District Hospital; the youngest of three children, his step brother Jim and sister Margaret Rose (named after Princess Margaret).
John started school at the age of five and ended at the age of 15 when he started work with Baxendale Brothers, a prominent builder in the area where he learned to set bricks. He signed indentures a year later and started evening classes, gaining a City and Guild's certificate in Building Construction. This was to be his course for a good few years until in 1959 when he was called up for National Service.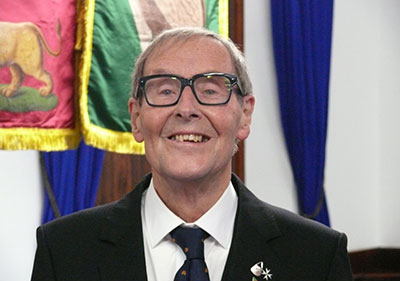 For National Service, he was sent to the Guards Depot at Caterham Barracks for a one-week assessment, followed by 18 weeks of, as he called it, 'hell'. After training he was posted to the Second Battalion, Fourth Guards Brigade stationed in West Germany where he spent his time preparing for and taking part in numerous and various military exercises including seaborne landings and winter warfare training, which really means skiing!
1961 saw his National Service completed and he returned home and decided to work for himself utilising the building skills he had learnt some years earlier. 16 years later he became Clerk of Works for Hyndburn Council, overseeing works on buildings, parks and gardens; later working for the Manpower Service Commission.
New Year's Eve 1961 was a special day for John. He was out celebrating with a friend and they each met a girl.  A few days later he met up with one of the girls, though not the one who had been his companion on New Year's Eve, but his friend's companion! She was called Val and 12 months later, on 26 January 1962 he was married at St Georges Church. 17 months later he was blessed with a son David and he and Val are now proud grandparents to Rachael and Joshua.
John admits that he is a bit of a party animal and after a few drinks he likes a bit of a sing-song but that he has one downside to this – he can't sing!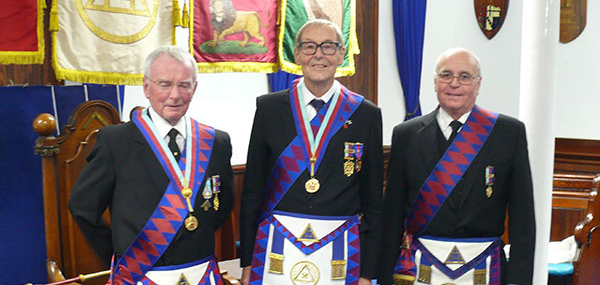 The start of John's Masonic journey began on 14 December 1966 when he was initiated into Ellesmere Lodge No 730 (later Astley and Ellesmere Lodge No 730) and became its master on 1977 and served a second term as master in 1995. He has also given long service to the lodge as its almoner from 2012 to 2020.
His service to the Craft was recognised in 1983 when he was appointed to a Provincial acting rank, that of Provincial Grand Steward. Then in 1987 he was promoted to Past Provincial Senior Grand Deacon and further promotion came in 1995 when he was promoted to the very high rank of Past Provincial Junior Grand Warden. As many will know he went on to celebrate 50 years in Craft Masonry in 2016.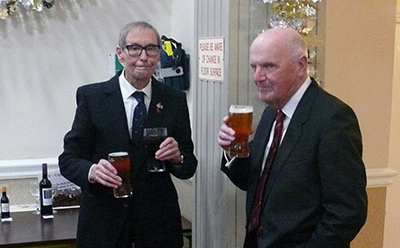 John was exalted into Chorley Chapter on 29 September 1970. He progressed through the various positions in the chapter to become its first principal in 1980, following which he was appointed charity steward from 2002 to 2010.  His service to the Royal Arch was recognised in 1987 when he was appointed to the acting Provincial rank of Provincial Grand Standard Bearer; following which he was given a second acting rank of Provincial Grand Sojourner in 1991 and in 1997 he was promoted to the now rare and very high rank of Past Provincial Grand Scribe Nehemiah.
At the conclusion of the formal part of the celebration, the companions retired to the bar and social board to continue the celebrations in a more informal and relaxed manner – and no doubt John came close to giving a song!