There was palpable feeling of excitement as Merchants' Lodge No 241, opened the lodge on Tuesday 21 February 2023 as one of the members was celebrating 60 years in Freemasonry – the ever-youthful John Oliver Buckingham.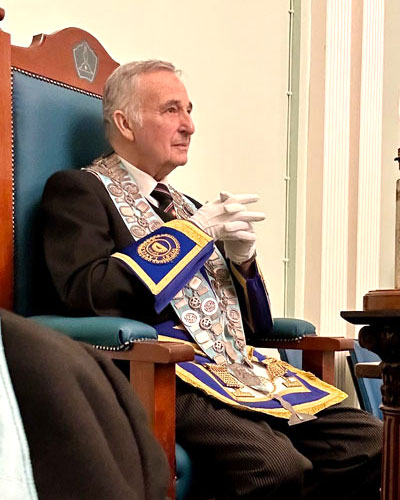 The lodge was opened, and before the distinguished guests entered, the brethren of donated £350 to the International Red Cross to assist in the relief of the Turkish and Syrian earthquake disaster. Yasin Adatoz is the junior warden of the lodge and originates from Istanbul and still has family in Turkey, who thankfully are all safe.
Distinguished guests entered the lodge in due form after being announced by Provincial Deputy Grand Director of Ceremonies Robb Fitzsimmons and the WM of Merchants' Lodge, Barry Marsden, was delighted to welcome Assistant Provincial Grand Master John James. John accepted the gavel of the lodge and assumed the master's chair. After the official greetings to him, John was keen to start the main business of the evening, the celebration of 60 years in Freemasonry for John Buckingham.
John Buckingham was born at the height of the Blitz on London in 1941 to Alf and Millie Buckingham in the district of South Norwood, London. To escape the Blitz the family moved to Abergavenny and this is where John enjoyed the country life and started school before moving again in 1947 to Hastings in Sussex. In 1951 the family moved to Brighton where he attended secondary school and also joined the Sea Cadets. He became a member of the Brighton Rowing Club and a keen competitor in road racing cycling, completing a number of 25-mile time-trials races. He also played Sunday league football.
After leaving school at 16, John began an apprenticeship as a carpenter and cabinet maker. He became so very successful in his chosen field that he started his own joinery business which he ran until ill health obliged him to retire 2012.  He is married to June, and they have three children and four grandchildren. Both he and June enjoy a number of sports including badminton, table tennis and golf. They are strong supporters of their local Methodist Church and Youth Centre.
John was introduced to Freemasonry by his father and was initiated into Stanford Lodge No 1947 at Worthing, near Brighton, in February 1963. On moving to the Liverpool area, he joined Prince Arthur Lodge No 1570 in Liverpool and became WM in 1986 and again in 1993. He has been an active member of Merchants' Lodge following the amalgamation in 2003 and holds the rank of Past Provincial Deputy Grand Superintendent of Works and is also an active member of the Chapter of Friendship No 241.
On leaving the lodge room and prior to the festive board, the distinguished guests and brethren drank a toast to the health of John before sitting down to a delightful and almost healthy meal of fan of melon, gammon with pineapple, chips and fresh fruit salad.
During the official toasts, John James thanked the WM and brethren of the lodge for inviting him to attend this celebratory meeting of John Buckingham's 60th anniversary in Freemasonry and he added that he felt privileged to have taken part.
Ray Fitzsimmons, a long time and very close friend of John Buckingham's proposed the toast to his health. It was a heartfelt and at times amusing toast, which emphasised John's generosity of spirit, warming smile and a very infectious laugh! Ray Fitzsimmons concluded by saying that John Buckingham was the epitome of what a Freemason should be, 'being happy and communicating happiness'.
John Buckingham responded to the toast by thanking all the brethren who attended his special evening. He thanked the lodge on behalf of his wife June for the lovely pot of spring flowers which had been delivered to her that morning. He then presented a substantial donation to the lodge's 250th anniversary fund. He added: "It did not seem like 60 years in the Craft, but it feels like yesterday, and I could not have done it without your support." He then sat down to rapturous applause from the brethren.
Before the evening ended, the WM presented John James with an orchid for his wife which was gratefully received. The tyler's toast concluded a wonderful evening not only for John Buckingham but for all the brethren who attended.