Adeste Fideles Lodge No 7425, a member of the Woolton Group of Lodges and Chapters that meet at Woolton Golf Club, met to hold their installation meeting.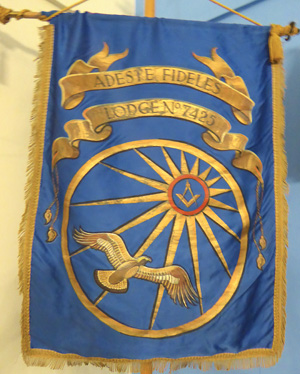 Regrettably there was only a small number of brethren present, partly due to the fact that Provincial Grand Chapter was being held in Southport. However, Assistant Provincial Grand Master Kevin Poynton honoured the lodge on this occasion.
The life of a publicity officer is usually a busy but quiet one, quietly sitting in the lodge to see and hear all and to make a report of the evening's proceedings. On this occasion it was a little different as Woolton Group Publicity Officer Colin Roberts was asked to lead in the procession and was about to take his seat in the quiet corner when Kevin commanded him to move to the East. But that was not the end of it! Once Kevin had been saluted, Colin took the salute for the Provincial grand officers present.
The WM John Bell was to remain in the chair to allow the light blues time to rise through the ranks, so instead of a full ceremony, immediate past master Geoffrey Roberts proclaimed John as master for the ensuing year.
The third working tools were presented by past master William Dickinson and a light blue Mason, Daniel MacRitchie, delivered an impeccable explanation of the second working tools followed by another light blue, Keith Skidmore, delivering the explanation of the first degree working tools.
The lodge DC Graeme Scott did a sterling job of keeping proceedings on the move, even if at times he was difficult to understand, speaking with a strong Scottish accent as he does. When it came to the time that the WM was to appoint and invest his DC he named Graeme and his interpreter!
Following a very enjoyable ceremony, Kevin rose to congratulate John and to bring the thanks of the Provincial Grand Master Tony Harrison, for retaining the chair for a second year. Kevin informed the brethren that he had been with Tony that morning and had been commanded by Tony to wish the master a happy and healthy and hopefully a busy year in office and he hoped that all the brethren would continue to enjoy their Freemasonry.
John then had the pleasant duty of presenting to Kevin a cheque for £500 for the MCF 2021 Festival which for a small lodge was a magnificent sum and Kevin thanked the brethren on behalf of those who would benefit from their generosity.
The DC formed the procession to retire and then the lodge was closed with due ceremony and the brethren retired to the dining room.