30 members and guests gathered at Ormskirk Masonic Hall for Ormskirk Priory Lodge No 4007 installation. The principal guest was the Deputy Provincial Grand Master, Philip Gunning. Philip was accompanied by Assistant Provincial Grand Master Frank Umbers, Provincial Grand Director of Ceremonies Malcolm Bell together with the Ormskirk and Bootle Group Chairman Graham Chambers, the vice chairman Malcolm Alexander and secretary Trevor Martin.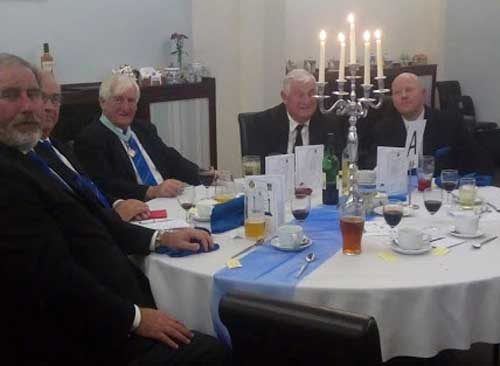 An excellent installation ceremony, which was most sincere and well presented, was very much appreciated by the all who attended. John Rawcliffe installed his successor John Wallbank, who occupied the WM's chair for the second time of this his mother lodge, the first occasion was in 1987. John Rawcliffe, gave a sincere and flawless address to the new WM. John was ably assisted by Bert Patterson the director of ceremonies and other past masters of the lodge. Bert Patterson presented the third degree tools, Ian Kennedy the second degree tools and Brian Heaney the first degree tools. Philip gave the address to the brethren of the lodge and Graham Chambers presented the lodge's Hall Stone Jewel to the new master.
Once the installation ceremony was complete Philip brought the good wishes of the Provincial Grand Master Tony Harrison. Philip congratulated John Wallbank on attaining the chair of his lodge in the year that the lodge is to celebrate its centenary. Philip went on to congratulate the installing master and all the brethren who took part in a wonderful installation ceremony which was most sincere and well conducted. Philip stated he was particularly proud of this lodge and its ceremonial capabilities having been a member of the lodge for many years. The WM then presented two cheques of £150 each to Philip in favour of the Friends of Tithebarn and the Ormskirk Masonic Hall Association.
The brethren retired to a superb dining experience of wild mushroom soup, braised steak with seasonal vegetables and lemon posset, all wonderfully prepared by the resident Chef Gary O'Brien of O'Brien's Tea Rooms. Philip, after going through the preliminaries of his response to toast number 3, encouraged brethren to ask him questions. The brethren asked several interesting questions which Philip answered in a straightforward and honest way which was well received by all. In closing his response Philip urged brethren to make use of the free PSA testing which will again be made available prior to Provincial Grand Chapter.