On 25 May 2022, James (Jim) Wilson celebrated 50 years as a Freemason since his initiation into Carnforth Lodge No. 4951 in 1971. The ceremony was conducted by Assistant Provincial Grand Master Peter Schofield accompanied by Provincial Grand Master Tony Harrison with grand officers Phillip Gardner, Alan Jones, Keith Kemp, Peter Mason, John Robson, Roly Saunders, Provincial Director of Ceremonies, David Thomas and Lancaster Group Chairman Neil McGill. Provincial Grand Almoner Paul Broadley, Provincial Junior Grand Deacon Dave Shaw and Provincial Grand Steward Matthew Kneale also attended. Jim wasn't expecting PGM Tony Harrison to be at the ceremony and was pleasantly surprised to see him.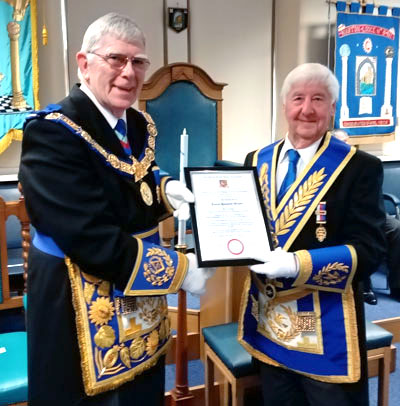 Peter was conducted into the lodge where he was introduced to the WM of Clive Astley who offered him the master's gavel, which he duly accepted. Peter requested the Provincial Grand Director of Ceremonies to escort Jim Wilson to a seat in front of the podium so that he could relay Jim's life and Masonic career to the brethren. Peter started by saying that Jim was born in June 1943 at the Queen Victoria Hospital, Morecambe and is incredibly proud to be a Sand Grown Un. He lived with his father Sam, mother Margaret and sister Anne in the family home at 26 Clevelands Grove in the West End of Morecambe. Sam was a bus inspector with Morecambe Corporation Bus Depot and Margaret was a hairdresser before becoming a busy housewife looking after the family home and caring for her family.
Jim attended Sandylands County Primary School between 1948 and 1954 before moving to Balmoral Secondary Modern School (now Heysham High School). Jim left school in 1958 with GCEs in maths, English and history. He attended Lancaster Technical College and gained further qualifications in commercial maths and bookkeeping. Jim's working life began at the age of 15 employed as a clerk at the North West Area Offices of Radio Rentals in West Road, Morecambe. In 1964 they moved their offices to Liverpool and not wanting to move out of the area he left the company. Jim secured employment with J W Hartley Ltd at Lundsfield Quarry in Carnforth, where he was responsible for taking telephone orders, detailing deliveries and various accounts roles, including purchase ledger and wages. He left J W Hartley in 1970 to take a position as a sales representative with W J Cross Ltd, a builder's merchant in Euston Road, Morecambe. Jim initially worked in the accounts and wages office before being promoted to Company Sales Representative, a position which he held for five years up until 1977.
His reputation as an excellent salesman was well known to many in the industry and the expertise and knowledge he possessed was in great demand. He was offered a position as a sales representative with Bobby Industries in Carnforth, later known as E E C Quarries, to promote the sales of dry stone from Holme Park and Back Lane quarries and remained with this company until 1981. Jim's development of sales skills was once again recognised, and he was offered the position of Sales Manager with C & C Supplies Nateby Works in Garstang. He was specifically employed to help the Company expand by increasing sales and diversifying with new products. He was responsible for selling all heavy side building materials, quarried stone, sand, ready mixed concrete, tarmac and general DIY products.
The expansion programme was a complete success and Jim exceeded all targets and expectations. He remained with this company for 20 years helping to ensure its ongoing success before taking early retirement to care for his wife Eileen in 2001. Throughout his working and professional life Jim proved to be a highly successful manager, demonstrating great leadership and management skills throughout his outstanding career and is truly an inspiration to us all.
Back in the early 60s Jim, along with four friends, jointly decided to buy a car and they spent many weekends touring the local towns and villages trying out the many coffee bars in the area. It was during his frequent visits to the coffee bar in the village of Arnside that a certain young lady caught his eye. This was, of course, the love of his life, Miss Eileen Milligan with whom he soon became very good friends. Eileen was a machinist at a slipper factory in Carnforth and worked in the coffee bar at weekends. The friendship soon developed in to romance and following a suitable courtship they were married at Arnside Parish Church on 1 April 1967 and moved to their home in Hawthorn Road, Bolton-le-Sands where Jim still lives today.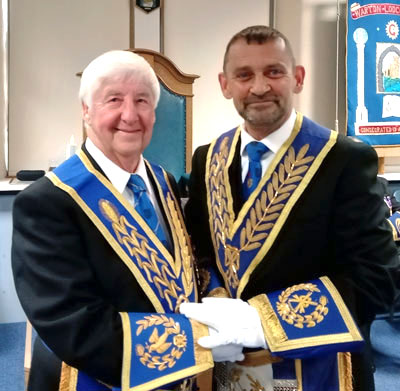 Jim and Eileen were blessed with two children, Helen who lives in Halton and Philip who lives in Bolton-le-Sands both of whom work for the NHS. Helen is a Healthy Family Practitioner and Philip is a Senior Data Analyst. Jim also has four grandchildren, Joseph, Lucy, Jacob and Isabelle. Eileen was a very special lady who sadly passed away in 2009, and is deeply missed by Jim and his family.
Apart from Freemasonry, Jim has held a life-long interest in stamp collecting which, when time allows remains an interest. The local church in Bolton-le-Sands has also played a part in his life and for a period of 5 years he was a Sunday School Teacher at West End Methodist Church located at the far end of Morecambe prom at Battery. Jim was a trustee for the Old Boys Grammar School in Bolton-le-Sands for a period of 10 years and that organisation will be very grateful for his help and support which is also recognised by the local community.
As he was growing up Freemasonry was no stranger to him with his grandfather being a member of Townley Parker Lodge No 1083 in Burnley, in the Province of East Lancashire, therefore, the seed of interest in the Craft was already firmly planted in him from an early age. Jim was proposed into Freemasonry by Harry Hargreaves who was his boss at J W Hartley at Lundsfield Quarry. He worked closely with Harry and he obviously had a good eye for potential talent pulling him aside to explain that he thought Jim would be good for Freemasonry. How right he was and this group and Freemasonry in general owe him a great debt of gratitude for that very wise choice. Jim's seconder was Bill Warmsley.
Jim's Masonic journey began on 28 April 1971 when poor and penniless he was initiated at Carnforth Lodge, meeting at the Masonic Hall Carnforth. He was passed to the degree of a fellow craft on 23 June 1971 before being raised to the sublime degree of a master Mason on 24 November that same year. Following his initiation Jim progressed through the various offices of Carnforth Lodge before becoming WM in 1982.
He was elected lodge treasurer from 1973 to 1977 fulfilling the office with great diligence, dedication and commitment. Jim was lodge assistant director of ceremonies (ADC) from 1987 to 1993 before being appointed director of ceremonies (DC) from 1993 to 1998. Jim was considered to be 'a bit of a stickler', a real traditionalist, everything had to be just right, as we have only come to expect from him but he was always there to offer help, guidance, encouragement and support to any brother in need. In many respects not just an outstanding DC but an excellent mentor to many as well. Jim was appointed lodge ADC again in 2018, a position he still holds to this day.
Jim's dedication and commitment to the long service of Carnforth Lodge has been absolutely outstanding. Members of the lodge consider him to be the driving force behind its success and hold him in the very highest esteem.
Jim was appointed Director of the Carnforth Masonic Hall in 1985 and remained in post for 23 years, applying his management skills to the successful running of the hall business. His great experience and knowledge in the successful management of Masonic halls was once again acknowledged when he was invited to become a member of the Management Team at Wyre Bank, Garstang, the position which he has now held for the past 12 years.
Jim was Vice Captain of Stewards of the Lancaster and District Group when they hosted Provincial Grand Lodge in Blackpool in May 1992 and Captain of Stewards for Provincial Grand Lodge at Preston in 2001. His long and distinguished career as a group officer commenced in May 1983 when he was appointed Group Hamer Rep for 11 years up to 1994 before being appointed to Group Charity Delegate from 1995 to November 2007.In 2003 Jim was appointed Regional Care Officer.
Jim was appointed Group Vice Chairman of the Lancaster and District Group in May 2007 before becoming Chairman the following year in 2008, a position he held for 10 years. His chairmanship of the group was outstanding, and it went from strength to strength under his expert guidance.
In Provincial Grand Lodge Jim was appointed to Provincial Grand Steward on 23 May 1989 and received promotion to Past Provincial Deputy Grand Superintendent of Works on 25 May 1993 before being promoted once again on the 8 October 1998 to the very high rank of Past Provincial Junior Grand Warden. In April 2002 Jim received the grand rank appointment of Past Assistant Grand Director of Ceremonies, before being promoted to the rank of Past Junior Grand Deacon in the United Grand Lodge of England, a just reward for his outstanding commitment to Freemasonry generally.
In November 1989 Jim was a founder member of Plantagenet Lodge of Installed Masters No 9357 and became WM of that Lodge in 2019. Jim joined Quingenti Lodge of Provincial Grand Stewards No 8516 in 1989. His service to the Lancaster and District Group was further recognised by St Michaels on Wyre Lodge No 8348 making him an honorary member in 2018.

In the Royal Arch Jim were exalted in Rowley Chapter No 1051 on 15 October 1984, culminating with his installation as first principal on 15 November 1993. Jim was chapter treasurer from 1999 to 2008 and joined Vale Chapter of Installed Principals No 5256 in February 2007.
In Provincial Grand Chapter he was appointed to Past Provincial Grand Sword Bearer on 9 May 2001 before being promoted to Past Provincial Grand Scribe Nehemiah on 9 May 2007. Jim's outstanding service to Freemasonry was once again acknowledged by Supreme Grand Chapter in April 2010 when he received the grand rank appointment to Past Grand Standard Bearer. Jim is also a member of another Masonic Order
Jim has had a truly magnificent and outstanding professional and Masonic career and can feel justifiably proud of all his lifelong achievements. He has always displayed great compassion and fairness and demonstrated humility and understanding in all his dealings with the many brethren under his care, whilst retaining that respect needed to fulfil his vital role.
Neil McGill was requested to read out the inscription on Jim's certificate which was then presented to him to commemorate his very special day.