As a result of the current dreadful situation in which we find ourselves, many functions which were planned, had to be cancelled. The planned fundraiser benefitting The Masonic Charitable Foundation appeal was one that was cancelled.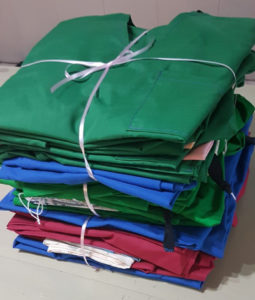 Jim Corcoran, a member of Lodge of Harmony No 220 in the Woolton and Garston Group, had been collecting, for many months at his own expense, sporting memorabilia to auction, raffle or sell at the fundraising event which should have been held at Liverpool Football Stadium at the beginning of May.
As a result of this cancellation it was realised that some of the memorabilia would be outdated by the time the rearranged function took place. It is anticipated to re-book it in mid-February 2021 depending on the availability of the venue when the next years Liverpool FC fixtures are announced in July. The stadium is only available on a day when the team are playing an away game.
For some years, Jim has been helping a lady in Runcorn who does a lot of work in her local community. She requested him to help her start a scheme to make much needed personal protection equipment for our local hospitals, hospices and other medical centres.
Having already auctioned some of his collection online, Jim kindly decided that he would donate all the rest to the scheme and they were able to raise enough funds to make the necessary purchases to start making the equipment. The raffles she held and Jim's online income raised £2,800.00 and production commenced with 11 voluntary machinists.
Eventually she also received a grant from the West Lancashire Masonic Charities with which she was absolutely delighted. She was the able to recruit up to 75 ladies who worked at home on different aspects of the production.
Some local suppliers also donated cloth to make this equipment. The 75 machinists set to making scrubs, scrub caps, scrub bags, theatre gowns and theatre hats.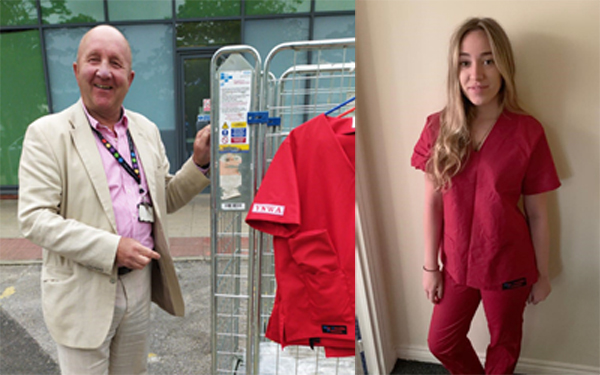 Jim, despite the lockdown, started delivering the equipment to Warrington and Whiston hospitals, to local hospices and to the Walton Centre. He even had requests for scrubs from as far away as Leicester. They were eventually able to recruit some local volunteers to help with the deliveries
Eventually, the machinists have provided the following: Over 450 sets of high-quality scrubs and scrub caps, 250 theatre gowns, and about 50 sets to various smaller units where they were required. Most of the ones provided bear the name West Lancashire Freemasons so the users know where they came from. Some also have the Liverpool FC badge on them.
After the latest statement from the government and an easing of lockdown quite a lot of the ladies have been able to return to their normal working duties so the output has now been reduced somewhat.
One pleasant outcome of this operation is that some of the ladies who were recruited couldn't really sew and the team spent some time teaching them the ropes. Some were disabled and were very happy to take part in this venture. This gave them a sense of belief in themselves.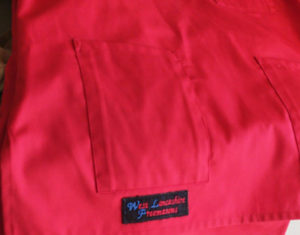 They now continue to make the equipment as they have no other work. Hopefully, their new skills will eventually help them to gain permanent employment.
The only outgoings during this scheme were for cloth, thread, fuel for delivering scrubs and payment for essential maintenance on some of the sewing machines.
Unfortunately, Jim can't get memorabilia signed whilst the players (and he) are in lockdown so there are no more raffles at the moment.
The recipients of these items of personal protection equipment are absolutely delighted with what Freemasons in West Lancashire and volunteers in the community have been able to do for them and for their safety.