The one event in Freemasonry that is guaranteed to generate the most emotional response is a brother's golden jubilee – the celebration of his 50 years in Freemasonry. 50 years since he stood at the entrance to the lodge room; the tyler offering words of encouragement as he commences his Masonic journey.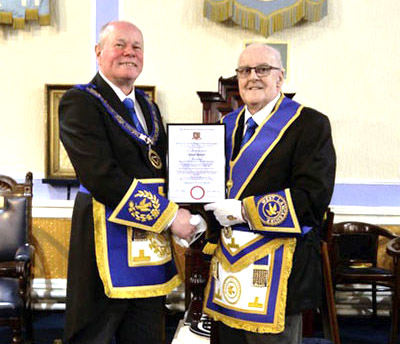 This must have been on Jim Harper's mind as Assistant Provincial Grand Master Duncan Smith related his life and Masonic journey to a packed temple at Blackpool Masonic Hall, hosted by Blackpool's oldest lodge, Clifton Lodge No 703.
Duncan regaled his audience with stories and anecdotes of the life of Jim Harper, informing the assembled brethren that Jim was born in 1945 in West Lothian, Scotland, the youngest of three sons born to James and Helen Harper. He became an apprentice bricklayer after finishing his schooling and gained a City & Guilds Building Construction qualification; bricklaying becoming a life-long profession.
For a change in scenery, Jim worked in West Africa building pre-fabricated housing for the local population. Jim returned to England and settled in Blackpool to run a local boarding house with his wife Iris, Jim continuing to work on small building extensions and for two years he worked as a foreman for a London construction firm which also took him to various places throughout Europe. Jim also worked on refurbishing Weatherspoon Pubs which gave him and his sons a good excuse to visit each of the new venues.
Jim comes from a family of Freemasons, often wondering where his grandfather had been going whilst carrying his little black case. Jim's brother, John, proposed him into Freemasonry and his good friend Jim Hilditch seconded the proposal. Jim Hilditch is a highly respected Freemason and has been the Provincial Grand Secretary and Provincial Grand Master of the Province of Linlithgowshire. He would have attended the evening's celebrations but was recovering from an operation and couldn't drive. Jim was initiated in 1972, along with five other candidates on the night. In Scotland, when passing to the second degree, candidates also become a Mark Mason and he will be celebrating 50 years in Mark Masonry in the near future.
Not wishing to be left out, Iris joined the Lady Masons, which is called the Eastern Star in Scotland. Jim's sister-in-law also joined at the same time. Jim was asked to become an Associate Patron of the Eastern Star as there had to be three men present before the ladies could hold a meeting, an Associate Patron being one of them. Never missing a meeting, Jim was eventually presented with a past master's jewel and a life-time membership. Jim will shortly also be celebrating his golden wedding jubilee to Iris which proves that involving family and friends in your Freemasonry is the key to a successful Masonic career.
Jim joined Clifton Lodge in 2003, becoming WM in 2015 and being appointed to the rank of acting Provincial Senior Grand Deacon in 2020, an office he thoroughly enjoyed, traveling throughout the Province of West Lancashire attending various Masonic events.
When Jim is not out enjoying his Freemasonry, he collects Masonic pennies, some of which have been donated to the Museum of Freemasonry at the Blackpool Masonic Hall. Jim is also a keen snooker player and has won many trophies over the years, often refereeing at the snooker finals at the Blackpool Mecca on Central Drive.
Duncan concluded the celebration in the lodge room by offering Jim his warmest personal congratulations on achieving his golden jubilee in Freemasonry. Everyone agreed that it was a privilege and a pleasure to be there on the evening to be part of such a happy and enjoyable occasion.
The celebrations continued at the festive board attended by Jim's sons Gary and Jim Jnr, where Gary gave a heartfelt toast to his father, thanking Duncan for a lovely and informative story of his father's life and to all the brethren and guests that had attended to make the day a day to remember.

Article and pictures by Gordon Ivett.