It was at the beginning of the pandemic when a planned fundraiser benefitting The Masonic Charitable Foundation appeal had to be cancelled. Jim Corcoran, a member of the Lodge of Harmony No 220 in the Woolton and Garston Group, had been collecting for many months at his own expense, sporting memorabilia to auction, raffle or sell at the fundraising event which should have been held at Liverpool Football Stadium at the beginning of May 2020.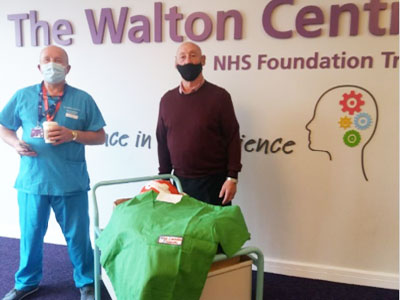 Having already auctioned some of his collection online, Jim continued raising money, and with help from the West Lancashire Freemasons' Charity, had enough to fund a 'scrubs army' of volunteer machinists. Some local suppliers also donated cloth and some 75 machinists set to making scrubs, scrub caps, scrub bags, theatre gowns and theatre hats.
Despite the lockdown, Jim started delivering the equipment to Warrington and Whiston Hospitals, to local hospices and to the Walton Centre. He even had requests for scrubs from as far away as Leicester. They were eventually able to recruit some local volunteers to help with the deliveries
A year on, and no-one would have thought that we would now be emerging from another lockdown. The Walton Neurosurgical Centre, for obvious reasons, had been in a very tight lockdown, but Jim got word from Professor Paul May at the Centre that they were now in a position to allow him to attend and deliver further much needed equipment. Wasting no time, Jim was there, with 175 sets of scrubs, incidentally, bearing a West Lancashire Freemasons pocket label, 175 scrub bags and a box of head bands. Jim's scrubs army strikes again.