Jim Bennett was installed as WM of Lodge Amounderness No 7105 in the presence of Past Assistant Provincial Grand Master Stewart Seddon representative of Provincial Grand Master Mark Matthews.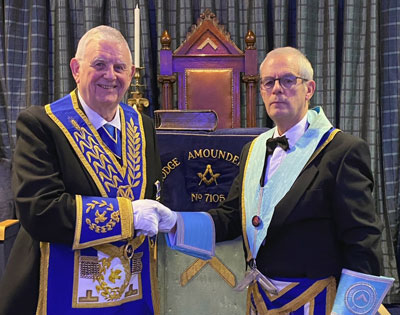 Stewart was accompanied by Past Deputy Provincial Grand Master Howard Jones; Past Assistant Provincial Grand Master Bill Huck; grand officers Steve Bolton and Neil McGill Chairman of Lancaster Group. Lancaster group vice chairman Scott Devine was also present. The acting Provincial grand officer in attendance was Provincial Grand Junior Deacon Dave Shaw.
Jim was presented as master elect by John Barlow. The ceremony was conducted by installing WM Glyn Davies. The installing officers were senior warden Peter Bennett, brother of master elect Jim, junior warden Mike Beesley and inner guard Walter West. The third degree working tools were presented by David Emery, the second working degree tools by George Askins and first degree working tools by Steve Warley.
The WM appointed Martin Lawrenson as senior warden and George Askins as junior warden. George Askins stepped down as lodge secretary having been in post from 2019 to 2023. In appointing Bill Holland as lodge secretary Jim Bennett informed him that the working tools were the pencil, rubber, paracetamol, the mouse, screen and Hermes!
The address to the master was given by John Bristow, the address to the wardens by Jim Bennett and the address to the brethren of Lodge Amounderness by Stewart Seddon. Stewart Seddon was pleased to announce that the lodge had made two donations totalling £1,000. A donation of £750 to the West Lancashire Freemasons' Charity and £250 to the immediate past master's chosen charity which was Derian House.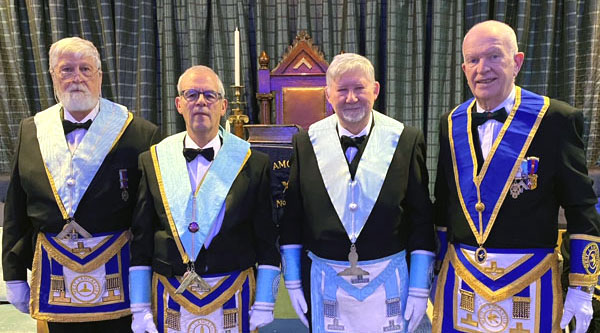 The organist for the evening was Fred Parker who also performed the master's song. A total of 30 brethren attended the festive board. The toast to the WM was given by immediate past master Glyn Davies.
Jim was born in July 1948 and attended Harris Technical College in Preston. He worked for Goss Graphic Printing Presses in Preston from 1964 to 2000, initially as an apprentice fitter and machinist from 1964 to 1969. He worked as a jig and tool design engineer from 1969 to 1972 in the manufacture of Goss printing presses. From 1972 to 1995 Jim was a programmer and supervisor for the installation of new printing presses. He moved on to become a project engineer for the management of supplier parts and assemblies of Goss printing presses from 1995 to 1997 and then became the design engineer from 1997 to 2000.
Jim left Goss and worked for Brookhouse Composites in Darwen as a Planning and project engineer until 2010. Jim is currently employed by OCS in Preston as a cash collector collecting money from various car parks in Lancashire.
Jim enjoys gardening, books, music, theatre, and travel. He is a keen walker and keeps fit cycling. Jim is also the 2022/2023 WM of Lodge of Endeavour No 7036 having been lodge secretary for the past 35 years. He is due to celebrate 50 years as a Freemason next March. He holds the rank of Past Provincial Junior Grand Warden.
In Royal Arch Jim was exalted at Jubilee Chapter No 5555 in October 1978 and was awarded his first appointment to Provincial Grand Steward in 1995 and was promoted to Past Provincial Grand Sword Bearer in May 1999. He has been Scribe Ezra since April 1993.