In November 2021 James (Jim) Akeroyd celebrated 60 years as a Freemason since his initiation on 27 April 1961 as a member of Sandylands Lodge No 5702, which amalgamated with Poulton le Sands Lodge No 1051 on 14 March 2007.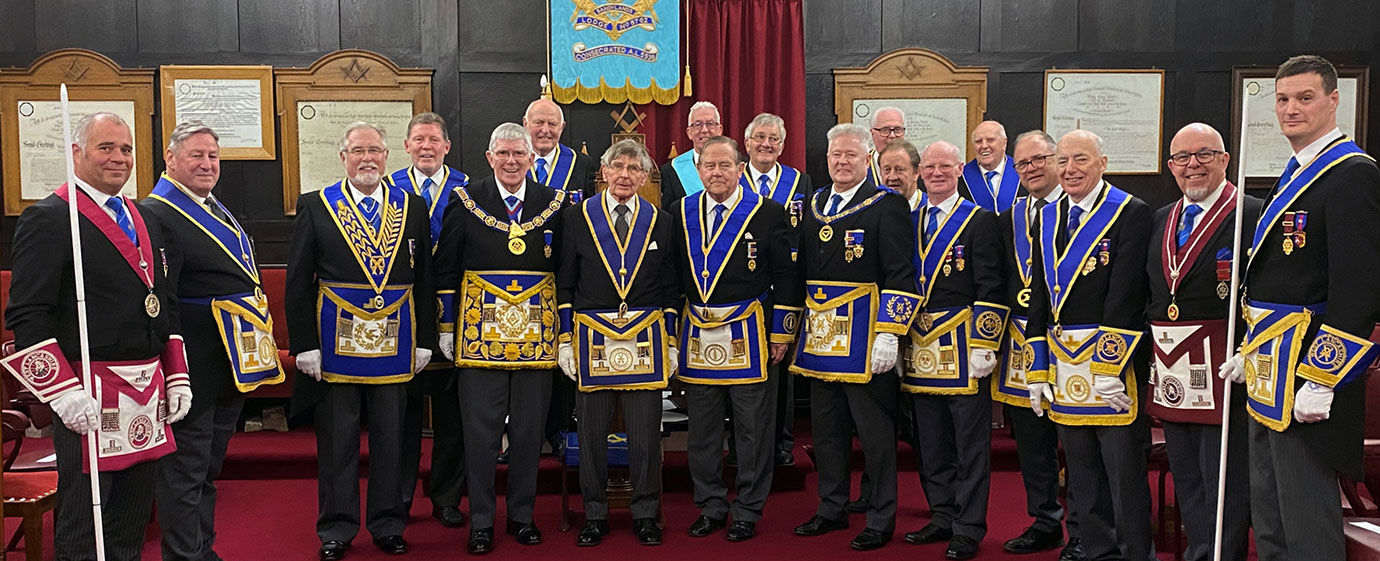 The ceremony was conducted by Assistant Provincial Grand Master Peter Schofield who was accompanied by Provincial Grand Master Tony Harrison and the following members of his Provincial team; Philip Gardner, Ryan Modlin, Andrew Keith, Jim Murray, Paul Broadley, Joe Crabtree, Gordon Evans, Alan Tomlinson and Lancaster Group Chairman Neil McGill.
Tony was conducted to his seat by Geoff Bury and Frank Heath where he was introduced to the acting WM Stewart McVernon who offered him the gavel, which was duly accepted on behalf of his deputy Peter Schofield who would conduct the proceedings.
Jim Akeroyd celebrated his 50 years as a Freemason at Caerfyrddin Lodge No 4928 in West Wales and chose to celebrate the occasion of his 60 years anniversary at Poulton le Sands Lodge. In order to fully appreciate such a length of service, the following are some of the things that were happening throughout the world in 1961 when our Jim took his first steps in Freemasonry.
The Soviet cosmonaut Yuri Gagarin became the first human in space to complete the first orbit of Earth. The Berlin Wall which would stand until 1989 was built in 1961, dividing East and West Germany. The UK Prime Minister was Harold MacMillan and John F Kennedy was sworn in as President of the United States of America. The Beatles made their debut appearance at the Cavern Club in Liverpool. Popular hits on the radio were 'Wooden Heart' by Elvis Presley; 'Half Way to Paradise' by Billy Fury and 'You Don't Know' by Helen Shapiro. Popular television programmes for those fortunate to own a TV included Opportunity Knocks, Dixon of Dock Green and Coronation Street. The average cost of a new house in the North West of England was £2,400, a new car was £500, the average salary was £562, a litre of petrol was £0.05p, a loaf of bread was £0.07p, a pint of milk was £0.03p and more importantly a pint of beer was £0.08p.
But most importantly in the very same year James Akeroyd was initiated into Freemasonry and took his first steps in Sandylands Lodge. Provincial Depoty Grand Director of Ceremonies Ryan Modlin was requested to seat Jim Akeroyd before Peter Schofield so that he could proceed to address him.
Jim was born in March 1937 in Heysham where he lived with his mother Janet and father Harold at 4 Carr Lane. Janet was a sandgrownian and his father moved to the area from Bradford with Jim's grandparents. Many people moved from Bradford at that period, either to retire or for work – so much so that the town became known as Bradford-by-the-Sea.
Jim's grandmother suffered from ill-health and was advised by her doctors to move to Morecambe as the seaside air would be particularly good for her condition and this proved to be very true as she lived to the wonderful age of 100.
Jim attended West End County Primary School and then Lancaster Royal Grammar School where he achieved the qualifications of GCE in English Language, French, Maths and Physics. He entered further education at Blackpool Technical College and obtained diplomas in the Institute of Meat Trades, Royal Society of Meat Health Inspectors and Food Hygiene, and the Higher Certificate of the Institute of Meat Inspectors which qualified him as an Associate of the Royal Society of Health and a Master Butcher.
While studying at Lancaster Grammar School Jim's ambition was to go to University to become an engineer but following the sad passing of his father while only 16 he made the decision to enter the family butchers business J Akeroyd & Sons at 41 Regent Road, Morecambe. The business was founded by his grandparents in 1909 in St James Markets and Jim further developed this business in to a well renowned and respected butchers throughout the area with a reputation for the highest quality of goods and service.
Jim ran the family business until he decided to retire from the meat trade in 1981. The business was sold as a going concern and continued to trade until only last year.Jim decided against total retirement and moved to Carmarthen, West Wales where he bought a caravan park on the outskirts of the town thinking that it would be less stressful than running a busy shop. However, this proved not to be the case and he actually ended up busier than ever, having to rapidly learn new skills including selling holidays rather than prime cuts of meat and the managing of teams of lady chalet cleaners which proved to be even more traumatic. In 1999 he finally decided to retire and the business was once again sold as a very successful going concern. Over his working life Jim proved to be a highly successful businessman, demonstrating great leadership and management skills throughout his outstanding career and is truly an inspiration to us all.
Jim completed his National Service in the British Army serving in the Service Corp as a butcher between 1961 and 1963, initially based at Farnborough before receiving a compassionate move to a base in Preston, as the person he had appointed to run the family business back home in Morecambe during his absence decided to leave and open a business in opposition to him, literally on the other side of the road. Jim was able to regain some control of the business and kept things ticking over. This was a very difficult time but he demonstrated determination to ensure the protection of his family business in the face of great adversity and achieved his aims admirably. National Service was completed with a final posting to a base in Chester.
During a walk along Morecambe Pier Jim met the love of his life Diane. She was a sandgrownian and on 20 September 1967 they were married at Lancaster Priory and remained together for a wonderful 55 years before her sad passing in March 2020.
Diane and Jim were blessed with two children, Julia who lives near him in Wales and Michael James who lives in Australia. He has been blessed with five grandchildren, two boys Asher and Jack who live in Australia and three girls Chloe, Emily and Alice who live in Wales. Jim is proud of each and everyone of them and they all play a huge part in his current family life.
Up until Diane's death, she and Jim used to spend January to March each year in Australia with Michael and his family which gave them both huge enjoyment. Hopefully when the pandemic finally allows Jim will be able to spend time with them once again.
Outside of Freemasonry Jim has had a very busy personal life. He was a committed Rotarian and became a very active member of Morecambe and Heysham Rotary Club in 1966 before moving to Carmarthen Rotary Club in 1981 where he held office as President and Secretary. Jim has joined Pembrey and Burry Port Branch in 2005 and has been a member ever since.
Provincial Grand Master Tony Harrison was also a member of the Morecambe and Heysham Rotary Club and recalls that from about 1973 every February several members used to take a long weekend trip away, usually abroad and often in Italy, travelling down to Luton airport overnight by coach to catch an early morning flight. Most of the members who attended the trips were also Freemasons, some of whom will be remembered by many present at the celebration; Geoffrey Knowles, Bernard Robinson, Alan Park, Peter Lathom and Bryan MacEreth, and of course Tony Harrison and James Akeroyd.
Most of the trips proved to be eventful occasions. Tony recalls a trip to a freezing cold Venice in the snow where they took a water bus along with all the wives across the lagoon to a well recommended local restaurant. After having enjoyed what had been a fabulous meal it was agreed to share the bill equally among all present. It was left to Tony to settle the bill while the rest of the party made their way back to the water bus. Tony found himself laiden with a pile of 1,000,000s of Italian Lira, which he assumed to be the correct amount to pay the bill. He left the money on the table and hastened to catch up with the rest of the party who by now were several 100 yards down the road. Unfortunately the pile left on the table was a few 1,000,000 short and to everybody's horror the Morecambe Rotarians were chased back to the water bus by angry kitchen staff with meat clevers in their hands. Happily the mistake was acknowledged and following a further payment all returned safely.
On another occasion the group travelled to Macerata in Northern Italy to visit a local Rotary Club. The hospitality was without doubt second to none. A coach was put on for the group's disposal and the food and drink was exceptional. There was a sting in the tail however. Maureen and Tony ended up with Anna, a rather large young Italian girl who insisted on staying in England for an exchange visit. She was unable to speak much English but was fantastic at making a terrible mess in the kitchen, much to Maureen's dismay. Prior to leaving however she made an Italian supper fit for Kings for all the members of Morecambe Rotary Club, their wives and families – so again all ended well. Not all the trips were quite so eventful with breaks in the sun in Rome and Rimini being fun packed weekends. Some brilliant, exciting and memorable short break holidays in the company of good friends which Peter hoped had helped bring back some special memories for Jim.
On moving to Carmarthen, Jim became very active in the local community. He became Chairman of the Carmarthen Branch of Parkinsons UK and was heavily involved in fundraising activities and the overseeing of the care of many people who suffered from this awful disease; a position he held for over 10 years. Jim was also a Governor of Merthyn Primary School and was heavily involved in the management of the special unit for handicapped children; a position which he held for 30 years. Jim can feel justifiably proud of the work he has so freely and generously carried out over many years for his community and many organisations will be very grateful for his long, committed and devoted service.
Jim's Masonic journey began on 27 April 1961 when poor and penniless he was initiated in to Sandylands Lodge No 5702 by Robert Whiteley, meeting at the Masonic Hall, Derby Street, Morecambe. Jim's proposer was Arthur Hodgson and seconder was Ken Whitley. He was passed to the degree of a fellow craft on 22 June 1961 and raised to the sublime degree of a master Mason on 23 November 1961. Jim became a member of Poulton le Sands Lodge when Sandylands Lodge, Rowley Lodge No 1051 and Poulton Hall Lodge No 6647 were amalgamated. Following his initiation Jim progressed through the various offices of Sandylands Lodge and became WM in 1977. In 1981 Jim moved to Carmarthen where he lives in a self contained flat with his daughter residing next door in the same building.
On the 1 May 1986 Jim joined Caerfyrddin Lodge in the Province of West Wales. He became an active and valued member of the lodge, serving as charity steward between 1996 to 2005 and is held in very high esteem by all the members of Caerfyrddin Lodge.
In Provincial Grand Lodge Jim received a first appointment to the rank of Past Provincial Junior Grand Deacon in 1996 before being promoted to Past Provincial Grand Sword Bearer in 2005 in the Province of West Wales. In the Royal Arch he was exalted into Sandylands Chapter No 5702 on the 10 October 1963. Jim is also a member of another Masonic Order.
Peter concluded that Jim has had a magnificent outstanding professional and Masonic career and should be justifiably proud of his life-long achievements. His story demonstrates considerable commitment to Freemasonry and that it had been a great pleasure to be able to share them with all the brethren present. Tony Harrison offered his own personal congratulations on this outstanding milestone in Jim's Masonic journey and issued a 60 year certificate to commemorate his very special day.
On completion of Peter's presentation, group chairman Neil McGill was asked to present Jim with the certificate issued by UGLE for his 60years service to Freemasonry and read the dedication to the brethren.
At the festive board that followed the formal ceremony, a raffle raised £250 for charity.