A grand occasion was arranged to honour Jeffrey (Jeff) Newbrook, a highly respected brother celebrating 50 years of being a Freemason. Members and distinguished visitors alike of Foundation Lodge No 5394, meeting at Urmston Masonic Hall were delighted to receive Barry Jameson, Assistant Provincial Grand Master, accompanied by South Eastern Group Chairman, Gareth Jones along with Provincial Deputy Grand Director of Ceremonies Rob Fitzsimmons, Provincial Assistant Grand Director of Ceremonies Rory Green and Provincial Grand Steward Ian Wood.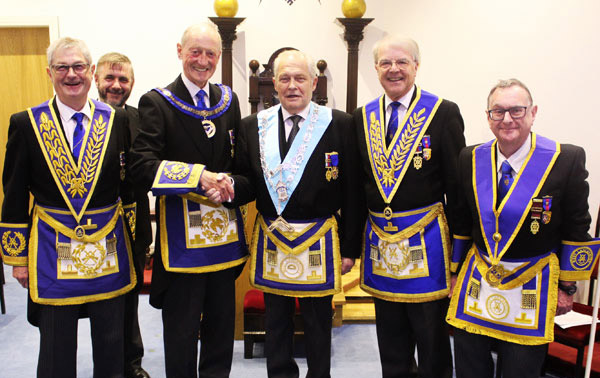 The lodge business being dealt with, the special part of the evening arrived as Barry entered the lodge room in ceremonial form and was presented to the WM, who just so happened to be the man himself, Jeff Newbrook.
Jeff having welcomed Barry and his attending officers offered him the gavel of the lodge, which on this occasion he accepted also taking the master's chair. Barry then addressed the brethren, thanking the lodge for their very kind welcome and explaining what a great pleasure it was to be with the members and visitors of the lodge to share this very unique and auspicious occasion.
Having ensured that Jeff was comfortably seated in prime position, Barry began his presentation stating that his office of Assistant Provincial Grand Master carried a number of onerous responsibilities and duties, but also a number of great privileges, and the prospect of being able to officiate at a 50th celebration was, without doubt amongst the better ones.
Lodge secretary Phil Rampling was then requested to read an extract from the lodge minutes for the meeting held on the 10 April 1972 which, coincidentally was the meeting at which Jeff was initiated by his father, James. Barry then continued quoting information which Jeff had provided during a convivial hour that the two had spent together the previous week.
Jeff was born in February 1944 in Beswick, Manchester (close to where the Etihad Stadium is today). Jeff's parents were James (Jim) and Louisa, and he eventually became the eldest of 4 children, two brothers, Jim and Derek and a sister Janice, who sadly died in infancy. His father Jim was employed in engineering in the skilled trade of a toolmaker.
Early schooling for Jeff was at Droylsden Primary School and initially his secondary education was at Manor Road School. However, a family move saw him complete his education at what is now Cheadle High School. On leaving school in 1959, Jeff took up an apprenticeship as a joiner but eventually followed his father and switched in 1960, to an engineering apprenticeship as a toolmaker.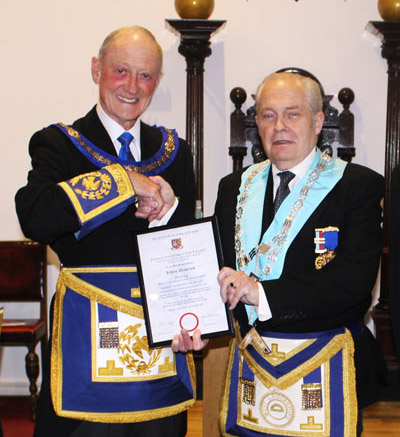 Barry commented that when speaking to Jeff, he noticed that he had a broad, square set of shoulders and thus, it came as little surprise when Jeff said that his early activities included boxing and weightlifting. From then on Barry decided not to raise any controversial issues with him.
Foundation Lodge also benefited from Jeff's family's service as was heard in the earlier extract from his initiation meeting in April 1972, at which his father, who was a member of the lodge, was then its junior warden and in that capacity, he presented and explained the working tools and delivered the charge of the degree.
Jeff's life and Freemasonry then went through a colourful change when in 1973, he moved to South Africa, working for Anglo American which had mining interests and he lived in Springs, a mainly mining community around 60 miles from Johannesburg. His specific job was working with high compact dies, made generally from tungsten carbide. Masonically, he undertook many visits and his own Freemasonry progressed during his stay there as well. Jeff was raised in Germiston Lodge No 2498 in the District Grand Lodge of South Africa North, although he did not join the lodge, which in part caused some initial consternation when enquiries were first made ahead of this 50th anniversary celebration. Jeff's father brought his Grand Lodge Certificate out to South Africa with him to give formal evidence of his membership.
The secretary of the District Grand Lodge of South Africa North, Roland Dunston, replied to the secretary's enquiry by confirming that Jeff was not a member of Germiston Lodge but went on to say: "We wish him well and hearty congratulations on reaching this milestone." Four years later, in 1977 Jeff returned to the UK and resumed his employment as a toolmaker with his previous company. He mentioned in passing during his discussions with Barry, that later in life he added to his more muscular activities by taking up pistol shooting, a point at which Barry was certainly relieved to have stayed clear of any controversial issues.
Through his marriage to Allison, he has a son Mark who lives in Stretford and his extended family includes four grandchildren, Adam, the eldest then Nathan, Eloise and Amelia, and a great granddaughter Lydia, aged three.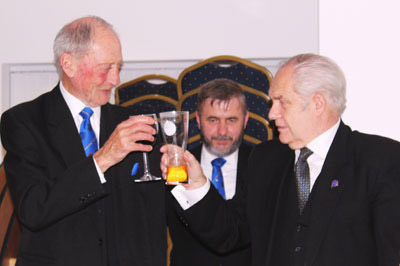 His brother James, who had been in the army, had been corresponding with a lady and Jeff went with him to Manchester Airport where he met Allison, whom he subsequently married in 1968. They moved to Gatley and then Whalley Bridge, where his son Mark was born in 1969. Allison sadly died in 2013 but Jeff is fortunate to have found a new partner in Pat, a neighbour from when he moved into his current home. They enjoy something of the cultural scene and specifically, opera and have been fortunate to attend a performance of Don Giovanni in Verona and have additionally seen Placido Domingo there live.
Freemasonry remained a part of Jeff's life and he returned to Foundation Lodge, where his father was still a member having gone through the chair in 1974. He followed him into that high office in 1984 whilst his brother James, who died in 2021, occupied the chair in 1997. Jeff's Freemasonry also progressed, and he served a second stint in the chair of Foundation Lodge in 2007 and additionally served as its director of ceremonies, mentor and charity steward. In January this year, he took to the chair for a third time and now celebrates his landmark 50th anniversary.
The Province of West Lancashire recognised his service to Freemasonry in 1991 with his first Provincial appointment as PPAGDC. He was then promoted in 1997 to the rank of PPSGD and in 2005 to his present high rank of PPGSuptWks.
In the Royal Arch, he was exalted into Lord Stanley Chapter No 2891 in the Province of East Lancashire where he held the high rank of PPGSoj. Though currently not a member of a Royal Arch Chapter, he has expressed a view that he would probably like to resume his Royal Arch Freemasonry, albeit in his East Lancashire Chapter.