Fleetwood Masonic Hall woke from the long slumber forced on many a hall over the land because of the COVID-19 pandemic, to the welcome return of Broadwater Lodge No 9027 and its installation of James Whiteside.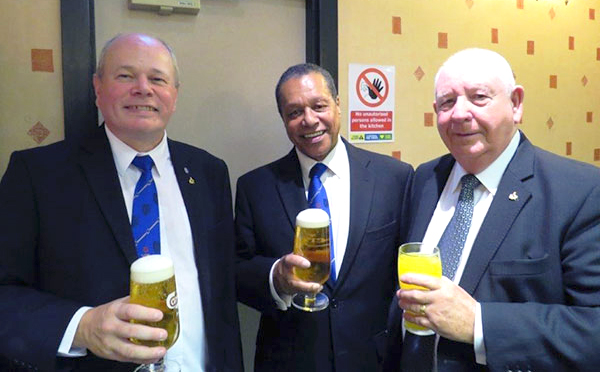 The lodge was opened by the incumbent master Stuart De Core who had diligently looked after the lodge during the lockdown. One of Stuart's first points of business was to ballot and welcome Mike Brayshaw as a joining member.
Stuart then opened the lodge to the third degree which saw the lodge's director of ceremonies Walter Daubney herald the entrance of the lodge's own newly appointed Assistant Provincial Grand Master Duncan Smith as well as the evening's principal guest Provincial Senior Grand Warden Mike Pinkard, together with Harry Cox, Peter Greathead, Keith Jackson, Giles Berkley, Andy Wiltshire and North Fylde Group Chairman John Cross.
Stuart formally welcomed Duncan Smith to the lodge, after which Duncan introduced the principal guest Mike Pinkard to Stuart. The hardest working man of the evening, the lodge director of ceremonies Walter Daubney, led the lodge in salutations to the distinguished guests.
Stuart asked Andy Robins to occupy the senior warden's chair, Peter Bawden to occupy the junior warden's chair and Tom Egan to assume the role of inner guard. He then asked Walter to take the master's chair for the purposes of installation.
The master elect was presented, and during the installation, the third degree working tools were presented by Andy Robins, the second degree tools by Duncan Smith, leaving Craig Price to finish with the first degree working tools.

Walter Daubney was the undoubted star of the evening and had barely time to draw breath before he delivered the address to the new WM. Duncan Smith delivered the address to the wardens, leaving the address to the brethren in the very capable hands of the principal guest Mike Pinkard.
At the completion of the evening's main event, Stuart derived great pleasure by uttering those immortal words: "WM, that completes the ceremony of your installation", to the new master, which was the cue for Mike to take to his feet and bring the greetings of the Provincial Grand Master Tony Harrison. He also thanked Stuart and Walter in particular for their impressive work.
James Whiteside as the new master had great pleasure in presenting Mike with cheques for £200 for the West Lancashire Freemasons' Charity, £150 for the Northwest Air Ambulance and £50 for Homeless Hounds. The lodge was then closed in peace and harmony and the brethren descended to the bar and dining room to complete the evening in the relaxed surrounding of Fleetwood Masonic Hall. A raffle raised the handsome amount of £260.