Another Masonic meeting at Leyland Masonic Hall and another special one at that! On this occasion it was a meeting to honour and pay tribute to John (Jack) Staziker of Leyland Hesketh Lodge No 986 in the Province of West Lancashire. Jack has been a member of Freemasonry for 70 years, being initiated into Hesketh Lodge No 986 back in 1948. This then was his platinum jubilee.
So, the first thing to research is the word platinum as it is not very often you hear this with respect to any celebration.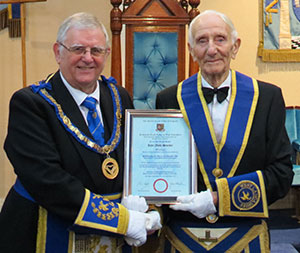 Platinum is a chemical element with the symbol 'Pt' and an atomic number of 78. It is a dense, malleable, ductile, highly unreactive, precious, a silver'ish-white transition metal. Its name is derived from the Spanish term 'platino', meaning 'little silver'. A platinum jubilee is a celebration held to mark an anniversary. Among monarchies, it usually refers to a 70th anniversary.
Given the special occasion it was only fit and proper that there were a good number of members and visitors present in the lodge room. Ian Smith WM opened the meeting and admitted John Stewart Seddon Assistant Provincial Grand Master followed by a large number of grand and Provincial grand officers. The WM offered the gavel of the lodge to Stewart who duly took it. He thanked the lodge for the very warm welcome and stated that he was more than pleased to be present at this very special meeting. Stewart then took the master's chair and asked that the tyler be admitted into the lodge room that he might hear and see the great celebration.
Stewart asked if everyone was comfortable … he had recently visited Jack's home on Liverpool Old Road in Much Hoole where he learned quite a bit over a cup of tea. Sitting Jack before him Stewart began by taking everyone back to 1926.
George V was on the throne and Stanley Baldwin was Prime Minister. In London John Logie Baird demonstrated a mechanical television system; The Shakespeare Memorial Theatre at Stratford upon Avon was destroyed by fire. On 1 May the coal miners went on strike in protest of the proposal to reduce their wages. Two days later the General Strike began in support of the miners and Baldwin declared 'Martial Law'. The General Strike lasted just ten days, but the miners carried on until the 29 November with Martial Law ending on 2 December. The first greyhound racing track opened in Manchester and the first Grand Prix was held at Brooklands near Weymouth. Red telephone boxes were introduced and A.A. Milne's 'Winnie the Pooh' was published. On 18 December, Turkey converted to the Gregorian calendar making the next day 1 January 1927. However, the highlight of the year so far occurred on 9 July at Fox Lane, Leyland when Mrs Mary Alice Staziker (nee Hill) gave birth to a son to be named John, known as Jack.
Jack's contemporaries include: Politicians Ian Paisley and Geoffrey Howe. From stage, screen and television: Warren Mitchell, Moira Shearer, Kenneth Williams, Marilyn Monroe, Leslie Nielsen, Frank Carson and the great Eric Morecambe. From the world of music and entertainment: George Martin (Beatles Producer) Lita Rosa, Tony Bennett and Chuck Berry with Danny Blanchflower, David Coleman, Jack Brabham and Alfredo Di Stefano, all from the sporting world.
Jack was born in Leyland on 8 July 1926 at his grannie's house on Fox Lane, returning to the family home at Highfield House, Liverpool Old Road, Hoole. Jack's sister Alice is now aged 95 and is currently residing at Ravenscroft Rest Home at Longton. Jack's father, Thomas, was a motor engineer and had his own garage at Hoole. His mother Mary Alice, who was originally from Liverpool, was a housewife looking after the children and the family home. At age five Jack started school at Walmer Bridge, leaving at 14 and walking into a temporary job at Forshaw's Bakery at Tarleton.
Jack played football for Walmer Bridge at this time and played in the Hesketh Medals competition which the team won for the first time in 24 years. He was by now into his apprenticeship as an engineer at English Electric and was attending evening classes at the Harris College. Given that his friends and cousins had been called up into the armed services, Jack felt that he too should volunteer as well. So, he applied as a boy entrant in the Royal Navy but as he was working on aircraft construction at English Electric, he was directed towards the Fleet Air Arm and posted to Cromarty Firth in Scotland working on carrier-based aircraft. He was then drafted east and was on the way to Japan when fortunately for them they surrendered.
Jack disembarked in Egypt where he worked at the Fleet Requirement Base near Alexandra before being transferred to Malta where he was offered an early de-mob to enable a return to English Electric. This he declined, to the amazement of his shipmates, because he was enjoying himself so much. However, it wasn't too long before his scheduled de-mob came through and he returned to the UK in the aircraft carrier Indominatable. On resuming work at English Electric, he was now a fully qualified fitter and worked on the first Canberra aircraft before moving on to the first Lightning, specifically on the wings. He was promoted to foreman on Lightning wings and then as Assistant Superintendent on Jaguar prototypes and production aircraft. Having been promoted yet again to Superintendent he then took charge of Tornado assemblies and the Euro Fighter prototype. In 1988 Jack was offered early retirement and duly took it.
Being from a village where everyone knew each other, none more so than the kids, Jack had known Irene Holt for years but it was only after going to dances at Walmer Bridge School that he took a fancy to her and so it was that their relationship blossomed. They were married on 22 November 1952 and were blessed with a son Ian who was born on 17 December 1955 and who managed to follow in both his father and grandfather's footsteps, working as a motor engineer before transferring to English Electric and British Aerospace.
On the 22 November 2012 Jack and Irene celebrated their diamond wedding anniversary receiving a lovely letter and photograph from Her Majesty the Queen. Sadly, Irene suffered for some two years with dementia and passed away on Easter Monday this year, 2018.
Following retirement Jack thought it would be a good idea to get a boat. So, he bought a 32-foot cabin cruiser which had been built in the old tram sheds at Nelson. He named her KALAFRANA after the RAF base he was stationed at on Malta at the end of the war. Jack and Irene spent many weeks away on the boat travelling many of the inland waterways in this country meeting and making friends with many other like-minded people, including Timothy West and Prunella Scales. He is a life member of the Ribble Trust. Jack is also a member of the 'Inland National Waterways Association' and a supporter of 'Save the Waterways'. His boat is now moored at Garstang.
Moving on to Jack's Masonic career, Hesketh Lodge secretary David Lloyd was invited to read details of Jack's initiation into the lodge. He duly read the minutes from the meeting before handing back to Stewart. So, Jack was initiated into Hesketh Lodge No 986 back in 1948. His father was his proposer and his uncle Bill his seconder – his uncle Tom and cousin Jack were also members of the lodge.
Jack made progress through the lodge serving in all the offices and was installed in the chair on 20 January 1968, meaning that Jack was in the chair 50 years ago which is therefore a double celebration for him. Jack was honoured by the Province in May 1998 with the rank of Past Provincial Assistant Grand Director of Ceremonies. On 3 November 2014 at the amalgamation ceremony of Hesketh and Leyland Lodges the Provincial Grand Master promoted him in lodge to the rank of Past Provincial Senior Grand Deacon.
Stewart continued by saying: "There is no doubt at all that Jack's entire life has also been an example of what makes a good Freemason, as well as a good citizen, a good husband, a good parent, and in every way a contributor to society'. There is also 'no doubt, that, during the last 70 years, anyone who happened to learn that Jack was a Freemason could not fail to see him as anything other than a good ambassador for the Order."
Stewart then invited Chris Blackwell Chairman of the Leyland and District Masonic Group of Lodges and Chapters to read a certificate which is an acknowledgement of the Province of West Lancashire's great appreciation of the 70 years of membership of the Craft. Following this recital, Stewart took the certificate and presented it to Jack with a large grin and a very heart felt hand shake. He congratulated Jack on his achievement and said he was looking forward to the festive board after the meeting where, they were to continue their conversation.
The festive board was a very festive occasion. Everyone present knew they had witnessed a celebration which was unlikely to be repeated within the Group.