The scene was set as brethren from around the Province gathered to celebrate the golden jubilee of Jack Blackburn, Past Provincial Senior Grand Warden, with Assistant Provincial Grand Master David Randerson set to guide proceedings the brethren were eager with anticipation for the evening to begin.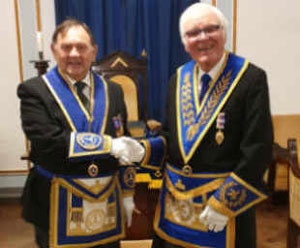 And it began in style with several brethren requesting photographs with Jack and Ryan Modlin, the newly appointed Assistant to the Provincial Deputy Grand Director of Ceremonies, who was taking control for his first outing in this new office. It must be said that by the end of the evening all of those in attendance agreed that it was as if Ryan had been conducting proceedings of this magnitude for years!
The die was cast as the brethren entered the main part of the evening, which was the presentation by David Randerson. David began by stating that 50 years of commitment to anything in life shows a great deal of loyalty and a genuine love and affection for whatever that cause or vocation may be.
Looking back at Jack's story, starting in Barnsley in 1936. It was a time when a person's word was his bond; a trusted handshake would often confirm that bond. He talked about Jack's early years and how he was playing football, running and boxing. In the latter, Jack reached the quarter finals of the National Coal Board championships. However, after being on the wrong end of a good hiding, he learned that the higher you go the tougher the opponents become.
Jack's first job 'down t' pit' as a timber trimmer, taking props with a pony and cart, together with a large tub of parts and equipment, to all the coal faces. He worked in that arena until moving to Blackpool at the age 21.
Almost immediately he received National Service papers and was posted first to the Isle of Wight and then on to Plymouth barracks, where he became camp barber. While on leave to Blackpool, he once again met Terry Hudson and Barry Holland through snooker and visits to the local dance halls; with Terry eventually becoming Jack's proposer into Freemasonry.
On returning home he obtained a job as a vacuum cleaner salesman for Vatric, he then moved to the Gas Board. After nine years at the Gas Board Jack decided to follow his dream of dealing in antiques. It was a time when they were being highlighted on television for the first time and interest was high. An initial shop in Blackpool subsequently led to four shops in Preston, which proved to be a far better road and rail network hub for buyers, who came weekly from Holland and Belgium.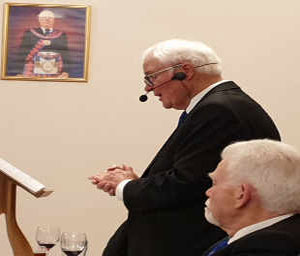 Since his initiation into Freemasonry, Jack has always readily immersed himself into charitable fundraising. He has raised £24,000 for Fairlawn Care Home, (where he would often cut residents hair) he has organised Province wide raffles and also raised funds in aid of Chernobyl children, plus many other causes. All these projects exhibited his involvement, commitment, drive and expertise.
On the sporting front, he ran the Quadrant Lodge No 8044 golf event for many years and Quadrant Lodge has an outstanding reputation for charitable giving both in and out of Festival. Jack's involvement in Freemasonry and commitment to it was recognised again in 1986 when he was appointed to the high rank of Past Provincial Junior Grand Warden. He then rose to the even higher rank of Past Provincial Senior Grand Warden in 2007. David concluded by stating that Jack's never say die attitude has been to the benefit of Quadrant Lodge, the group and the Province as a whole.
Once the meeting was finished the brethren retired to the festive board. The toast to the health of the grand officers was delivered in excellent fashion by David Barr, Vice Chairman of the South Fylde Group. David Randerson responded swiftly and eloquently with the view of moving proceedings on to allow the brethren to hear from the celebrant.
The toast to the celebrant lay with Terry Hudson, Past Assistant Provincial Grand Master, Jack's proposer into Freemasonry. Terry began by stating that we were gathered together to pay tribute to one of the great stalwarts of Quadrant Lodge, someone who has served the lodge, faithfully and conscientiously for 50 years, and to help celebrate with him this unique milestone in his Masonic career, and perhaps appropriately, to take this opportunity to reflect on his standing in the lodge and his contribution to its affairs over so long a period.
Terry went on to recite a humorous take on Jack's early life, firstly covering his National Service up to the age of 26. For most of the three years preceding Jack's 26 birthday, Jack was nowhere to be found; it was not so much a case of enlisting him, as finding him in the first place.
He was 'discovered', and it has to be said, arrested, three days before his 26th birthday. Subsequently, Barry Holland, who was a Military Policeman in the RAF during his National Service, took Jack for a last night out on the town before Barry drove him over to Fulwood Barracks, in Preston. On the following day, still somewhat the worse for wear, and propped him up, in a firm but gently leaning position against the front gates. It was thus 57 years ago, that Jack became a National Serviceman at the age of 26.
Terry went on to say that Jack's greatest asset to Quadrant Lodge has been his commitment to it. Terry has been a loyal, sure and steadfast friend for over 50 years, during which time they have thoroughly enjoyed their Freemasonry, played golf on many of the better courses of the world, roomed together throughout that time and applied themselves steadfastly, and with a commitment known to few, to reducing the world's supply of malt whisky.
Terry concluded by saying that ever the pragmatist, Jack's philosophy throughout his entire life has always been, 'whatever we think is a good idea, we ought to be doing it now'; a guiding principle he has followed throughout his life. This toast to Jack's health was greeted with great applause.
That left one more speech for the evening, the response from the celebrant, Jack Blackburn Past Provincial Senior Grand Warden. Jack began by confirming that the tales that had been told about him were true. That he has always loved his Freemasonry and continues to do so. The camaraderie and friendship have guided him throughout his life with the principles of Freemasonry forming much of his outlook and beliefs. Jack went on to reference several of the junior brethren and this only endeared him further to the audience, as it was clear that even after 50 year he still takes an active role in shaping the future of his beloved Quadrant Lodge. The remainder of the evening was filled with Jack's tales around boxing mishaps and sporting injuries, which had the audience in stiches. As the evening drew to a close it was clear to all, Jack of all trades was 50 not out.