It seems that to be able to demonstrate commitment in any part of society today is often hard to find. But within Freemasonry that is certainly not the case. John Howard Beckett (Jack to everyone that knows him) has been a member of Barrow Lodge No 3928 for 50 years, spending those years helping others less fortunate than himself, and for that he must be congratulated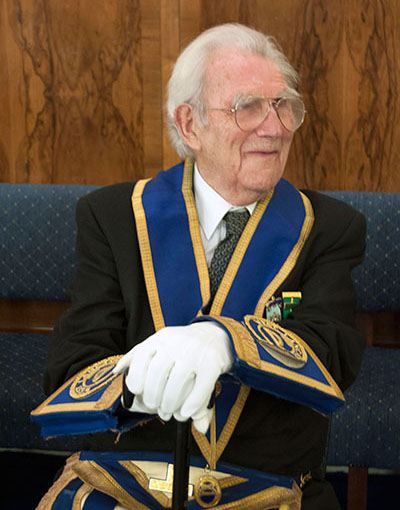 Assistant Provincial Grand Master Peter Scofield brought back memories for Jack from the period he took his first steps into Masonry. In 1972, decimal currency was introduced, Ted Heath had to deal with the miners rejecting a pay offer, which led to power cuts across the country and the 'troubles' were still on-going in Northern Ireland.
Peter wondered if Jack still had the best outfit in his wardrobe for a 1970's party as he posed the question, "did he still have his bell-bottomed trousers and a turtleneck sweater, hiding away somewhere?" 'Come on over to my place', and 'Nights in White Satin' were the single vinyl records to have sitting on your Bush record player stacking system, along with Sweet's 'Blockbuster' of course.
Jack was born in November 1929 to John and Elsie at their home in the Old Scotch Buildings in Hindpool, and attended Hindpool Infants and St James's Primary whilst he finished his schooling in the Holker Street School for Boys. On leaving school in 1944, he started work in Vickers in the East Shop Office, but soon realised that pushing a pen did not hold his attention, as he realised he would rather be pushing a wood chisel. Jack, therefore left Vickers and began to train as a cabinet maker at Cooke's Furnishers in Abbey Road.
Jack was seen as a well-respected member of the company, producing work of the highest quality before he was called up for National Service in 1948. He chose the Tank Corps over the Infantry but was posted to the Medical Corps TB Dept where he received an extra shilling a day for danger money! Jack obviously put his heart and soul into the job and was promoted to a full Corporal in charge of a Ward of 40 patients. Leaving National Service after two years, he went back to Cooke's where he specialised on laying lino and tile flooring.
Having met Audrey Bibby at a dance at the local Co-op Youth Club, they married in 1953 living in Chatsworth Street before moving to Cowlarns Road and then their present home on Hawcoat Lane in the 1970's. They have three very successful sons: Robert, a retired engineer who sold his business to an international company; Stephen, who worked for Vickers in London as a Projects Director and Adrian, who developed his own restaurant in Spain and after the pandemic is looking forward to returning to develop it further.
Jack opened his own upholstery business, firstly in Hindpool Road and then moved to Central Furnishers which was situated in the space behind Conlons – now a car park. Audrey worked with Jack, helping with clerical work and assisting with sales.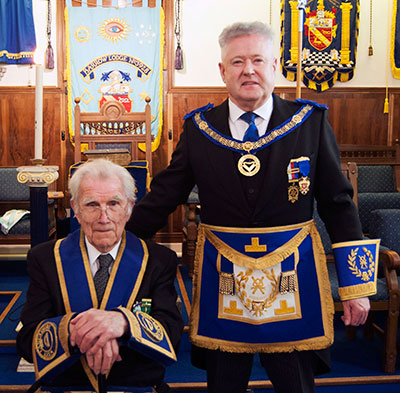 Within Barrow Masonic Hall, Jack made the Mark warrant case, the organ stool, the old banner frame for Barrow Lodge, the compass collection bags (which were used on the evening of the celebration), Provincial deacons' wands and Provincial stewards' white wands.
Jack began his Masonic journey on 9 March 1972, passed on the 13 April 1972 and raised on 8 June 1972. The master on all three occasions was R. Fairclough Jnr, but perhaps Jack will remember his raising more, as it was his very good friend Oliver Chalker who gave the traditional history and presented the working tools. 50 years later, Oliver sent his own '50- year' pin badge for Jack, which was presented to him at the festive board by the Furness and South Lakeland Group Chairman Gary Rogerson. Gary was thrilled to carry out Oliver's wishes as Oliver could not attend due to poor health.
Jack progressed through the offices of the lodge, becoming WM in November 1983 and serving as junior warden in 2017. He gained Provincial honours in 1992 as Past Provincial Junior Grand Deacon, being promoted to Past Provincial Deputy Grand Superintendent of Works in 2000. He was exalted into Barrow Chapter No 3928 in 1973 and eventually promoted to Past Provincial Deputy Grand Sword Bearer in 2009.
Peter and the 45 brethren at the festive board were not surprised to hear that in 2018, Jack became an honorary member of his own lodge. He again thanked Jack for all he had done for Freemasonry, not only for Barrow Lodge, but also all the lodges of Furness and South Lakeland, as he had shown outstanding commitment and for always being available to help others. Peter also conveyed the personal greetings and congratulations of the Provincial Grand Master and, as the brethren stood to toast Jack's fantastic achievement, Peter wished him good health and happiness for many years to come.