It's been a busy couple of months for Eureka Lodge No 3763, who are part of the Ormskirk and Bootle Group, meeting at the Litherland Masonic Hall, with their second jubilee celebration within a couple of weeks. On this occasion the members and the many visitors met to celebrate the very special and important milestone in the Masonic career of David Gornall achieving 50 magnificent years in Freemasonry.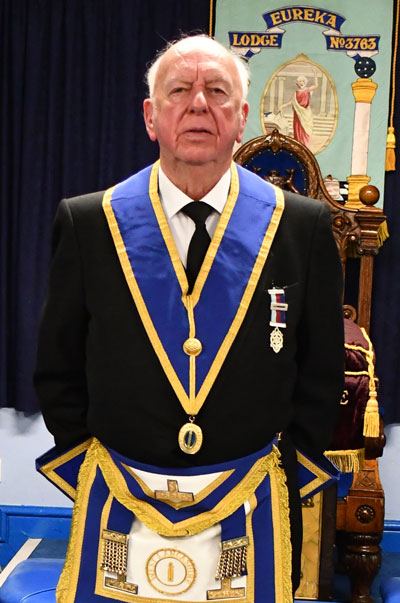 Leading the celebration was Assistant Provincial Grand Master Frank Umbers, who was accompanied by the Ormskirk and Bootle Group Chairman Graham Chambers, Grand officers; Ron Elliott and Brian Cunliffe, along with Gary Smith Provincial Deputy Grand Director of Ceremonies who was accompanied by David Boyes Assistant to the Provincial Grand Director of Ceremonies, with acting officers Stephen Williams and Stephen Oliver.
The evening's meeting commenced with the WM, David Lyons, warmly welcoming everyone to the celebration before opening the lodge. Gary Smith was admitted into the room and announced that Frank Umbers was without and demanded admission. Frank was duly admitted, preceded by the grand officers and the acting Provincial grand officers. David warmly welcomed Frank to the lodge and offered him the gavel, which Frank graciously accepted.
David Gornall was then placed and seated before the pedestal, as Frank proceeded to deliver his presentation on David's life and Masonic career. Frank opened his remarks by saying: "It is my pleasure to be back again here in Eureka Lodge to officiate on another very special occasion. We are indeed honoured to have this opportunity to join in the celebration and I thank you all most sincerely for your support of our celebrant".
Frank then proceeded to give a detailed account of David's life. David was born in 1943 to Muriel and Francis Gornall, David's father had a family coal merchants off Edge Lane in Liverpool and drove a lorry for the small family business, delivering coal.
David attended Birchfield Primary School, off Edge Lane, Liverpool and after passing his scholarship at the age of 11, he gained a place at the Liverpool Institute High School for Boys, David was at the Liverpool Institute with fellow pupils at the time Paul McCartney and George Harrison and still has his Green Yearbook of 1957 together with a whole school photograph. Between the ages of 11 and 14 years David ran with Liverpool Harriers and also did cross country running and played in the five's team for Liverpool Institute.
On leaving school, David went to work in the laboratory at Price Chemicals and then moved onto working for Shell, again in the laboratory. A short while later, he moved to work at Caleb Brett as a Chemist Surveyor, which involved surveying and calibrating mainly chemical cargoes and their loading and unloading operations.
This work involved travelling worldwide and although David loved his job, right up to when he retired, the nature of it was very exacting, as he was on call seven days a week, 24hrs a day, all year. At one stage the whole family lived in the Caribbean. When David returned to the UK, he left Caleb Brett and moved to work for SGS Redwood, doing exactly the same work but it involved more world travel. Working a great deal in Iran and Iraq and David remembers working on board ship in the port city of Bandar Abbass, Iran, as unfriendly fire between the two countries was at its highest.
David met Pat in 1972 and asked Pat out on their first date, when dancing at a crowded party with a very noisy atmosphere. All Pat heard was 'Our Lady's', a long dress, the date itself and the time, Pat thought David was asking her to go to church and was surprised when he turned up with a dickie bow and dinner suit on!. Two years later they married, David and Pat have three children and two grandchildren.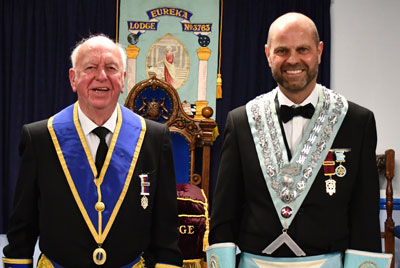 When David was young, he went fishing with his dad and he still goes fishing in the summer, mainly with a neighbour to a local spot, but also with his friend John. David is mainly an armchair football enthusiast, supporting Liverpool and loves to watch Lewis Hamilton and his motor racing on TV and has with his son enjoyed a weekend at Silverstone together a few years ago.
Frank then gave a detailed account of David's Masonic career. David was proposed by Don Fraser and seconded by his son Ian Fraser, and was initiated into St Luke's lodge No 6006 on 18th October 1971, becoming WM in March 1985.
Following his advancement through the various progressive offices, it was on Tuesday, 19 March 1985, he became a ruler in the Craft and WM of St Luke's Lodge. David went on to serve and support his lodge, the Bootle Group and the Province with distinction for many years. He held the office of charity steward from 1996 for seven years, giving up the office to become the lodge almoner for a period of 15 years, from 2003 to 2018.
In recognition of his work during his mastership and service to his lodge, Dave received his first Provincial appointment to that of Past Provincial Senior Grand Deacon in May 1992 and for his continued service and overall contribution to Masonry at every level, Dave received a Provincial promotion to the very high rank he now holds, Past Provincial Junior Grand Warden (PPJGW), in 2001.
Dave served the former Bootle Group as their local care officer between 2006 and 2008 before taking on the office of the Regional Care Officer with responsibilities for the Bootle, Garston and Trafalgar Groups, a position he held for five years, up until 2013. After the closure of St Luke's Lodge, David joined Eureka Lodge in February 2020.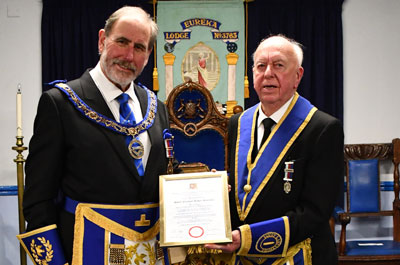 In the Royal Arch David was exalted into Alliance Chapter No 667 on 3 December 1984 and reached the first principal's chair in December 1993. He held the office of charity steward from 1995 to 2002 and received his first Royal Arch Provincial appointment to the rank of Past Provincial Grand Standard Bearer on 10 May 2000. Then for continued service and commitment to his chapter, his regional care role, and Royal Arch Masonry in general, in 2009, David received a Provincial promotion to the very high rank he holds today, Past Provincial Grand Scribe Nehemiah. Alliance Chapter along with Prince Arthur Chapter No 2631 amalgamated with Chapter of Friendship No 241 on 26 April 2007.
David is also a member of a number of other Masonic Orders and holds similar ranks in them. At the end of the presentation Frank said: "David Gornall PPJGW of the Province of West Lancashire, you have set an example to us all in your life, a life full of commitment and devotion to your family, hard work and success in your professional career and over 50 years of dedication to Freemasonry", before asking the group chairman Graham Chambers to read out the Jubilee Certificate.
Frank then concluded by saying: "David, it gives me great pleasure to present to you on behalf of our Provincial Grand Master Tony Harrison this certificate in recognition of your achievement of 50 years in Freemasonry and to wish you on behalf of all the brethren present the best of health to enjoy many more years in our company."
With the presentation ceremony being over Frank handed the gavel back to David Lyons, David then closed the lodge and the brethren made their way to the dining hall for an excellent festive board, where the celebrations continued.