Like the proverbial phoenix rising out of the ashes, St Annes Palace is entering a new normal, invigorated with new decorations and improved facilities buoyed by fresh ideas for entertaining members and guests.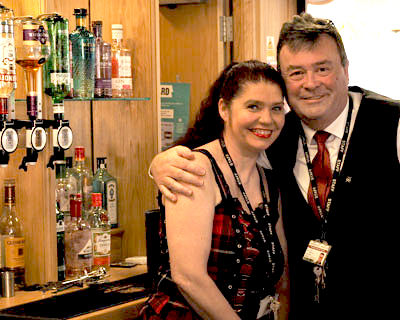 The latest venture proved to be a success and a sell-out, as the newly refurbished 'Blue Room' was filled with hungry and expectant diners relishing the thought of a steak dinner, prepared by resident chef, Lee Munro, assisted by his wife Janine and daughter Hannah. Adrian Bromiley of Semper Fidelis Lodge No 4428 and his guest Mrs Pat Andrews were the first to be served and 'thoroughly enjoyed' their meal.
Nobody was disappointed. Fine food was washed down by fine wines, beers and spirits, served by stewards John and Pam Nicholls, ably assisted by their assistant Laura. John and Pam are permanently busy behind the scenes, planning events, setting tables, assisting decorators and the many other day-to-day tasks involved in running a Masonic hall.
Also available on this occasion, and will be on future occasions, was the new St Annes Palace menus and wine list, drawn up in conjunction with John Nicholls and Lee Munro, with several suggested menus for Masonic events such as ladies' evenings, celebration banquets and Sunday lunches.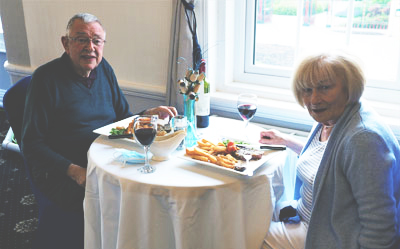 It was a pleasure to see some of the other key participants in the overhaul of the Palace enjoying an evening out, such as Ray Pinkstone, who is the maintenance manager, who looks in every day to check on progress of works. Also enjoying the ambience of the evening were Chris Thompson, who was responsible for the exterior renovation of the building, along with his partner, Diane, who runs a well-being shop downstairs.
Now, no Masonic do would be complete without a charity fund raising raffle and this was to be no exception. This occasion saw the culmination of an on-line raffle run by group charity steward, Dave McKee, on behalf of the Young Lives versus Cancer charity. The proceeds, amounting to £450 will be handed over during a cheque presentation ceremony later in the year.
Prize winners for the raffle included group secretary Ian Park, regular guest and cycling enthusiast Tom Cutler and grand officer Mike Goodwin. Then of course, no raffle would be complete without a prize going to group chairman, John Robbie Porter, who thanked everyone for their support of this event. "What a wonderful evening," John enthused; "We're looking forward to many more like it."
More like it are in the offing with a 'grill night', Halloween party and New Year's Eve party being planned. All no doubt benefiting from Lee Munro's new open grill cooker in the kitchen. Never did a chef look so happy as Lee, as the flames leapt from the surface, (carefully controlled of course), when he was demonstrating this new wonder!