Liverpool Mercantile Lodge No 4319 was well met for the occasion of the passing of a popular member of the lodge, Dylan Roberts. Dylan, who is originally from South Africa, was interested in Freemasonry following in the footsteps of his grandfather who had also been a Freemason.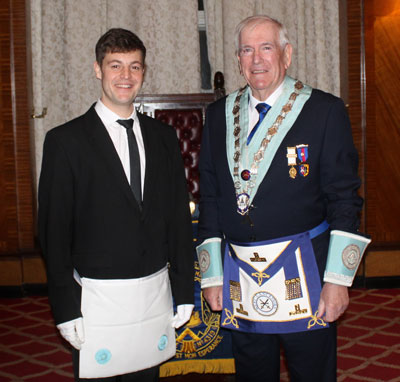 Having pursued that interest, he made contact with Liverpool Mercantile Lodge and following the necessary arrangement was initiated into the lodge in 2022. And so, continuing on that journey, he became a fellow craft Freemason in February 2023.
Lodge secretary Dr Peter Lindfield, assisted by Paul Shepherd, ensured that all of the brethren and guests had a welcome glass of champagne to start off the evening proceedings.
The lodge was called to order by director of ceremonies Malcom Hodgson, then the WM John McKay, assisted by senior warden Dr Abdul Kukaswadia and stand-in junior warden Ian Elsby, with senior deacon Michael Wolff and very pleasing to see Paul Shepherd as stand-in junior deacon and Phil Marshall standing-in as inner guard for Dylan Thomas, who of course was the candidate to be passed to the second degree.
Dylan was presented to the WM John and was excellent in his command of ritual in answering the questions of that degree. The lodge being duly opened in the second degree, John McKay requested if Stephen Robinson would honour the lodge as WM for the second part of the ceremony. Stand-in master Stephen was measured, confident and delivered a fantastic display of ritual prowess in conducting and orating the ceremony of a fellow craft Freemason.
Dylan was then superbly conducted around the lodge by the dream team of deacons, Michael Wolff and Paul Shepherd, who were superb in their command of ritual and ensured that Dylan had the best fellow craft ceremony one could hope to wish for.
Finally, having obtained the fellow craft degree, senior deacon Michael Wolff delivered the working tools of a fellow craft Freemason to Dylan, again reflecting the confidence and maturity of well-practiced ritual.
It was obvious that the whole team had put in considerable effort into learning the ritual which was delivered extremely well and was a genuine pleasure to observe, and for Dylan, a pleasure to experience.
The festive board was a lively affair and the delightful meal was followed by toasts to the health of Dylan, who remarked that he was very pleased to have become a fellow craft Freemason and thanked everyone for their hard work. Dylan said that he was now looking forward to continuing his Masonic journey.