The Walnut Group is a prostate cancer support group for patients, carers, families and friends in the Preston Area. The group meets on the first Wednesday of the month at Vine House on Cromwell Road in Preston.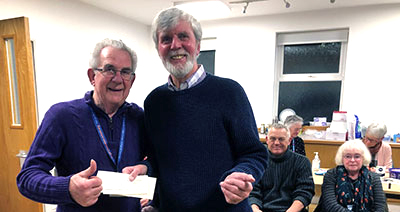 Preston Guild Lodge No 4408 was delighted to offer the local Walnut Group a donation of £400 to help them continue the invaluable service to their patient group. Colin Pennington and George Turner were at Vine House to receive the cheque during one of their regular monthly meetings.
Prostate cancer is uniquely a man thing and often goes under-diagnosed. Often men do not see a doctor because they think the problem is down to their age. Quite often it is, but getting a test is a wise precaution.
The Walnut Group is part of a wider prostate cancer charity called Tackle Prostate Cancer which has brought together many smaller prostate cancer charities under one banner. It is a patient-led group that is able to call on the support and expertise of many leading clinicians in the field of prostate cancer across the UK.
The mission of Tackle Prostate Cancer is that they understand that everyone's prostate cancer journey is different, which is why they have built a community who listens to everyone's worries, provides everyone with useful information and points them in the direction that's best for them. They're here to normalise conversations and ensure patients and the people around them feel supported through every step of their prostate cancer journey.