Lodge of Israel No 1502 finished off their Masonic season in an exceedingly congenial manner. The lodge, which is renowned for its camaraderie and hospitality was opened in the usual manner within the Roman Suite at Liverpool Masonic Hall. The WM Ian Niven was ably assisted by Ray Sephton as senior warden and Stan Blake as junior warden, all marshalled under the direction of Colin Wood. With the transaction of lodge business compete, the lodge was closed in due form and a number of gentlemen who had expressed an interest were invited to join with the brethren.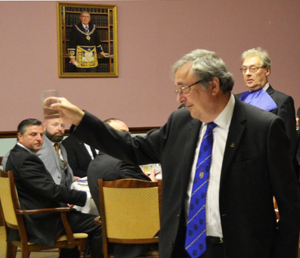 Paul Hudson, almoner and social secretary, gave a brief explanation on how events would unfold during the evening, with particular regard to the reception and festive board which was to follow. Lodge of Israel is rather unique from others meeting in the building, for at the end of each meeting and prior to the festive board, the lodge enjoys an excellent celebratory reception before the formal dining. It gives an opportunity for informal greetings, introductions and the opportunity for a chat over 'nibbles' and drinks. Paul then handed the proceedings back to Ian Niven.
Ian welcomed all and gave a short description with regard to Lodge of Israel in particular. The lodge was founded in 1874 and although observing Jewish dietary requirements, has always welcomed everyone with a belief in a supreme being. Ian explained how he had come into Freemasonry and the considerable amount of enjoyment he had derived in that time, giving elucidation on various aspects of Freemasonry and actively encouraging questions. Ian then invited the brethren around the room to give a brief introduction regarding themselves and how Freemasonry had affected their lives for the good.
Phil Jones lead the way. He was WM as recently as 2013 and spoke of the enthralment of the ceremony of his initiation and on the personal satisfaction derived in conquering the challenges on the road towards being head of the lodge. He was followed by one of the younger members Chris Mullen, who reiterated much of what Phil had said and the satisfaction of hard work and dedication within the lodge room, but also the widening of the social calendar for his family with the numerous events on offer during the year. To finish, Gary Hallmark, the newest member to the lodge, spoke most eloquently with regard to becoming aware of differing aspects of the lodge traditions, the beauty of the ceremonial and the sense of comradeship among the members and their families and friends.
In time the brethren and guests moved into the small bar area for pre-drinks and then to the reception. At the festive board a simple three course meal was served and the opportunity to move between tables was utilised, so people could get to meet each other.
The evening drew swiftly to its close, with the visitors saying how much they had learned during the evening, with many seriously considering membership of the lodge.