Companions of Blackpool Chapter of Integrity No 5864 hosted a joint convocation meeting of Royal Arch chapters at Blackpool Masonic Hall. Companions throughout the Fylde coast were in attendance including a Provincial deputation led by the Provincial Grand Director of Ceremonies David Thomas.

It is not every day that you have the opportunity to attend a joint convocation in the Royal Arch. Also, when you see a presentation conducted with such 'joie de vivre' by a dedicated team, it's a joy to behold. The presentation team was led by Ian Stirling in the company of the Second Provincial Grand Principal, Michael Threlfall, accompanied by Assistant to the Principal Grand Principals David Barr, along with several grand officers and acting Provincial grand. It was quite obvious to those present that they were in for a treat!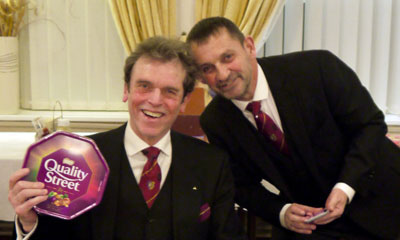 The companions in attendance greatly enjoyed a very fine explanation of the banners and ensigns performed with care and gusto by the presenting team and that is what it is all about. The Royal Arch teaches using a series of lessons that enhance what we have already learned in Craft Freemasonry. The Royal Arch adds to that knowledge, makes some things clearer and takes us further on our journey into the mysteries of Freemasonry.
If after reading this, and you are not a member of the Royal Arch, you really do need to think about what you are missing. You don't get many opportunities to have such a wonderful, entertaining, pleasurable and instructive evening as this.
Immediately following the joint convocation, the companions retired to the lounge bar for a well-earned refreshing drink, then onwards to the Fylde Suite dining room where an excellent festive board was enjoyed by all.
In his reply to the toast to the grand officers, Michael Threlfall addressed the companions, expressing his delight at being in Blackpool. He also thanked the presentation team for their hard work and dedication. The main focus of address, however, was the importance of recruitment and retention into the Royal Arch, with the exciting measures being introduced by the Province which are planned to support specific changes in the future.

Story and pictures by Gordon Ivett, Blackpool Group Publicity Officer.