Companions and guests gathered at Doe Park, Woolton Golf Cub for the installation of a first principal and an exaltation ceremony all rolled into one meeting. As etymologically speaking 'installexation' is not strictly a word which could be found in the Oxford English Dictionary, but it does describe the business of the evening at Walton Chapter No 1086, and who knows may catch on!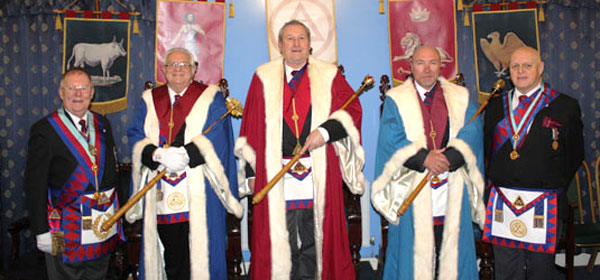 The three principals of the evening, first principal Peter Casey, along with second and third principals, Eric Palfreyman and Colin Graham, both of whom at short notice filled those important chairs, assisted Peter in opening the chapter in fine form. Peter then took the time to welcome principal guest Colin Rowling to the chapter, alongside Mersey Valley Group Vice Chairman David Atkinson.
David Rimmer then presented first principal elect Stephen Lynch who had been unable to attend the installation ceremony in November 2022, to Peter Casey. As Stephen is a past first principal, it was only necessary to re-affirm his obligation which he did with aplomb, and Peter then installed Stephen into the first principal's chair.
The next order of business was to ballot for a candidate for exaltation. The ballot having proven unanimous, Stephen requested that principal sojourner Alan Riley prove the candidate, Michael Daly. The exaltation was a master class of ceremony, amongst a first-class delivery of ritual, two things in particular stood out as worthy of particular praise.

Alan Riley as principal sojourner was superb in the conducting of the ceremony and the delivery of it, in each case. Newly installed first principal Stephen was also particularly impressive in his delivery of the mystical signs to a new exaltee. Candidate Michael was treated to an exemplary display of ritual as were the companions and guests who had the pleasure of witnessing it.

At the conclusion of the ceremony, Colin Rowling congratulated all of those who took part, and commented how well the ceremony had been conducted through both the installation and exaltation.
The business of the evening having been completed, the companions, guests and newly made Royal Arch Mason Michael, retired to the festive board to continue the evening celebrations.
The festive board was convivial and good humoured, with well-meaning toasts and good wishes to the three principals, delivered by immediate past first principal Peter Casey. A toast to the health of Michael Daly, by Alan Riley soon followed, and Michael responded in kind to warm applause. The future of Walton Chapter looks very bright and a testament to the hard work of the chapter companions in laying those foundations.