Jerusalem Chapter No 32 is resplendent with their unique banners that frame the chapter. Gladstone Group Chairman Paul Storrar, who is also first principal of the chapter, warmly welcomed the guests and companions and was assisted by assistant scribe Ezra Chris Collins and the representative of the Grand Superintendent Mark Dimelow in opening the chapter in fine form. The three principals, Paul, second principal Simon Dawes and third principal Stephen Morgan, gave a master class in the opening of a chapter.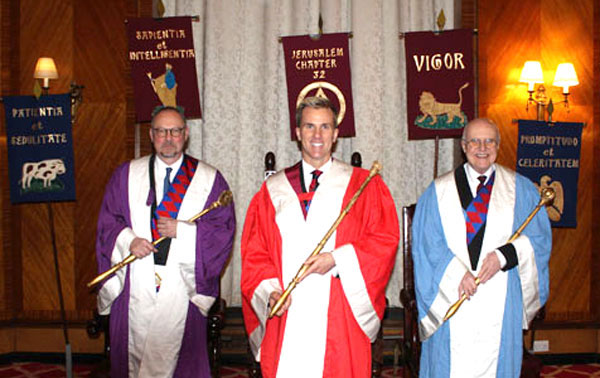 Having dealt with the pressing business, Paul called for companion Chris Brown to be presented as third principal elect. Chris Collins, acting as the presenting officer, did so and presented Chris Brown to Paul, who was then conducted through his obligation of third principal faultlessly.
Chris Collins then called for a past principal to occupy the chair of third principal, to which visitor Paul McLachlan very kindly volunteered and occupied the chair. It was the turn of Stephen Morgan to be presented as second principal elect. Again, Stephen was superb in the delivery of his obligation having been presented by Chris Collins.
Chris then called for another past principal to occupy the chair of second principal, to which visitor Mike Fox volunteered and having occupied the chair, Paul then called for first principal elect Simon Dawes to be presented to him. Once again, Simon recited his obligation perfectly, having been presented by Chris Collins.
Paul requested that all those below the rank of an installed first principal retire from the chapter for a short period, and a conclave of installed first principals was declared. Simon was duly installed as first principal in solemn form by Paul. Having installed Paul as immediate past first principal, the conclave was duly closed and a conclave of installed second principals was formed.
Stephen Morgan was admitted and was installed as second principal, assisted by Mark Dimelow. In turn the conclave was closed and a conclave of installed third principals was declared, Chris Brown was then admitted and duly installed into the chair of a third principal, in fine form again assisted by Mark Dimelow.
Having admitted all companions and declared the three principals for the ensuing year, Paul Storrar then beckoned first principal Simon to stand and delivered a fine rendition of the scarlet robe address. Not content with such fine delivery, Paul then requested second principal Stephen to rise and delivered the purple robe address, before finally finishing with a flourish delivering the blue robe address to third principal Chris. A very fine display of ritual indeed.
The chapter having been duly closed the companions and guests retired to the festive board in Crompton's Restaurant where the celebrations continued. The toast to the health of the three principals was resoundingly applauded, and with many companions who have not yet been through the principals' chair, a healthy chapter membership promises many happy years ahead for Jerusalem Chapter.