Carers from age five to 18 are known as young carers and often take on practical and/or emotional caring responsibilities that would normally be expected of an adult. The tasks undertaken can vary according to the nature of the illness or disability, the level and frequency of need for care and the structure of the family as a whole.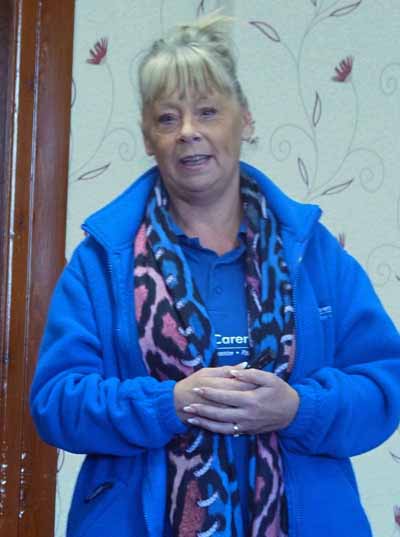 A young carer may do some or all of the following: cooking, housework and shopping. Physical care, such as lifting, helping a parent on stairs or with physiotherapy. Personal care, such as dressing, washing, helping with toileting needs. Managing the family budget, collecting benefits and prescriptions. Administering the medications collected from the pharmacy. Looking after or 'parenting' younger siblings. Interpreting, due to a hearing or speech impairment, or because English is not the family's first language.
Some young carers may undertake high levels of care, whereas for others it may be frequent low levels of care. Either can impact heavily on a child or young person. For this reason, Blackpool Carers Centre have a dedicated team to support young carers in the area. Supporting young carers is a cause that master of Dona Conferentes Lodge No 9392, Alan Locke, is keen to promote. He was, therefore, very pleased to welcome Mrs Terry Hodkinson, Head of Business Development and Fundraising and Tia, a young carer aged 16. Terry and Tia were introduced by John Topping, a Trustee of Blackpool Carers Centre, who is also director of ceremonies for the Lodge of Triumph No 1061. John has been involved as a Trustee for four years.
Terry explained that they have a dedicated team who work specifically with young carers, they are called Young Carers' Family Support Workers. They help young carers in a variety of ways. They give advice and support if young carers have any problems such as personal or health problems, or bullying. They organise free events and activities so that young carers can get out and enjoy themselves and meet other young carers who may be going through similar experiences. If young carers have any special hobbies or interests, support workers can try and arrange for the youngsters to continue with these.
If young carers have problems with organisations such as schools, social services or health authorities help is at hand. If the problems are with school, support workers can talk to the school to help them understand a young carer's situation and become more flexible with school work and homework. Help with social services or health authorities can include giving advice and information about the condition of the person they care for, what their medication does to them and details of other organisations who can help and give support. Support workers also organise young carers' help groups which may help with feelings of low self-esteem, anxiety or lack of confidence.
Terry then showed the brethren a short video of a young carer's journey through a typical day and the way that Blackpool Young Carers Support Group had made that child's life so much easier to handle.
Tia explained that she is the carer for her brother Toby. She has also cared for her auntie and grandpa. Toby is two years old and has a rare bone disorder which meant that he was born without a jaw. She said that caring makes life harder because things crop up out of the blue and she has had to mature very fast in order to be able to deal with the unexpected. COVID has made things harder, as it has meant she can't go out very often. However, she goes to the carer's centre to unwind and she says that this helps her a lot. She has developed many skills during her time as a carer and through the carers centre she has been introduced to the Conferences Duke of Edinburgh's Award Scheme.
She and Toby appeared on North West Tonight recently, talking about her life as a carer where she stated that she wanted to be an actress. When asked who her hero was, she replied: "My brother Toby."
As ever, the members of Dona Conferentes donated generously to the raffle and alms collection and the sum of £300 was donated to the Blackpool Carers Centre to assist in their work.