For any ceremony to run smoothly, everyone involved with the ritual has to play their part to the best of their ability. This was definitely the case for the companions of Dalton-in-Furness Chapter No 6828. At the beginning of March, during the installation of Ian Hallett as first principal of the chapter, the companions performed with confidence and sincerity throughout the ceremony, which would have made director of ceremonies, Kieran Mullan, extremely delighted.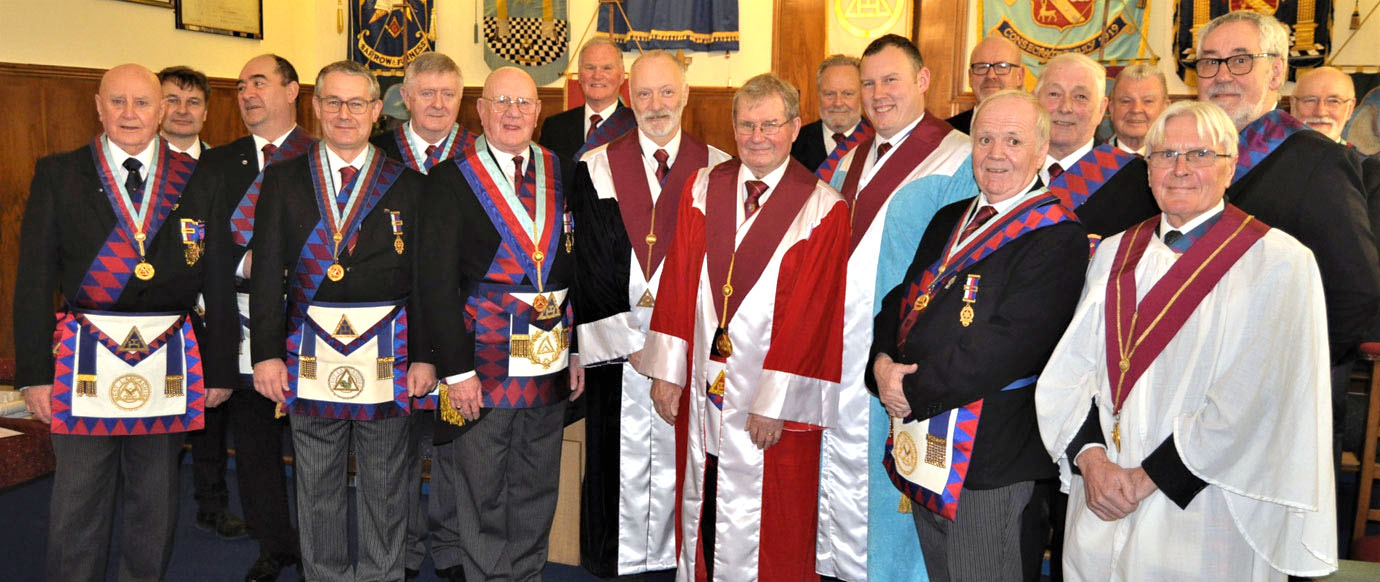 Having opened the chapter in fine style, the first principal, Morton Richardson expressed his own delight and those of his fellow companions, in welcoming the representative of the Grand Superintendent, David Jopling, Provincial Grand Scribe Nehemiah. David was truly thankful of the warmth of the welcome, as he hinted that speaking in front of a room full of strangers was far easier than in front of all his friends from the Furness and South Lakeland Group, but, 'he would do his best!'
David was accompanied by grand officers Peter Schofield, Ralph Walker, Roly Saunders, David Grainger, Chris Band and Norman Thompson (Cumberland and Westmorland). Also in attendance was the Vice Chairman of Furness and South Lakeland Group Alan Pattinson, along with acting officers Barrie Bray, Ken Needham and Graham Lloyd, who all added a touch of splendour to the occasion.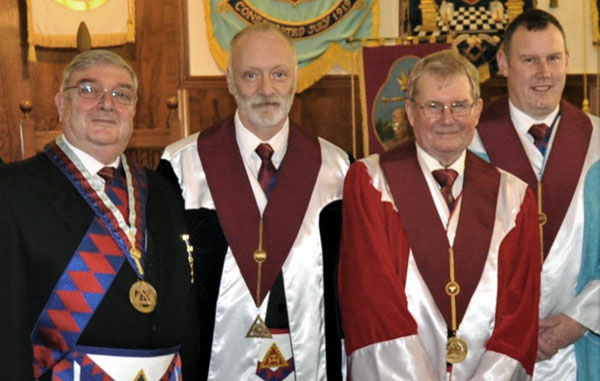 Ian Halllett, Jamie Lyndsay and Brian Coward were installed as first, second and third principals respectively by Morton, Ian and Jamie in a most dignified manner. Each orated confidently, with a hint of perfection. It was pleasing to see Ian, Jamie and Brian make even more advancement in their Masonic knowledge, as they took on their new roles within the chapter.
The robe addresses were given to the first, second and third principals by Morton, Ian and Peter Dismore respectively. All were word perfect and complemented by David Jopling, as he brought the greetings from the Grand Superintendent Mark Matthews. He said that he had enjoyed the whole ceremony and hoped the companions of Dalton-in-Furness would have an enthusiastic and enjoyable year ahead.
Ian certainly enjoyed his first task, as he presented David with a cheque for the West Lancashire Freemasons' Charity for £250. David expressed his thanks on behalf of the recipients and promised it would be faithfully applied.
After a marvellous banquet, David brought his own greetings and again thanked all who had taken part, he said: "It had been a pleasure to watch and listen to a strong team." David was also complementary regarding the generosity of the 49 companions gathered, as they contributed £139 in the temple upstairs, whilst the raffle generated a total of £270.
As a most convivial ceremony and festive board came to a close, it was obvious that the warm and generous heart still 'rings' clear in Dalton-in-Furness Chapter.