The meeting of Preston Guild Lodge No 4408 was an occasion to celebrate the golden anniversary of Ian William Greenwood as a Freemason, with brethren travelling from near and far to be present at Ian's special occasion.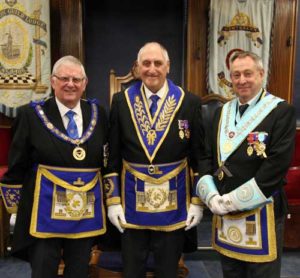 The lodge was opened in due form by the master of the lodge David Parker for the administrative business of the lodge to be quickly completed. Following its conclusion, the Assistant to the Provincial Director of Ceremonies entered the lodge to announce the presence of the Assistant Provincial Grand Master Stewart Seddon. Stewart, duly entered the lodge accompanied by past assistant Provincial grand masters and other grand and Provincial grand officers to be formally welcomed by David.
Having occupied the master's chair, Stewart invited Ian to occupy a suitable position in the lodge. With a beaming smile he opened his booklet and began to relate the life and times of Ian William Greenwood. Stewart informed the brethren that the story starts in 1936, a year of highs and lows, and by way of illustration listed the various significant events which occurred both in the United Kingdom as well as in the world. Ian's birthday in September of that year included personalities of the world of stage and screen, political figures, sports personalities and royalty.
Ian's father, Harry, was a 'Warp Dresser' producing patterns in material; his mother was a 'Milliner'. The family home was in Nelson. Primary education commenced at Lomeshaye Infants and Junior Schools, after which Ian progressed to Nelson Grammar School. Upon leaving school, Ian began an apprenticeship with Nelson Engineering Company and as part of that scheme was required to attend Burnley Municipal College where he attained a Higher National Certificate in Electrical Engineering.
Following a period of approximately five years, Ian joined a small company in Burnley; he then moved to the National Coal Board where after a short time, he was placed on the management training scheme. Upon completion of the course, Ian progressed to Astley Green Colliery as Deputy Chief Electrical Engineer. Whilst at Astley Green Ian had the rather unpleasant experience to review an incident involving a miner who had died in unusual circumstances; Ian had to inspect the equipment the miner had been using to ascertain that there was not a fault with it.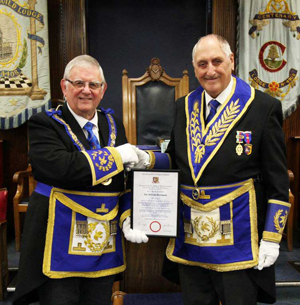 Ian relocated again; he took a position with British Insulated Calendar Cables at Preston with responsibility for selling capacitors in the north west of England. Further promotion followed; Ian was made U.K manager, later becoming the world-wide export manager based at Leigh. Ian's career finished at the Prescot components factory as commercial manager.
Ian's great sporting passion at school was cricket; he played in the first 11 at grammar school and also played for Lancashire Schools. He also played in the local teams eventually ending up at Nelson Cricket Club which played in the Lancashire League. Such was Ian's talent that he was invited to go for trials at Old Trafford, where he played in a second 11 match against Yorkshire in a Roses match. Ian did however, gain a reputation when playing for Nelson in the Lancashire League. Ian then explained to the brethren his experience during one particular match against Haslingden in August 1967.
Apart from work and cricket, Ian frequented the Romany Ballroom at Nelson, it was at this venue that his attention was particularly drawn to a young lady called Gwynneth Jones, suffice to say Ian and Gwynneth were married in 1961 at St Paul's Parish Church, Nelson. Ian and Gwynneth are blessed with three children: Andrew who is a schoolteacher, Mark, who gained a medical degree at Oxford University, but now owns his own marketing company in Australia and Paul who is head of sports facilities at Edge Hill University. In addition they have six grandchildren.
Stewart moved on to illustrate Ian's Masonic history. Richard Sagar the secretary of Marsden within Pennine Valley Lodge No 6183 was invited to read out the details of the initiation of Ian William Greenwood. Ian was initiated in Marsden within Pennine Valley Lodge in September 1969, passed in March 1970 and raised in December 1970. Progressing through the various offices, Ian was eventually installed as WM in February 1977. After installing his successor, he was immediately made charity steward, a position he was to hold for a 12 years. Ian was also the Festival Representative in aid of the MTGB from 1984 to 1988.
Ian was a founder of the Pendleside Lodge of Installed Masters No 9111, he was the lodge's first tyler, then served as junior warden and steward before becoming WM in 1990. He is also a past member of the East Lancashire Provincial Grand Officers' Lodge No 3747.
Ian received his first appointment to Provincial rank in East Lancashire in 1984 as Assistant Grand Pursuivant, being promoted to Past Provincial Junior Grand Deacon in 1987 and to Past Provincial Grand Sword Bearer in 1997. In 1979 he joined Setantia Lodge of Installed Masters No 7755 becoming WM in 2011. In addition, he joined Preston Guild Lodge No 4408 in 1989 becoming WM in 1992, he is also a past member of Lathom Lodge No 2229. From 1993 to 2010, Ian served the Preston and District Group as Secretary, vice chairman and chairman in an exemplary manner.
Ian received his only West Lancashire Provincial Rank of Past Provincial Junior Grand Warden in 1995. In 1998 Ian was honoured by the Grand Master when he was appointed Past Assistant Grand Director of Ceremonies. He received promotion to Past Junior Grand Deacon in 2008.
In the Royal Arch, Ian was exalted into Preston Guild Chapter No 4408 in March 1976 becoming first principal in 1986. Also, Ian joined Setantia Chapter of Installed First Principals No 7755 in 1990 becoming first principal in 2008. He received his first Provincial honour as Past Provincial Principal Grand Sojourner in 1990 and was promoted to Past Provincial Grand Scribe Nehemiah in 1995. In 1997 he was appointed to grand rank as Past Grand Standard Bearer and promoted to Past Assistant Grand Sojourner in 2008. Ian also holds high office in many other Orders of Freemasonry.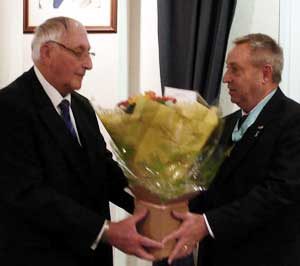 Stewart then emphasised that there is no doubt at all that Ian's entire life has been, and still is, an example of what makes a good Freemason, as well as a good citizen, a good husband, a good parent and in every way, a contributor to society. Stewart concluded his address by categorically stating that there is also no doubt, that during the last 50 years, anyone who happened to learn that Ian was a Freemason, could not fail to see him as anything other than a good ambassador for the Order.
Stewart then requested Stephen Bolton, Chairman of the Preston Group, to read to Ian the certificate which is an acknowledgement of the Province of West Lancashire's great appreciation of Ian's half a century of membership of the Craft. Stewart then presented the certificate to Ian to much applause from the brethren in attendance.
At the festive board, the celebrations continued with much mirth and enjoyment. The toast to Ian's health was proposed by Stan Rigby who regaled the brethren with various amusing anecdotes relating to the time that he has known Ian.
Ian responded like a batsman at the wicket; he kept the brethren (the fielders) entertained for his innings which finished with a presentation of various gifts including a display of flowers for Gwynneth. Stewart Seddon too, was presented with a display of flowers for his wife. In response to the presentation of flowers, both Ian and Stewart stated that support on the home front is essential for Freemasonry to which all the brethren present heartily agreed.