Commercial Travellers' Lodge No 2631 was consecrated on Wednesday 24 January 1897 at the Alexandra Hotel in Dale Street, Liverpool. The hotel was then run by Henry Heard, the late honorary secretary of the Bootle Football Club, and a well-known character in Liverpool football circles. Sadly, the hotel has been long gone, as has Henry, but the lodge still meets in Liverpool, now at the Masonic Hall on Hope Street.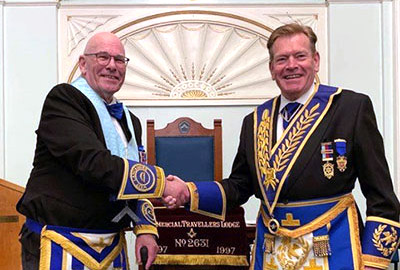 The 2022 annual installation ceremony took place within the Adams Suite with the principal guest being Past Assistant Provincial Grand Master Kevin Poynton, accompanied by fellow grand officer Roy Pyne and acting Provincial grand officers Stephen Thomas Oliver ProvJGD and Robbie Fitzsimmons ProvDepGDC. Representing the Liverpool Group was its chairman, Dave Johnson.
After completion of the usual salutations the ceremony of installation commenced with the master elect Ian Pye being presented to the current and installing master Ciaron Murphy. Ian is no stranger to the chair of King Solomon in Commercial Travellers' Lodge, previously having occupied the position in 2002 and 2016.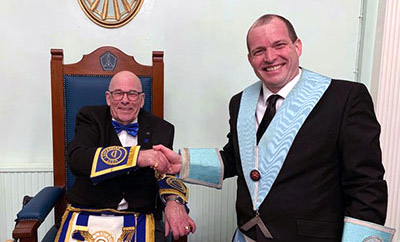 During the ceremony, Jason Keane presented the working tools of the third and second degrees while those for the first, otherwise the entered apprentice, were ably demonstrated by Alex Marsden. The investiture of the lodge almoner Tom Williams was the cue for Alan Riley of the Provincial Care Team to explain the expectations of the role and to deliver the subsequent address to the almoner. The address to the WM was delivered by Roy Pyne, those to the wardens by guest Tom Newton, and by tradition the address to the brethren of Commercial Travellers' Lodge by the principal guest Kevin Poynton.
The first and pleasant duty of the new WM was to present a number of charitable and benevolent donations consisting of £500 to the Friends of Tithebarn, £100 to the Liverpool Masonic Hall Building Fund, £100 to the West Lancashire Freemasons' Charity and £100 to Cancer Research; these being added to recent donations of £600 to the local food bank appeal and £435 to the Ukraine Appeal.
Following the closing of the lodge, all proceeded to the adjoining banqueting and dining room for a splendid festive board when, at its conclusion, a bottle of liquid refreshment was presented to principal guest Kevin Poynton, and another to group chairman Dave Johnson.